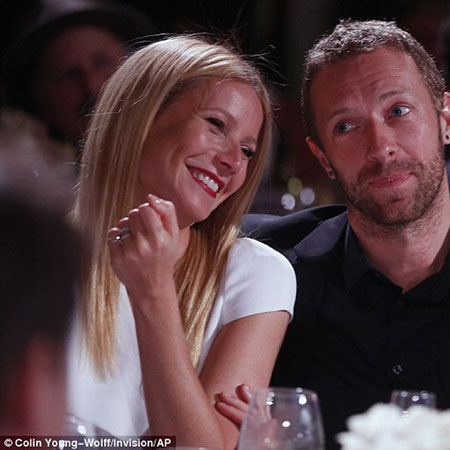 Gwyneth Paltrow and Chris Martin have announced they've split up 'with hearts full of sadness' after more than a decade of marriage.
The glamorous pair, who have two children Apple, 9, and Moses, 7, revealed they had been battling to save their marriage for a year.
In a joint statement released on Tuesday night they said they had finally decided to separate despite saying they still loved each other 'very much'.
Shakespeare in Love star Gwyneth, 41, and Coldplay frontman Chris said they had split in a joint statement titled 'conscious uncoupling'.
They said: "It is with hearts full of sadness that we have decided to separate.
"We have been working hard for well over a year, some of it together, some of it separated, to see what might have been possible between us, and we have come to the conclusion that while we love each other very much we will remain separate.
"We are, however, and always will be a family, and in many ways we are closer than we have ever been.
"We are parents first and foremost, to two incredibly wonderful children and we ask for their and our space and privacy to be respected at this difficult time.
"We have always conducted our relationship privately, and we hope that as we consciously uncouple and coparent, we will be able to continue in the same manner.
Gwyneth and Chris, 37, met three weeks after her father Bruce died in October 2002.
They married just over a year later in December 2003 in a ceremony at a hotel in California.
In May 2013 she admitted they had marriage troubles, telling Glamour magazine: "It's hard being married.
"You go through great times, you go through terrible times. We're the same as any couple," she said.
"I asked my dad once, 'How did you and Mum stay married for 33 years?' And he said, 'Well, we never wanted to get divorced at the same time'. And I think that's what happens."
During a 2011 interview Paltrow was forced to deny repeated claims in the tabloid press that their marriage was in trouble.
She said at the time: "Sometimes it's hard being with someone for a long time. We go through periods that aren't all rosy."
The couple became known for attempting to never be photographed together in public and rarely talking about their relationship.
The Sliding Doors star cut down on work after becoming a mum and suffered post-natal depression after the birth of Moses.