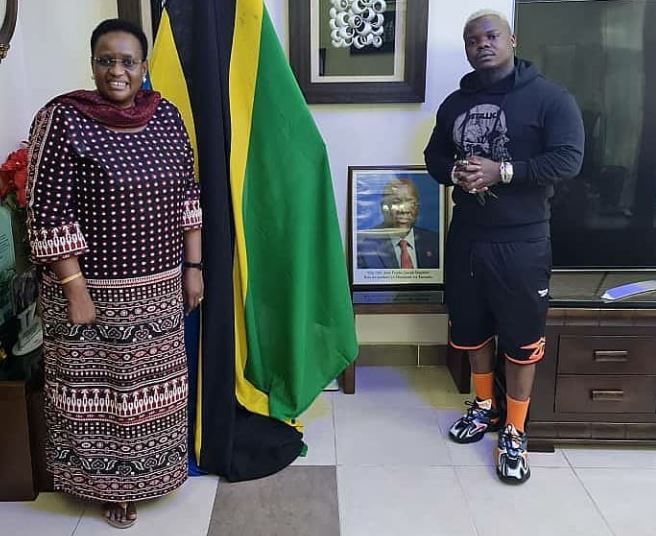 Bongo Flava star and Konde Music Worldwide boss, Harmonize has visited Mama Janeth Magufuli the wife of former Tanzanian President John Pombe Magufuli at her Chato home in Tanzania. Announcing his visit through social media, Harmonize posed for a photo with Janeth Magufuli, a move that excited netizens.
"Forever love JPM. Endelea kupumzika swahiba (Keep resting in piece friend)," Harmonize wrote.
One of the photos that Harmonize posted appearing deep in thought while staring at a portrait of the late head of state evoked fond memories of the President, with a section of Netizens taking to the comment section to thank the musician for the gesture, and others remembering Magufuli. 
[email protected]_dickson ????umetuwakilisha wengi asante sana.
@paty_paulsen1 Umekumbusha nimepata maumivu tena mpya???????????????? mungu akupumshe mahali pema MAGUFULI WETU????
@alifonce8919 Mungu hampe pumzuko jema kiongozi wetu tulimpenda na kumuombea daima .............love you jpm
@nabilamir3 JPM is the best president in the world,r.i.p., no one like him and never
Magufuli and Harmonize
Harmonize, real name Rajab Abdul, had a close and personal relationship with the former President. During last year's electioneering period in Tanzania, Harmonize was a common figure during Magufuli's political campaigns.
It will be remembered that between June and October of 2020 during the campaign, Harmonize would first entertain and charge up the crowd before Magufuli rose to speak. 
Harmonize released a song in praise of Magufuli during his first term in office between 2015 and 2020.
In the hit song, President Magufuli was seen dancing in public as Harmonize sang his praises.