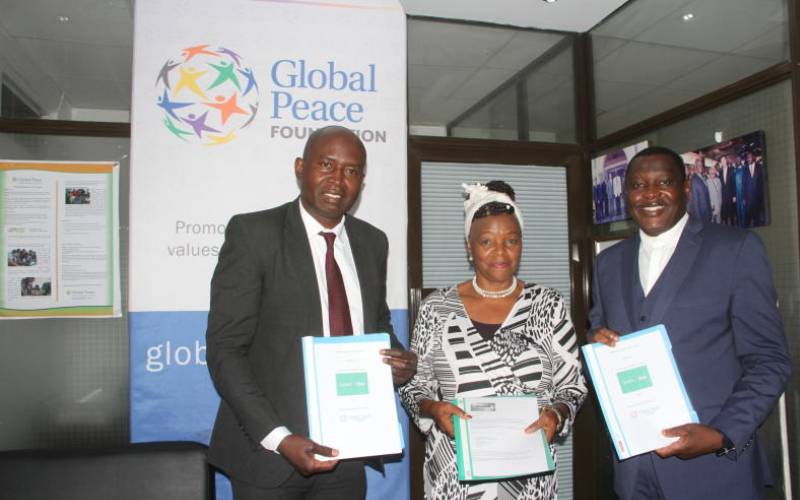 The KTN aired Sasini mtaani program now in its sixth year, has yet again signed a new memorandum with the Global Peace Foundation in its quest to advance its agenda on youth empowerment and education. The new collaboration will ensure the show lives up to its order of business in training and capacity building. 
During the signing of the MoU, Global Peace Foundation Country's executive Director, Daniel Juma noted that the youth have to be encouraged to be young executives at an early age.
"Once the youth are empowered to be self dependent, we can save them from misuse by extremists and rogue politicians."
Noting that the youth institute is close to 60% of the population, Juma emphasised that the fact that they constitute the higher figure should be to their advantage.
"The youth bulk should be an added advantage to empower them to get involved in entrepreneurial activities. We need to have youth programmes that recruit  in vocational skills so as to earn a living from jobs that are often looked down upon."
This, he noted, will see a shift from the traditional career training to talent based training which may be developed into a source of employment.
"We are looking to give value in capacity building which is more impacting than rewarding in prize money," said Sasini Talanta mtaani consotiurm CEO Maurice Okoth.
The message was echoed by the GPF CEO who insisted on putting emphasis on re emerging the potential by empowering young people in small spaces.
"Our goal is to pump and avail capital for the youth so they can re-invest and the proceeds contribute to stimulating the economy. This falls under our character and creative initiative where we empower the youth to be their own bosses from a tender age by building an entrepreneurial culture and training."
The global peace foundation has allocated  at least two global peace ambassadors in every county nationally who will be involved in training and call for auditions on different platforms to drive their agenda on education, environment and youth empowerment. The foundation will be actively involved in judging of the Sasini talanta mtaani auditions and in developing a training and entrepreneurial curriculum to help emerging talents and youth empowerment. 
Present during the MoU signing was Ambassador Alice Kamunge,the C E O of Miss Earth who will also be involved in driving the environmental narrative in the now popular youth show.