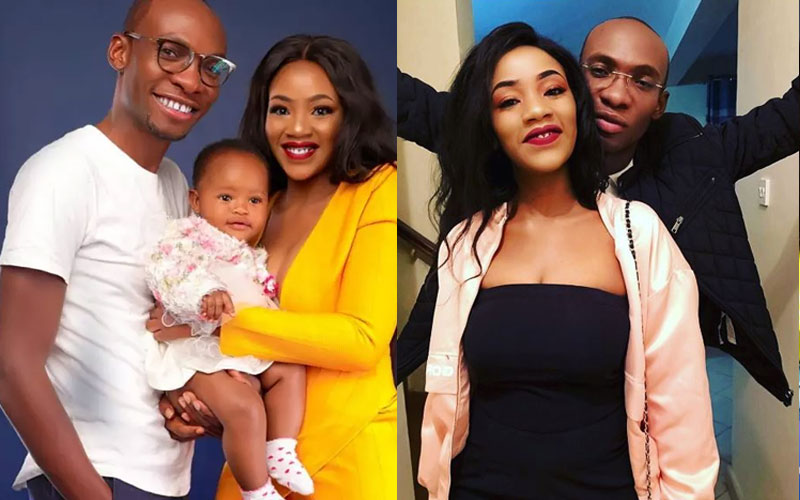 Comedian and MC Sande Bush popularly known as Dr Ofweneke has revealed details surrounding the birth of his daughter Eisley Favour Sande. Celebrating her first birthday, the popular comedian revealed that on the day of her arrival, he got into several minor accidents while rushing his wife to the hospital.
"My love Eisley Favour Sande, on this day a year ago you joined us. I was so confused that I knocked down a few cars just to get mummy to (hospital) for your welcoming," he wrote in part.
In the open letter to his daughter, Dr Ofweneke added that Eisley was born at a tough time. However, just like their daughter's name, they obtained favor from God.
READ ALSO: Dr Ofweneke welcomes his third child with long-time girlfriend
"My 3rd fruit and clearly a blessed one, you were born in the toughest year especially for your dad and mum just like we named you Favour God showed us that," he added.
The father of three wished Eisley a happy first birthday terming her as evidence that true nurturing love with patience can produce such a beautiful soul.
"You have been a constant reminder that true natured love with patience can produce such a beautiful soul. On behalf of Queen and I we bless you our daughter, we declare you shall bring us pride all the years of your life, happy birthday baby E," he wrote.
Sharing short videos of the little one, the comedian also vowed to give her the best and protect her at all costs.
"As your father on this 1st birthday I promise to protect, provide, cherish, walk, advice, nature, heal and love you!" he wrote, adding that "With the smile & heart of your mum and the energy and firmness of your dad you are destined to take over the world!"
READ ALSO: Dr Ofweneke introduces new catch, days after ex-wife flaunted hers
In May last year, Dr. Ofweneke shared rare details of his childhood. Speaking at an interview, he revealed that his mother abandoned him when only one week old. According to him, he was born at Pumwani Maternity Hospital to David Sande and the late Jennifer Atieno. After being home with his mother for a week, she decided to leave as they were not in good terms with Ofweneke's father.
"A week after my birth, my dad bought a beer at his favourite joint and before he could drink it, our house girl came and told him 'Atis ameenda na amewacha mtoi kwa stairs'. He came back and found neighbours picking me up," the comedian narrated.