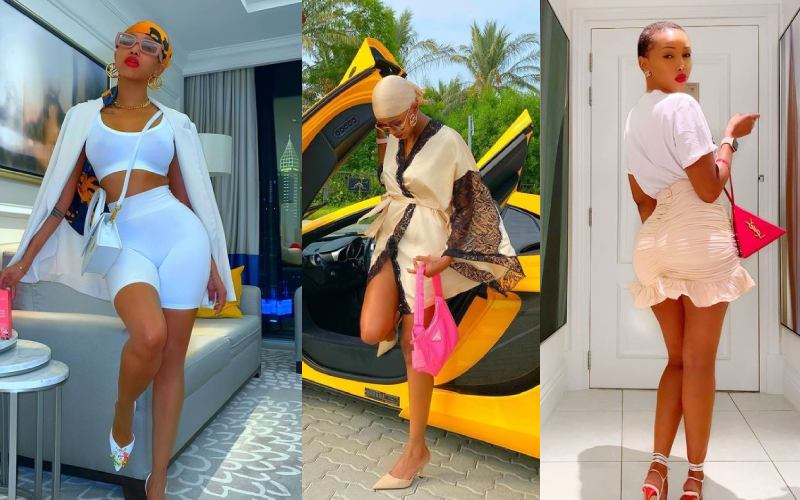 Controversial socialite Huddah Monroe on Wednesday took to Instagram to reveal the price one has to pay to get a baby with her.
Through a series of posts on her instastories, Huddah said that she is selling her womb for $1,000,000.
"I'm selling my womb. Lol! $1,000,000 to be your baby momma. Child support we shall agree…," she wrote.
Huddah also opined on the institution of marriage describing it as a 'scam'.
"Y'all know marriage is a scam in this era of Bamba with big boys and big/small nyash and y'all getting into it. lol! Why lie to each other?" she wrote in part.
Based on her beliefs, she would rather date until the end of time than commit to one person for the rest of her life.
"Just date until Jesus Christ comes back…save yourself the drama," she added.
The bold socialite went on to insinuate that she wouldn't mind having co-wives provided the man is honest and transparent about it from the word go.
According to her explanation, her biggest worry would be committing to someone only to discover they were lying.
"We have no problem with you having 10 wives. Just keep it 100%. Saves us a lot of time in decision-making. I will decide early if I will have you and John and James. Not after catching feelings, I find out you have 5 baby mommas, 25 kids and 6 wives," she wrote.
She further advised her followers to stay in marriages only if they are happy and loving it as opposed to appeasing their friends on social media.
"Anyways good luck to you all. We will be here to console you all when sh** goes left. And when it does, don't be afraid to hit the road. Do not stay with a man/woman just to look married for the gram. Lol! If it can't work, it cannot," she wrote.
Huddah, however, gave a disclaimer that she only writes things for fun and some of her sentiments should not be taken seriously.