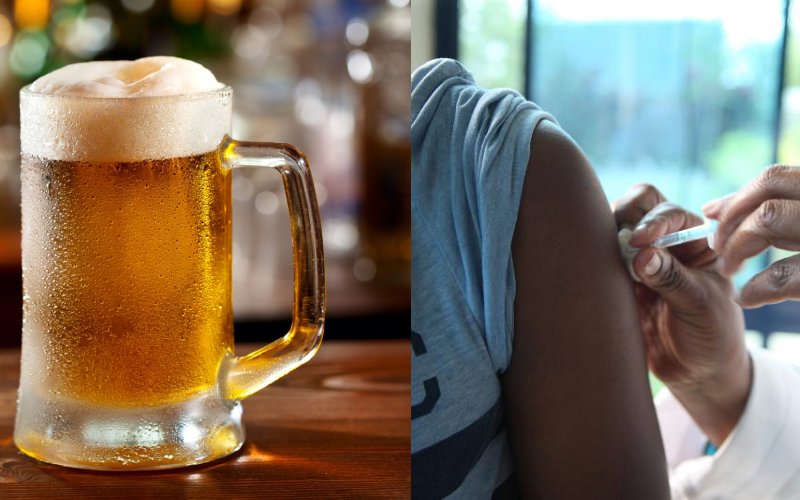 The Bar Hotels Liquor Traders Association of Kenya (BAHLITA) has proposed to partner with the Ministry of Health to vaccinate revellers in bars.
In a press conference, BAHLITA Secretary-General Boniface Gachoka revealed that the unique partnership will see those who are not vaccinated get a free beer after the jab.
"Bars are gathering points for people and like churches, can become one of the places where people can be sure to access vaccines regularly. We are here to declare that all our 54,000 members in Kenya, hotels, bars and restaurants have offered their halls, their premises for free to the ministry of health as vaccination centers," he said.
According to Gachoka, the suggested partnership will encourage those who frequent bars to get the jab if they are yet to be vaccinated.
"We are also ready to partner with the Ministry of Health and the manufacturers to do a plan like Spain where anybody who is going to be vaccinated will be given a beer. We are ready with those beers. It's now up to the Ministry to consider the suggested partnership," he added.
Echoing Gachoka's sentiments, the National Chairperson of the Pubs, Entertainment and Restaurants Association of Kenya (PERAK), Michael Muthami, challenged MoH to think outside the box and emulate what is being done in different parts of the world.
"In Israel, they were giving free beers. You go to the bar and get vaccinated and get a beer. I'm sure with MoH we can come into some sort of an agreement in our areas and have similar things. Think outside the box and get those vaccination numbers up," he said.
This comes barely two days after Health Cabinet Secretary, Mutahi Kagwe gave bars the greenlight to operate until 11pm following the lifting of the curfew.
"With the removal of curfew, we are reverting the closure of bars and restaurants at 11pm or the time allowed by the licensing authorities. However, all Ministry of Health protocols remain in force," he said.
According to numbers shared by the Ministry of Health on Thursday, October 22, 2021, 1.3million Kenyans are fully vaccinated while 3.5million have already received their first jab.
This means that the proportion of adults who are fully vaccinated currently stands at 4.8%.