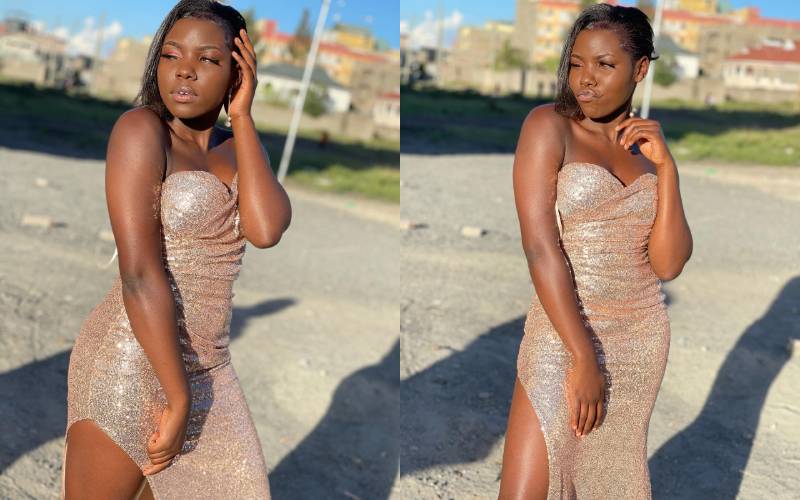 Popular comedian, Vanessa Akinyi aka Cartoon Comedian is on the receiving end after releasing a comedy skit that did not sit well with a section of Kenyans.
In the said clip, the actress brings to life a character named Matilda who is complaining of mistreatment from her employers and goes on to make a video to demonstrate how bad the situation is.
However, the clip seemed to have rubbed a section of netizens the wrong way as they camped in the comment section of the now-deleted video.
"This is the reason why you wasted your data making such content. Do you think anyone can wake up pack direct to gulf to do nothing? Respect our brothers and sisters in diaspora. I think they follow you the most. Let me remind you #cartoon, they will make it, they will win. They are not victims but Victors. Remember nothing is permanent," wrote a user identified as Lillian Babie on Facebook.
Responding to Lillian, Cartoon said the clip was labelled dark humor adding that she has taken down the video from her official pages.
"Sorry for those who got offended, it was a dark humor na Iliekwa disclaimer, that's why I don't have the video in my pages na hio iko tiktok is not my account...poleni to those affected," she responded.
However, a section of her fans felt that the actress did nothing wrong, she was only acting,
"The day people will know that ART is used to inform, educate and entertain mtaacha hii upuzi," @asbettersaunter said on Instagram.
This comes just months after gospel artiste Jimmy Gait was also on the receiving end after claiming that most Kenyans are mistreated in the Middle East due to immorality. According to him, ladies steal from their Arab bosses and are punished as a result.
"There is always a reason…There are so many Kenyan men working in the Middle East in Saudi, Qatar, Dubai the reason you don't hear about men being mistreated is because they do not go sleeping with their bosses' wives," he said.
Just recently, a lady identified as Faith Murunga, narrated her near-death experience in Saudi Arabia in a bid to create awareness on how Kenyans are suffering abroad. In her narration, Faith revealed that apart from being mistreated, her passport and other official documents were confiscated upon arrival.
 "I went through hell. One time I was beaten so badly after my boss asked me to bring a cup and I brought a spoon yet I didn't understand the language. I used to have one meal in a day and that is strong tea," she narrated.