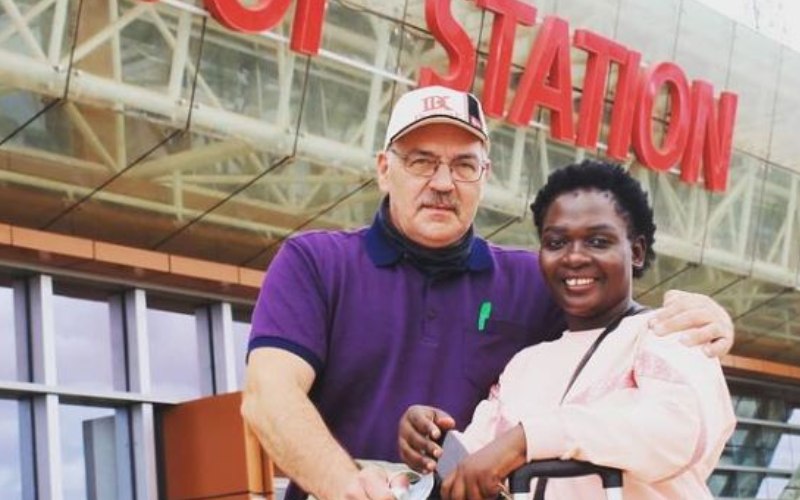 Veteran coast-based singer Nyota Ndogo is over the moon after her husband Henning Nielsen surprised her with a brand-new car. Taking to social media, the singer, who is well known for performing taarab-influenced pop music, revealed that she had mentioned to her husband that she wanted a new car.
Sharing a short clip on social media, Nyota Ndogo expressed her gratitude to God for blessing her with what she termed 'a husband who listens whenever she coughs' insinuating that her husband would go over and beyond to please her.
"Kwanza kabisa nataka kutoa Shukran zangu kwa Mungu. Ahsante kwa Mungu kwakunipa mume ambaye nikikohoa tu anasikiza (First, let me give my thanks to God. Thank you for giving me a husband who, whenever I cough, he listens)," she wrote in part.
While at it, the 40-year-old singer went on to claim that she is being accused of using black magic to trap her husband. Reacting to the baseless claims, Nyota Ndogo sarcastically asked those who claim she bewitched her husband to bewitch their husbands as well to get such precious gifts.
"Haya wanasema nimemroga haya na wewe kamroge mumeo pia akusikilize kama mnaona kuroga ndio kuskizwa."
Barely three months ago, Nyota Ndogo had made it public that her husband had allegedly distanced himself from her after a pregnancy prank went wrong sometime in April this year. However, after months of ignoring her, Nielsen is said to have reached out to her after she was spotted getting cosy with another man.
"Haya maisha bwana hayataki hasira kabisa. Yani mimi huyu ameninunia toka April lakini sheria za dini yetu kidogo anazikumbuka. So kwa ufupi huyu baba kila mwezi ananitumia hela za matumizi yangu KAMA mke wake japo haongei. Am sorry @officialpday_hurrikane mume wangu amerudi tu baada ya kuona picha zetu tukiwa hoteli tumeshikana mauno na ndio ameleta Sasa zogo na Kusema hajaniwacha na siwezi ku move on kama sijapewa talaka na hajawacha kunihudumia," she revealed through social media.