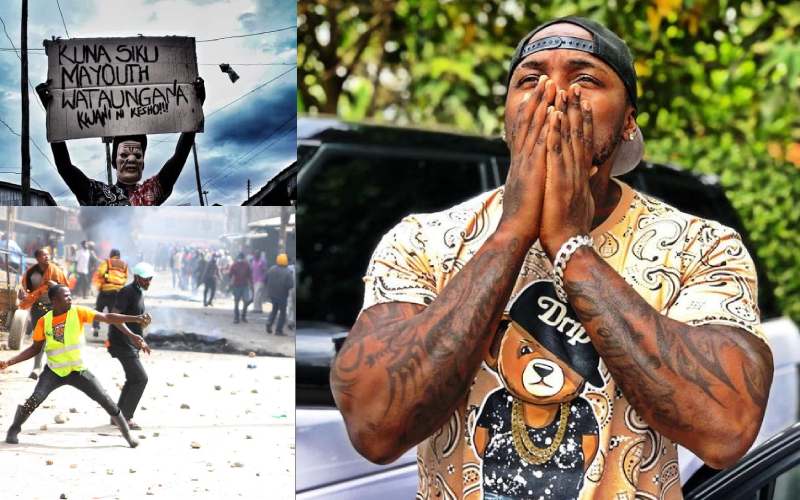 Rapper Khaligraph Jones has joined Kenyans in protesting against police brutality after a 38-year old man was allegedly killed by police in Kayole for violating curfew rules.
Sharing his sentiments via social media, the Hao crooner accused the police of using the curfew to harm and kill innocent Kenyans.
He further pointed an accusing finger at the government for being too slow in taking action against the perpetrators that have continued to cause citizens sleepless nights.
"Just Too Much Bana, sorry been absent for a minute but sh*t maze, its messed up out here. Police are using the curfew as an excuse to hurt citizens. People are dying every day and now it has even gotten to my home town Kayole.
"The government of Kenya is sleeping or do you want us to come throw stones in statehouse so that you see how oppressed citizens are? The way things are going, that might be where we are headed," wrote Khaligraph.
The award-winning African rapper's views come not too long after controversial blogger Cyprian Nyakundi called him out for ignoring the chaos that rocked Kayole as he had not, at the time, opined on the matter.
According to Cyprian, Khaligraph only affiliated himself with Kayole to gain fame and clout which after he got became a promoter of 'vanity, consumerism and partism politics.'
"Kayole is burning with chaos after police arrested a 38-year-old man for violating curfew. Khaligraph who derives his street cred from affiliation with Kayole did not say a word. In essence, Khaligraph no longer represents the streets but is a promoter of vanity, consumerism and partism politics.
"He has lost his identity in pursuit of clout and fame," read part of his post.
Cyprian went on to advise netizens to unfollow and withdraw any financial support given to any celebrity that did not openly condemn the ongoing police brutality.
"Celebrities are taking a stand against police brutality. Unfollow and withdraw financial support for those celebrities who don't stand with the youth. #EndCurfewNow Kayole," wrote Nyakundi.
A number of social media users however disagreed with his suggestion explaining that despite celebrities posting about police brutality, it would not help end it unless the government acts.
"I don't think celebrities posting and tweeting and retweeting about #PoliceBrutality helps to actually stop it. Standing for justice isn't only on social media for real. Celebrities are not in the wrong if they can't use their platforms to rescue the youth," commented a user by the name ItsBev3rly.