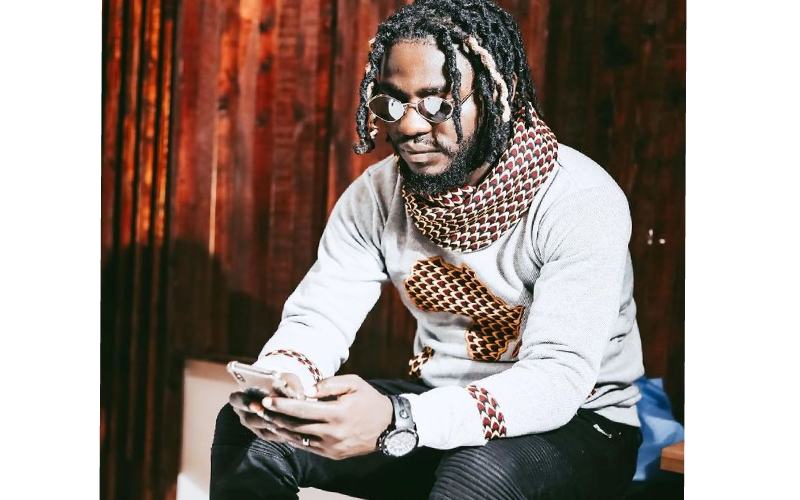 Recently, Kenyan Afro-pop star Nviiri The Storyteller made history.
The first Kenyan act to be a main guest interviewee on a globally broadcast show - via a major Digital Streaming cum Media Platform network, Apple Music's – The Ebro Show.
Hosted by veteran music journalist and aficionado, Ebro Darden, the interview further emphasized Nviiri as the heralded prince of contemporary Kenyan music. His sound has been continuously championed through Apple Music's chart system where he has had the Number 1 record, project and features countless times over a period of time, beating the likes of the heavy-hitting Afrobeats, Bongo ballads, and any other competition musically.
One remark Nviiri made on the one-on-one was that Kenya is integral in globalizing African music and that the inner-city sound of Genge and Gengetone will be a staple sound of the world when the masses eventually catch on.
As much as you could tell Ebro quickly breezed through the conversation and seemed indifferent towards the boldness and conviction in Nviiri's idea, this quickly opened the door back for Gengetone, which has locally been toned down after an imperious run in Kenya between 2018 and 19, but failed in its bid to cross over and break ground internationally. If anything, other countries have manufactured superstars during the global pandemic and surpassed the 'hood heroes' of Gengetone. The likes of Zuchu, Focalistic, Rema, Kamo Mpela, Omah Lay, Fireboy DML, Tyla, among many others.
"Gengetone, as a genre, is on course to fall off entirely. Simply put, the music hasn't been packaged in such a way that it can break through into international markets, at least this far." Mookh Magazine contributor Blair Odhiambo, postulates.
"The same can't be said about Nigerian or Tanzanian music that still gets radio play in the country. One could always argue that Kenyans have gotten behind their own when the music is relatable, causing the gains made by the pushing of the #PlayKEMusic narrative. However, the Kenyan audience just isn't enough, not in a constantly flooding music industry where artists continue to rely heavily on show and concert appearance fees to sustain their music careers. In my opinion, the genre has the potential of becoming as big as Afrobeats, but only if it is packaged better for the African scene," Blair said.
The attempt to upscale Gengetone music was cemented last year when international record company, AI Records, a subsidiary of Universal Music Group stepped in to sign Kenya's golden boys, Ethic Entertainment, only for the group to have somewhat reportedly split earlier this year. Despite inner wrangles within the Eastlands crew, they managed to be among the selected few Kenyan acts to be nominated for continental awards such as the postponed MAMA's, which acted as a saving grace during a dark moment.
Even so, Gengetone is characterised by its collectives more than individuals' efforts. When one mentions the genre, the names that come to mind are the mainstream acts such as Ochungulo Family, Boondocks Gang, Sailors, Wahenga, Rico Gang, more than you will hear of Mastar VK, Maandy, Gwaash and the rest of the posse.
In totality, there still exist hundreds of Underground Gengetone acts in various arenas, but the artists at the summit of it have all fallen short of expectation.
In a bid to resuscitate the genre, artists such as Brandy Maina have tried to blend Gengetone and more popular genres such as Amapiano to necessitate the kicks of a dying horse. What hurts more is that a DJ and popular Amapiano pioneer Mr JazziQ absolutely played down the genre telling Pulse, "He is not familiar with it, and barely knows much of it." This denoted to the fact the music has failed in spreading across the boarders as Amapiano, or Afrobeats. Amapiano artists have been getting more clout and show money in Kenya, than Kenyan artists themselves all year. 
Why has Gengetone failed?
The rhetoric behind why this particular class of music did not manage to last range across the board. From external ones to self-destruction, the demise of Gengetone has been way too sudden, and at least the stakeholders should have put up a fight. At least to media professionals like Nation Media's Karen Mbuya, she feels the movement took a turn for the worse when it became more about controversy than music.
"Controversy, being all over the place in their music. Willy Paul and Bahati, for example. Are they gospel or secular? Personally, I don't think there's a combination of both." She dictates.
She goes on to rekindle that artists require skill, consistency, and remembering why they started to ensure their longevity. Also, a transactional relationship with fans that can purchase music and tickets to concerts can sustain the artists in order to help them keep producing quality products.
With that said, the content in the music has had its fair share of criticism. The outcome is that - Corporate ignored them due to their polarizing content, record labels never gambled in risking their reputation and brand image signing the artists despite potential business opportunities available, the camaraderie between the acts faded out due to childish conflicts, label issues such as Sailors' publishing rights triangle with Black Market Africa and Mwalimu Rachel slowed the groups momentum, and also, the acts were swimming against the 'morality tide' punctuated by KFCB boss Ezekiel Mutua.
Gengetone was the sound of the people and was heavily supported by the mass audience, but 'gate-keepers', and many forces in higher seats tried to frustrate the march to its success internationally, including the older generation who were strongly opinionated and contested youngins basking in glory at their expense, something veteran producer Eric Musyoka terms as 'generational beef'.
"Each generation has its own form of expression that an older generation might find difficult to relate to. Music is a very subjective matter and everyone has his/ her own preference and taste." He discloses to Pulse.
"You hardly hear Western audiences comparing quality from one generation to another saying one is better than the other. I enjoyed Michael Jackson, I am enjoying Drake and Arianna Grande, I enjoyed Kalamashaka and I thoroughly enjoy Khaligraph and King Kaka! I have worked with three generations of musicians and each generation has its hits and misses both in technical and creative quality. The main reason why I think our audiences are plagued by this comparison mentality is because of the disconnect in audiences from generation to generation and isolation of audiences along social and economic classes. Therefore, music is rarely enjoyed as a social medium across generations. The entire publishing industry in the US thrives on sampling, which was once shunned and is now appreciated because besides being a lucrative business when it comes to licensing, it also serves as a form of reliving songs that one enjoyed at that time." Musyoka reveals generational and socio-economical differences.
While Gengetone remains throwing its last kicks of a dying horse allegedly, overnight the likes of Amapiano, Bongo, Afrobeats, and Drill have trampled over the genre unapologetically converting their fan-bases gradually.
The sound that reshaped the Kenyan identity with its party anthems is now churning out hit after hit once every blue moon, which stinks of inconsistency according to music head and digital content creator, Chaxy.
"Inconsistency in releases. While this could be because of many reasons such as the industry being extremely harsh to musicians, you can't be inconsistent and still be popping in Kenya. There's always that consistent artist that will take your spot." Chaxy told Pulse.
The superstars and pioneers of the culture are supplementing their talents venturing into different sounds and interests, for example Ethic's SWAT has gone into business through his T-shirt calligraphy talent as well as tattooing. Members of Sailors such as Miracle Baby are part-time radio presenters and work for salary, whilst Lexxy went on to pursue gospel music, claiming; he was lost.
Well, with music, it is very unforgiving and the fans will always gravitate to the 'trend'. The time for a new dawn of urban Kenyan music is in the hands of the brave who can take the bull by the horns and lead Kenya into a new era of popular music, yet again. 
So, despite the efforts of cultural leaders such as Nviiri and Co, is Gengetone a thing of the past or does it still have cultural clout and relevance to compete in the mainstream, better yet global-continental music spaces?