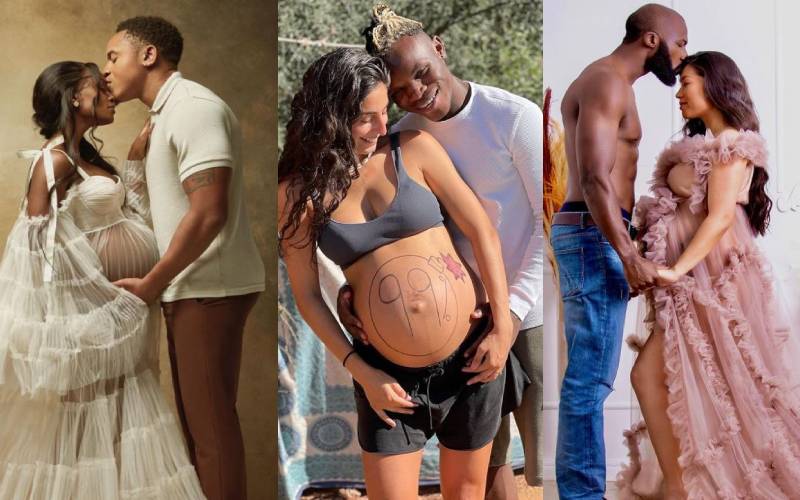 Despite the world's instability due to the effects of the COVID-19 virus, a few individuals have had the luck of experiencing joy in different forms.
From getting new jobs, to reuniting with loved ones and even welcoming new family members, it is safe to say a few people have had something good to show for the year.
Here is a list of celebrities that crowned their 2021 with the gift of a new born. 
Daddie Marto
Actor Daddie Marto and his wife Koku Lwanga welcomed their son, Franklin Rey in August 25th 2021. Sharing his arrival with his fans, the social media influencer revealed that the little man was in perfect health.
"Ladies and Gentlemen, Weighing in 3.385kgs, at 02.15am on August 25th 2021 our bundle of joy landed. Took time to readjust and get to know him, baby is fine feeding and sleeping, daddy is tired but hanging in there, mommy is taking the biggest hit but it was expected, so all is well. We are indeed blessed," wrote Daddie Marto.
The couple was unfortunately forced to spend numerous nights with their new born in hospital after he got unwell. Updating their online family of his progress, Daddie Marto revealed that he was completely healed and was safely back home.
"Long live the King. Meet Franklin Rey, the boy y'all have been praying for, pouring your heart to, standing in the gap for. We've struggled a bit with the decision but decided that it is only fair to meet he who you have been praying for. Receive gratitude from @manapatau @daddiemarto @koku_lwanga @itsmarcustau for the love and prayers. He is doing great and we thank God and all of you who stood with us! Thank You!!" he wrote.
Mulamwah
After losing their first child and almost giving up on each other, Comedian Mulamwah and his girlfriend Carol Sonnie rekindled their love and were not long ago blessed with the gift of a child.
Announcing her arrival in a previous Instagram post, the funny man described the birth of his daughter Keilah, as the best thing ever.
"Words can't express the feeling. It's the best thing to ever happen to our life, welcome sweetie @keilah_oyando. Thanks dear @carrol_sonie for this amazing gift. You are such a strong woman to pull this through despite everything we've been through. Thank you all for wishing us well and keeping us in your prayers. Asanteni sana. She is cute, can't wait for someday to show her to the world, and have a dad daughter talk. PROUD DAD I AM. All thanks to GOD," he wrote.
Dennis Ombachi 'The Roaming Chef'
The rugby 7's player and his wife welcomed their second child about a week ago not long after announcing they were expectant.
The ecstatic father shared a video cradling his new born with the caption;
"Sweet little angel, we welcome you into the world today and promise to love you with all that we have to offer. Some kangaroo care as your mum, the strongest woman I have ever known was recovering, is our 1st bond that will last us a lifetime. Welcome to the pride baby girl. Raising a warrior!!"
Jamal Gaddafi
The renowned media personality announced the news of his newest family addition via his social media on Tuesday and netizens could not keep calm. His comment section was quickly filled with good luck and congratulatory messages.
"This my third born now two boys and one girl. Anyone who has children knows firsthand the satisfaction you get from being told you're "The best daddy in the whole world." Those kinds of positive pronouncements can have a profound effect on your self-esteem, allowing you to accomplish tasks you previously thought were impossible," wrote Jamal.
Vanessamdee
Tanzanian singer Vanessa Mdee and her fiancé caught their fans off guard when they announced news that they were expecting their first child. Not long after the announcement, the couple welcomed their son, Seven Adeoluwa Akinosho.
Although the duo is yet to show the boy's face on social media, they have continually posted half pictures of him and he is adorable.
Willis Raburu
The media personality and his girlfriend Ivy Namu welcomed their bundle of joy in July.
Gushing over the cute boy in a recent Instagram post, Ivy admitted that her son's arrival made their life beautiful.
"Throwback to when my sunshine was just 5 weeks old & as adorable as ever. Time really flies coz today he's 4 months old & such a sweetie with his cute smiles, giggles, chubby cheeks, cute rolls & lots of stories; he came to make my life beautiful & I'm just so happy. Happy 4 months my love, may God continue to bless & keep you in good health little one, mummy loves you," she wrote.
Tileh Pacbro
Celebrity dancer Tileh Pacbro and his wife Martina were blessed to have their baby, Tiago a month ago in Spain.
The elated new dad termed the intense feeling of holding his son in his arms for the first time as unexplainable.
"I can't explain the feeling I had when I held my little boy @pacbro.jr in my arms for the first time. The fact that @martinaglez_ is the person who will always be beside me in this journey gives immense peace and happiness, makes me feel at home yet so far away from home, thank you baby for being my warrior. Welcome to the world my son!" he wrote.
Sarah Teshna
The celebrated actress and her boyfriend international footballer Victor Wanyama announced the arrival of their child 40 days after being born, news that left many surprised.
"2021. God showed up and showed out. We are so excited to share this amazing journey with you. God is the greatest. #40daysOfBabyCuddles" wrote Sarah.