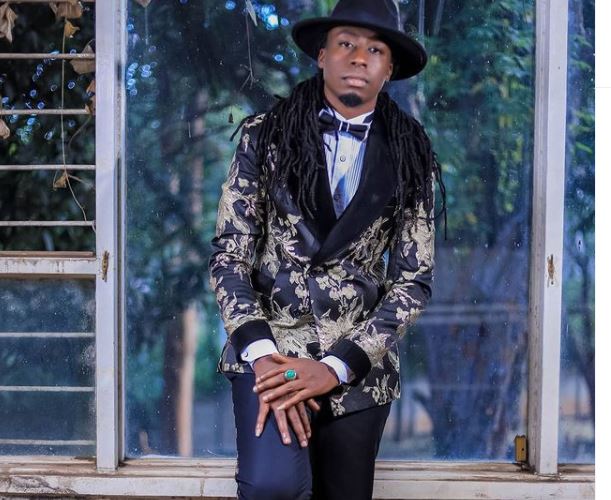 Upon entering the African Royalty Salon along Kimathi Street, Nairobi, our attention is pulled to singer Jacob Obunga alias Otile Brown, and comedian Owago Onyiro, who have coincidentally met here for their weekly hairdo.
On the furthest end of the room is an upcoming rapper, Z-Tone, who had just gotten all eyes on him after a high-profile delegation from an international music record checked in to ink a deal with him. 
The salon along Nairobi's Kimathi Street reverberates with pop music, in a comfortably low but audible volume. The music mix is mostly composed of the latest releases by leading East African artistes.
As Eric Simiyu, the owner of the salon and popularly known as Eric One Wash in showbiz circles, ushered us in, the cameraman filming as the musicians got their hair done shifted the attention to us. Eric says this is the kind of treatment all his clients, most of whom are artistes, get. 
As we settle down, I check into Eric's Instagram page, and true to it, most of his followers are celebrities, mostly his clients.
The salon, it is safe to say, is quickly becoming a venue where showbiz matters are decided.
"I run a showbiz agency that promotes entertainment artistes, concerts, and other events across the continent. That is part of the reason why I am connected to all these artistes and politicians with whom we do business. Mombasa County Governor Hassan Joho, as well as Tanzanian music star Alikiba, are my good buddies," he says.
ALSO READ: If I were to style the President: Celebrated stylist Eric One Wash
From Alikiba to Grammy-nominated Nigerian superstar Burna Boy, rapper Skales, Jamaica's Queen Ifrica, Kenya's Arrow Bwuoy, Otile Brown, Mr Seed, and Bahati, all call this place home. 
The celebrities stream in by the minute and this is what has kept him going for the last nine years.
"Growing up together with my sisters nurtured my passion for hair. On Sundays, sometimes before church, I would take up the role of styling their hair, which somehow influenced my career choice,'' says Eric.
Eric says his plan was to pursue a career in Arts but doesn't regret having gone into a beauty school instead.  
Eric attributes his business's success to what he calls the 'locks culture' in Kenya which was and still is a hairstyle preferred by many local celebrities. 
"When I started, my interest was learning all about the business side of things, saving, investing, and the creative side of the craft. Most importantly, I learnt about networking. The high profile clients who would visit the 'locks' clinic where I was an intern inspired me more so to establish myself as a celebrity hairstylist, a position that had not really been claimed in the industry at the time," says Eric, adding that his business success can also be attributed to a good working relationship with his business partner John the Locktician.
ALSO READ: Celebrity hair stylist throws a half a million birthday party
However, Eric says branding himself as a celebrity stylist didn't come on a silver platter - he has had to invest a lot of resources and time in marketing his trade. 
"I did a lot of online marketing and branched out to take up my position as one of the best and most sought after in the field. I kept my celebrity friends close, engaging with them and attending their events, and offering them stellar service at the same time. In this business, earning trust from clients is a crucial part of the business," says Eric.
While Eric wants the amount he earns in a month to remain a secret, he says he does not regret having ventured into hairstyling to earn a living. However, the services range between Sh1,000 and Sh40,000.
Business tip
"We are talking of normal dreadlocks to extensions to sister-locks, which are the most expensive. Prices also vary, depending on whether colouring is involved," he adds. 
One of the things that have kept him going, he says, is not mixing business with pleasure. "I treat every client with the same level of professionalism and concentration," he adds.
Sylvia Saru, also known as Ssaru, says Eric has been instrumental in helping her create her own music brand. 
"The special thing about hairdressers in this salon is creativity. Looks matter to us and Eric doesn't disappoint in this area," gospel singer Emmanuel King, who is known as Masterpiece says, comments that comedian Eric Omondi agrees with.  
Besides doing their hair, Eric helps upcoming artistes broker deals with accomplished ones. 
He says his plan is to mobilise other hairdressers to form an association through which they can present their problems and needs to the government. 
"My dream is to empower others interested in venturing into this industry by offering them tips that I have learnt through the journey," adds Eric.