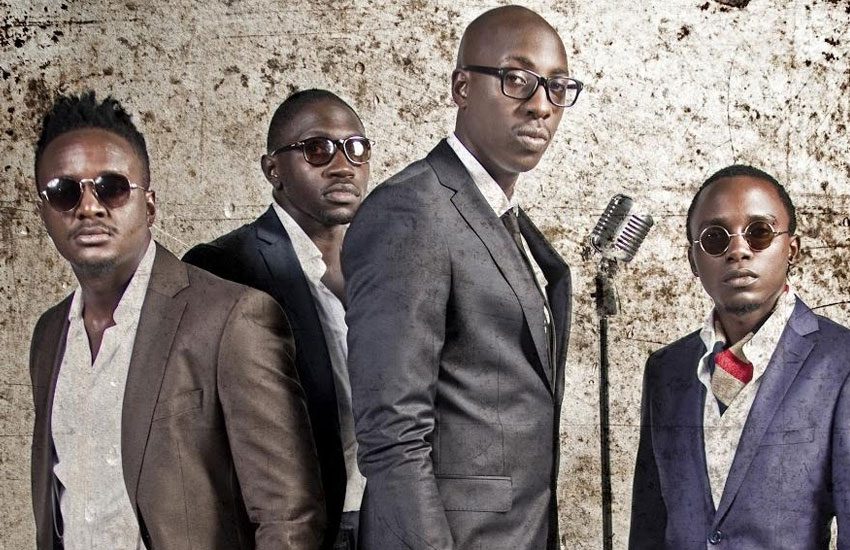 Are you psyched up for the weekend ahead and feel like shaking a leg in the trendiest location in town while your favourite artist serenades you with music?
Then the hip joints below are where the action will be happening. Be the first to know where your favourite star will be hanging out!
Nairobi
Sauti Sol headed to Nairobi Cinema
Multi-award winning all boy band Sauti Sol and new Sol Generation Records member Ben Soul headline the Churchill Live comedy show at the newly refurbished Nairobi Cinema tonight. Charges are Sh500 regular tickets and Sh1,000 VIP.
Redsan at Whiskey River
The official Sunday plan just got better at the latest party address that is Whiskey River along Kiambu Road as it hosts dancehall artiste Redsan in a unique meet-and-greet party at the venue this Sunday. DJs Tibz and Trinity will also be in the house.
Sanaipei at the Tav
Popular social hangout joint, The Tav Irish Pub, and Eatery located at The Mirage in Westlands, hosts a series of parties this and every night starting with Karaoke Thursdays this and every Thursday.
Singer and songwriter Sanaipei Tande hosts the show.
The Africa Nouveau Festival
This is a three-day and night arts, film and music festival congregating creators, curators and fans from Africa and its diaspora that will be going down at the Waterfront in Ngong' Racecourse, Nairobi, throughout this weekend.
The festival celebrates the most progressive, cutting edge and innovative music, film, and fashion from African creatives under this year's theme, 'Outer World'. This year's edition will see 21 live performers from eight countries on two stages, including an 'after-hours' stage.
This includes DJs and musicians, all adding their flavour of Afro-bubblegum and African Futurism. Entry charges are Sh2,500 per day and Sh4,500 for the season pass.
DJ Joe Mfalme at Luxx Club
DJ Joe Mfalme, will be at Luxx Club tomorrow. Hosted by D-Trix, the decksman will be hosting guests at the new joint in Nairobi's Donholm, Outering Road, next to the Total petrol station.
The gig has been christened 'Saturday Heat' and kicks off at 7 pm till late.
Nick Ndenda's Freefall
Back to Basics presents Freefall at Alliance Française, Nairobi throughout this weekend. It revolves around Henry (Nick Ndeda) who fears his wife Alice (Wakio Mzenge) is on the verge of insanity, Connie (Mwikali Mary) believes that James (Bruce Makau) has destroyed their marriage, while Jo (Daisy Temba Ndupsy) and George (Tim King'oo) find themselves in a reversed-roles dynamic that consequently leads all three couples to the therapist's office. Charges are Sh1,200.
Mr T, Jose at Space
Space Lounge and Grill along Ngong Road, Nairobi, hosts a host of parties this and every weekend, this time bringing back the dynamic duo of DJ Mr T and MC Jose alongside Double M, Curezz and Stulla tonight. Entry is free.
Parties at Galileo
Westlands popular joint, Galileo Lounge, host the Country Road gig featuring the maestro Sir Elvis alongside Scott the Violinist, Monsieur Pierre and DJ Protégé this and every Wednesday.
Happy hour starts at 6pm with fantastic offers on selected cocktails and drinks. The party continues every Friday with DJ Moh and Moh Spice Entertainment as they host the Executive Reggae Friday jam.
Lavaranda's Midnight Class
Catch top DJ Double M as he entertains fans in the second edition of the Midnight Class party at the popular Lavaranda Lounge in Ruaka tonight.
The K1 Flea Market
Eat, drink and shop at the popular K1 Flea Market on Sundays complemented with music from leading DJs and musicians.
Grauchi at Memphis
Thika Road's exciting joint Memphis Bar and Restaurant hosts top tun-tablist DJ Grauchi as he headlines the Friday Nite Live party tonight at the venue.
Braeburn hosts Rigga
Join rapper, singer-songwriter and music producer Rigga for an evening of live 'Afro-Hip-Pop' showcasing his eclectic music catalogue at the Braeburn Theatre tomorrow night, accompanied by an all-star band that will re-imagine and re-interpret Rigga's songs while introducing his current hits. He shares the stage with Noel Nderitu, Kendi Nkonge, Nasara and Webi. Charges are Sh1,500.
Kisumu
Kriss Darlin at Club da Place
It is Jamrock once again at the biggest reggae stable in the region. Dohty Family, led by Kriss Darlin heads to Kisumu, Club da Place for the Reggae Music Again festival.
The bonanza that will take place tomorrow will also feature MC Kadamawe Roots as well as the entire Jamrock Dohty Family. This weekend, the Saturday night show goes on with a special DJ music mix on offer by DJ Extreme and DJ Daggy. The party is powered by Hennessy. Entry is free and drinks will be going at pocket-friendly rates.
Nyeri
Get Luxurious with Crème
Music producer and decks man Crème de la Crème will headline the first anniversary celebrations of the popular hangout joint Luxurious Ibiza in Nyeri tomorrow night. He shares the stage with Maish Mkenya and DJ Hoper 254.
Kajiado
Alchemist's Afro Social
The energetic Kajiado based artiste, deejay and producer Saint Evo, alongside Jack Rooster and Fluid, headlines the popular Afro social music series at the Alchemist this Sunday.
Machakos
Party at Club da Palace
Looking for a nice out-of-town plot? Well, the new Club da Palace in Wamunyu town in Machakos is the spot to be at. Hosting top musicians and DJs, the Kitui highway one-stop entertainment place welcomes you tonight and tomorrow. There will be lots of African cuisines to sample from as well as ample secure parking. The party kicks off as early as 8 pm and goes on till late.
Go wild at Woodstock Club
Kick-off this weekend by joining party people at Athi River town's best entertainment spot Woodstock Club and Lounge, right inside Makadara. Venture into the new cool joint also known as Kwa Oscar tonight and tomorrow for the best of entertainment and refreshing times. The joint will be playing the best of hip-hop, R&B and African fusion all weekend with favourable prices guaranteed for your favourite drink.
Makueni
Good times at Geber Lounge
Hyped as one of the best clubs in Makueni, Geber Lounge in Wote town in Makueni County is the place to be tonight and all weekend. Tonight, the state-of-the-art joint hosts the 'Fresh Fever' gig that will feature a pool of upcoming DJs and artists.
Tomorrow is Jam Night and on Sunday a special Chill-out with drinks at affordable rates. Meet DJ Tobbie, the 'illest' DJ in the Eastern town as he does his magic.
Jiweke Sundays
Chill out spot Jiweke Tavern along Ngong Road hosts its signature Sunday party this and every Sunday featuring fantastic discounts on selected drinks and bottles and live music mixes from deejays Steno and Dream.
Asmara's Reggae Sundays
Amara Lounge in Pangani presents the reggae Sundays party this and every Sunday at the venue featuring radio DJs Double Trouble, King Biggie, MC Japollo, Selekta Ronnie and DJ Flacko.
Silayio Live
Thursday Nite Live music series by Roots International presents the soulful Silayio and her powerhouse all-female band The Queens of Nubia in its second edition of March at J's Fresh Bar and Kitchen this coming Thursday. There is no cover charge.