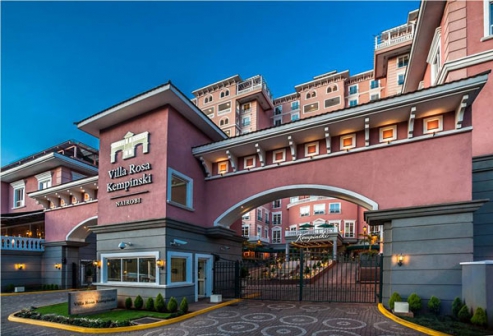 Initially, it was all about a lover with the deepest pockets or heaviest wallet winning a Sh5.4 million Valentine's Day offer at Nairobi's top luxury pad, Villa Rosa Kempinski.
This time you might as well leave your wallet at home, come up with the greatest love story and you will get an all-expenses paid romantic outing at the hotel on the hill come lovers' day.
The hotel has planned a spectacular, fairy-tale Valentine's Day competition dubbed The Greatest Love Story that will see one lucky couple win a chance to enjoy the hotel's Valentine pampering worth Sh2.5 million.
This offer comes a year after a Sh5.4 million offer went up for grabs during yet another interesting offer thrown by the hotel dubbed 50 Shades of Valentines.
The year before that, the hotel had Kenyans talking after pulling a first; a Sh2.3 million Valentines offer dubbed Night of Diamonds that had the winner enjoying the presidential suite and luxury gifts, among them diamond jewels.
This time round, the competition is open to everyone regardless of financial or social status and seeks to celebrate and reward one couple that shares their compelling love story with the world. Anyone with an enchanting love story may participate. Alternatively, one may also nominate someone else whom he or she thinks has a compelling love story to share with the world.
"There is no entry fee to this competition, which is open to members of the public above 25 years, but a participant must have wined, dined or spent a night in any of the hotel's accommodation rooms. Members of the public are invited to submit their love stories to [email protected] between now and Sunday (two days away)," the hotel management told Pulse.
The lucky winner will enjoy treats including a pick-up of the couple from their residence by a convoy of limousines accompanied by a butler, a lady-in-red and security for close protection. Once in the hotel, the couple will go through an Express VIP Check-In for a night of pure opulence in the reserved and majestic Presidential Suite, ranked as East Africa's best.
Also included is an eight-course, candle-lit dinner on the rooftop overlooking Nairobi city's skyline with the executive chef, two waitresses and a butler at their beck and call. And of course, there will be premium Moët & Chandon free flowing champagne.
Other treats awaiting the winner are a yearlong free admission to the hotel's prestigious loyalty programme, Rosa Loyalty, which comes with a range of added hotel goodies and a whole afternoon of an aphrodisiac Spa pampering at the exclusive Kempinski The Spa.
A panel of five judges drawn from some of Kenya's most illustrious personalities and romanticists will on Monday pick the best five love stories. The final five entrants will be posted on the hotel's social media pages until Wednesday, so that members of public can cast their votes. The entry with more votes wins the grand offer but a formal announcement will follow via mass media and the hotel's social media pages.
Unlike the previous two that saw the hotel's grand Valentine packages get bought by a few who could afford them, this year, Villa Rosa Kempinski wants this Valentine experience to be enjoyed by any Kenyan.
"For two years we have been having one grand valentines package that is bought by a few who can afford it, but this time we want it to be enjoyed by a couple who have walked the journey of life together through its joys and challenges and can share the story with the public," said Anne Murungi, the director of Sales and Marketing, Villa Rosa Kempinski.
Anne remarked: "February is a month of love and we want to add an everlasting memory to a couple. We want to be part of their celebration, to leave a mark in their journey of life together."
"The stories Villa Rosa Kempinski is looking for are beautifully-told love stories. Stories that fills our hearts and minds with endless joy and inspiring hope. Stories that depict the frails and despair of human character," she concluded.