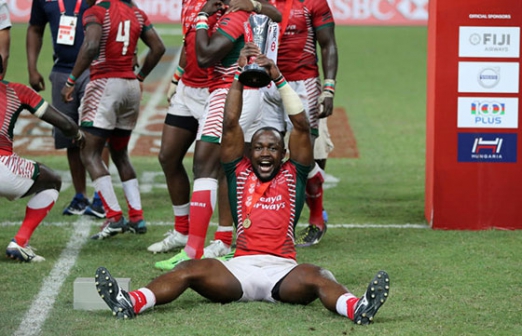 Every time we have depressing news from the political or financial arenas, sports always comes in to lighten our moods.
If we are not beating the world by miles in marathon races across the globe, our Harambee Starlets are startling dominant continental sides. When we are not whitewashing others in junior cross-country, our rugby sevens lads Shujaa are reminding us of Kenyan patriotism.
Kenya is rarely covered positively in world news, but this past week, the world had no choice but to eat humble pie and celebrate the country's Sevens team for winning the Singapore leg of the series. Yes, it has been a week, but it's still worth celebrating.
To the uninitiated, Kenya's Shujaa beating France, Argentina and Fiji on the way to clinching the Series win is akin to Harambee Stars annihilating Germany, Brazil and Spain. This is stuff that legends are made of. It does not get any bigger than this; if we have to celebrate the whole week so be it.
The last time the Sevens team pulled an upset is when we beat New Zealand in one of the preliminaries matches as well as reaching the Series semis. But to win the series itself, this is a first one. No wonder #Team Clueless, and they were many especially in top positions, thought that 'Safari Sevens had won the World Cup'.
That win in Singapore tells us two things. In Kenya we have the talent to compete with the best in the world; be it in football, athletics or any other sporting discipline. Second, local coaches can hack it. We have been made to believe that unless you get a foreign coach who ostensibly has all the latest knowledge on team tactics and management, you cannot win anything. This notion has been thoroughly bastardised by the Shujaa triumph. Benjamin Ayimba was also the man at the helm when the team reached the semis in a previous Series.
I fully expect the government to make an example of how to appreciate sportsmen who do Kenya pound by doing something that the sportsmen can be proud off.
Harambee Stars should also be made to be their ball boys as they train for the next leg in Paris. Perhaps by hanging around the Shujaa boys, this kind of good performance may rub off.
Sometimes, it is hard to be a Kenyan football fan. Just imagine supporting Harambee Stars, Arsenal and the bets keep going south. With such gloom, the Shujaa win was a welcome relief.