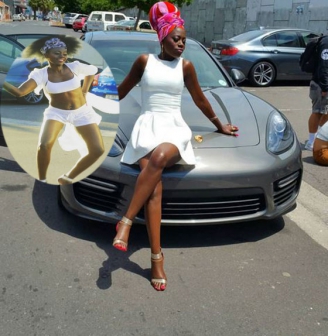 The debate is still on as to how, Akothee, a hitherto unknown singer has emerged the surprise artiste of the year, indeed becoming the most visible Kenyan female artiste this year, so far.
You would expect the likes of Victoria Kimani and Avril among other 'usual' female stars to be filling the big void. From the blues, this dancing singer who once used to dance for a rumba band has stolen the thunder, and she does not seem to be slowing down any time soon.
And with rumour mills all abuzz with hate that the Mombasa-based singer paid Diamond Sh1.7 million and Flavor Sh6 million to record the two hot collabos, to buy her lifeline, Akothee scoffs, snaps and stuns; "The best is yet to come".
"Truth is, apart from being friends with Diamond and Flavor, I am a big brand myself. The fact that I am a big name is what makes them identify with my brand," she brags.
"I am loaded, yes, I have cash, but if it was about money then even the worst singer could easily pay to have a collabo with the biggest stars in the world. They can talk...Let them talk," she dismisses the haters without an iota of regret.
And so when the vocally gifted no-nonsense star hosted the crème de la crème in Kenya's showbiz at Club Volume at Shanzu Mombasa, the spot picked identified to celebrate her lavish white birthday party last week, she was looking forward to prove a point; that indeed the new queen of showbiz had taken her throne. Besides, millions had been put aside with politicians and surprise guest artistes being flown in.
But above all, even with the unstoppable surging fame, of much interest in people's mind has been the source of her enormous wealth; millions of investments that have her as the richest Kenyan female singer.
Sassy and hot with curves in her thirties, Akothee 'eats life with a big spoon' and hobnobs with the high and mighty. She shops in Italy and parties in France. Her children gets holiday treats in Dubai. She attends concerts on choppers. She drives flashy cars and lives in palatial houses; houses she has built. Her retirement home in Rongo is claimed to be valued at Sh100million. Her palace in Mombasa's rich man reserve North Coast beachfront is worth Sh120 million. Her luxury house in Nairobi leafy suburb estate is worth Sh80 million and the price of her four-bedroom pad in Zurich, Switzerland would send a chill down the spines of some "noisy" wannabees.
"Is it wrong if I brag a bit and showcase my property on Instagram? Does this make me a socialite?" she teases adding that a woman needs to live life to the fullest.
It hasn't been a walk on the park. She went into a bad relationship at the age of 13, at 14 she was married and with a baby.
"It was tough being a single mother at 14. My husband was at Moi University. We were relying on support from friends and sympathisers. It was hectic," she recalls. After the going became too tough, the marriage collapsed.
Years later, Akothee hooked up with a diplomat and relocated with him to Zurich, Switzerland, where she would feature in various private dance parties that earned her up to Sh300,000. Nine months on, bad omen stuck again.
"He was more interested in having a child with me as opposed to marriage and yet I was in need of a husband," she says adding that she milked Sh1 million from the lover before returning to Kenya to start a music career.
"I injected this cash into my businesses and further grew my property besides buying myself a car."
Another man showed up and she jumped on the opportunity with both hands.
"The man was truly loaded and he showered me with gifts cash. He once gifted me with a brand new Prado on my birthday and gave me Sh80 million to put a roof over my growing family. The French man is the father of my last born, my fifth child. We are now separated," she remarks.