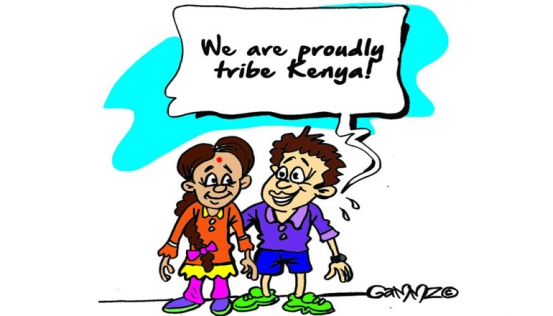 The recently released report on how ethnic groups share public jobs was shocking but not surprising per se.
It revealed how six (out of 43) ethnic groups have colonised Kenya's Civil Service in central government, and the ugly face of tribalism at various counties, with some hiring a hundred percent from the dominant local tribe.
After reading the report, I couldn't help but think about the forgotten small tribes of Kenya. It's a pity that these communities have remained marginalised, ignored and down trodden for ever, with no one speaking for them.
Never mind come election time, politicians will be hovering in their localities, promising them heaven, only to deliver hell. Put differently, they will be used and dumped!
These are communities whose natural resources were annexed and exploited for national development while they remained perched on the fringes of time and fate.
They include indigenous fisher groups, pastoralists, hunter-gatherer communities and disparate folks like the Nubian community who, in this day and age and despite living in the capital city (in Kibera slums), are still classified as 'other groups' or something to that effect.
Things that we take for granted — like access to clean water, education (I hear the Ndorobo only have three female university graduates) and healthcare are a pipe dream for these communities.
Some have even tried to seek not even employment or fairness but mere recognition by government in vain. The authorities insist on calling them "others". But some politicians in search of votes will still shamelessly take a political rally to their (the marginalized communities) locale and yell, "Tuko pamoja (we are together in this)?" Really? The cheek of it!
Ethnic balance
Interestingly, no one, apart from international Non Governing Organisations, gives a hoot about them. What's more, the unfortunate bit about the report released by National Cohesion and Integration Commission (NCIC) Chairman Francis ole Kaparo is that once we are done raving and ranting about it, no action will be taken. It will be business as usual.
This is despite there being a law, demanding that 30 per cent of the jobs at each and every county be given to so-called outsiders for the sake of ethnic balance.
Expecting any action to be taken is being overambitious because chances are, those who should be doing so were also hired on tribal basis or practice tribalism in hiring, anyway.
Meanwhile, ever noticed we tend to forget that Kenyan Indians are a marginalised group? Could it be because, unlike the average Kenyan, they live in towns?
Shunted out of politics and the civil service, they have somehow thrived and today command large chunks of the finance, manufacturing, tourism, commerce and IT sectors. Save for one or two who are active in politics, majority are just not interested.
Talking of the two or three Indian politicians in Kenya, when was the last time you heard any of them lead a protest or stand on a podium and whine, "Sisi kama wahindi tumebaguliwa (we the Indian community are marginalised or discriminated against)"? They always fight for the rights of all Kenyans! How about that Mr Politicians?!
It might shock the Ministry of Education that some of Kenya's finest Indian minds don't graduate from the national schools that tribes always fight over. They are nurtured in the Aga Khan Academies and the Visa Oshwals of this world — schools where education is not only of world class standard, but tailored for the international job market as well.
Not unsurprisingly, these lads exit schools with four or five distinctions proceed to Harvard and MIT and thereafter vanish into outer space to mint billions for themselves and their adopted countries.
Amusingly, no one wonders where the Kenyan kids with Indian descent who hammer A's in math, physics, chemistry and biology in some London A level exam disappear to.
But anyway who would when everyone in authority is fighting over political office and whatnot? Yet if we harnessed these young Kenyan Indians, maybe they would turn Kenya into a communication and technology giant and save their fellow minority tribes like the El Molo from extinction. Who knows? I rest my case.