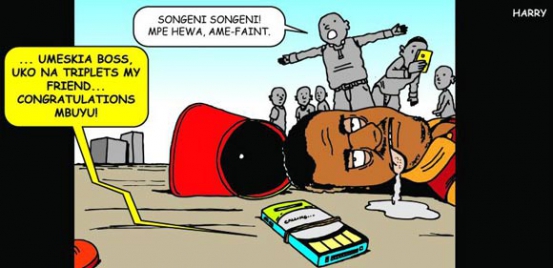 A second-hand clothes seller in Nairobi's Mathare slum fainted after his wife told him she is expecting triplets. The father of four, only identified as Kevin, is said to have been so shocked that he lost consciousness and collapsed immediately he received the news on his phone.
Upon arriving home from the clinic for routine checkup, Scola wrote her husband, Kevin, a tersely worded text message, saying: "I'm expecting triplets".
Cash-strapped Kevin could not fathom the fact that he was soon to be a father to three more children. To him, his wife says, this was a reason to be worried.
The news is believed to have shocked him so much so that he collapsed into a heap in his kibanda (makeshift shop), prompting his colleagues to rush to his rescue. They had to administer first aid to resuscitate him.
Scola, said her husband had in the first place expressed regret over the fact that she was expectant, claiming the pregnancy was unplanned for.
Angered by the 'accident' of his wife getting pregnant, Kevin had suggested she terminate it. However, after much consultation, the couple, Scola said, half-heartedly agreed to keep it, thinking it was one child.
"He had been complaining about me having gotten pregnant accidentally because we had agreed not to have more children. The pregnancy is something we have both been really thinking hard about. I had even contemplated abortion when he became too fussy over the pregnancy," revealed Scola.
FINANCIAL CONSTRAINTS
According to Scola, Kevin had expressed his reservations about having more children, citing financial constraints. He argued that school fees, food and clothes for his first four children were proving to be quite a challenge to him. Thus, getting even one more child would leave a huge dent in his pockets.
"We already have four children and news that I'm expecting three more came as a shocker to him. He was startled because he was expecting at least one more rather grudgingly. Our financial circumstances can't support such a big family," Scola said.
Asked about family planning, Scola revealed her husband always uses 'withdrawal', a rudimentary family planning method, which unfortunately backfired this time around.
"We always plan when to make love and he has been using withdrawal method to prevent pregnancy, but it did not work in this case. We, however, agreed to raise one more child. Not three as is the case," she said.
This, however, is not the first time such or related news has been reported. This incident comes against the backdrop of many others cases, in which husbands fled upon learning that their wives have given birth to twins or triplets.
HUGE BURDEN
Take, for instance, the most recent case of one Elkana Gwara from Kogello, Siaya County.
Contrary to popular belief that new born babies are a bundle of joy and blessings, to Gwara, his triplets were nothing but a burden.
So much so that he, through media, made calls to Kenyans who were willing to take them up for adoption. Three weeks later, Amani Village of Hope Children's Home in Siaya County took them up to allow Gwara to fend for his other four children. His wife had died while giving birth to the triplets.
Further afield and in a related incident, Tabitha Nyambura, a single mother of five from Mbiriri village in Kieni East, Nyeri County gave birth to triplets early last month at Karatina District Hospital.
She called upon well-wishers to contribute towards assisting her raise her family. If these cases are anything to go by, are children, indeed, a bundle of joy or source of happiness anymore as sages would want everyone to believe?