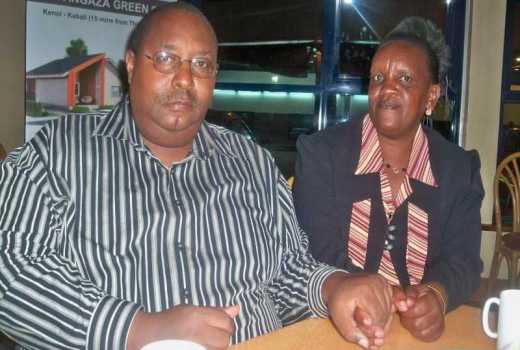 A city pastor claims he has not had sex with his loving wife for over 10 years due to a rare health condition.
Pastor Francis Gichuru Gachieki, the lead preacher and founder of Christ Ambassadors Church International in Nairobi's Mowlem area, has not been intimate with his wife since 2000, when he developed 'prolactinoma, a medical condition which makes him produce milk from his breasts.
The pastor says his sex drive has ebbed, but he has not lost hope to raise funds for an operation to have him roar back to life.
Prolactinoma causes reduced libido, low calcium, hormonal imbalance and even infertility.
In an exclusive interview with The Nairobian, Francis Gichuru, a former manager at an insurance company, says, "Actually, the problem began immediately after our wedding in 2000, then I could not perform to the maximum, but we could not figure out the root cause."
Gichuru adds that despite his condition, some of his friends and relatives still chide him for not having sired a child.
"After stepping out of a cyber café back in 2007, I noticed an unusual liquid on my shirt, but ignored it and proceeded home in Kariobangi," he said.
When he got home, his wife, Mercy Muthoni, also noticed the liquid discharge and asked him to remove his shirt after which she squeezed his breasts and discovered that the abnormal liquid was milk and not sweat.
He went to see a doctor who referred him to Kenyatta National Hospital and several tests were conducted. He says he felt humiliated when female patients started laughing at him as he queued with them in the same line
"Soon after, I started experiencing severe headaches, poor eyesight among other disturbing symptoms and even though doctors conducted several tests, including squeezing out milk for tests, they did not make a conclusive diagnosis," he says.
All this time, Pastor Gichuru says, he was not taking any medication.
"More than three doctors conducted similar tests as the condition took a toll on me. At some point, a group of doctors and students even stripped me naked while teasing me," he says.
Help came in 2009 as Pastor Gichuru was listening to a local radio station "when I heard a female doctor describing my condition and that it could be treated."
When he contacted the doctor, he was given some tablets that gave him peace of mind for his condition.
"When my conditioned worsened in 2014, my doctor proposed a surgery in India, United States, Singapore or Israel," he said. "This surgery is very important to me as it will restore my life including my libido," he says.
Pastor Gichuru says he currently feels weak and has become obese; he is also unable to enjoy certain types of food. To date, he has used more than Sh1.3 million on medical bills. Meanwhile, his doctors have estimated that he needs more than Sh2.5 million for a complete surgery.
Due to his condition, his Christian ministry suffered and "some members took off, saying that a childless man cannot lead them."
Not so long ago, Pastor Gichuru said he attempted to advise some children of his relatives but they ended up mocking him and calling him useless.
"We planned a fundraiser within Embakasi after being advised by a local MP, but he also did not show up and we only managed to raise Sh180,000."
But he is optimistic that: "God will answer my prayers one day through well-wishers."