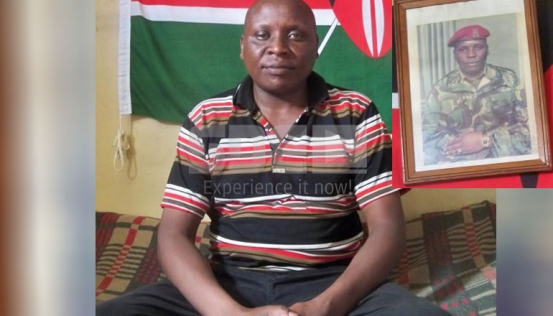 Former President Mwai Kibaki's body guard is now private watchman at a home along Mombasa Road.
David Maina Wambugu, then General Service Unit, officer was in the same car with Kibaki when it was involved in an accident while returning to Nairobi from public rally in Machakos during elections campaigns in December 3, 2002.
The 44 year old recalls the incident perfectly. "It was one of the worst days of my life. I just remember that it was around 6.30pm and it was raining heavily as we approached Mombasa Road when we were involved in the accident. I woke up days later in hospital bed."
Wambugu who now depends on well-wishers to foot medical bills suffered broken limbs and head and back injuries.
 Kibaki became President and had no qualms paying Wambugu's medical bills through State House for more than two years.
But then some of his bosses discovered he was in touch with Kibaki without following protocol. His communication with State House was censored. Then he was dismissed from the service. He was 32. "What pains me the most is how some people felt bad that the President was footing my bills ranging between Sh3,000 and Sh20,000 only," says the father of four who  relocated his family to the village.
Wambugu who hails from Kibaki's Othaya Constituency joined GSU in 1992. He was picked to guard Kibaki during the 1997 general elections after completing the VIP protection course.
Initially, he worked under the Anti-Stock Theft Unit in the Rift Valley for some time before he transferred to GSU Headquarters to train as boxer and switching to VIP protection.
"For now I'm working as watchman at a private home along Mombasa Road. I've done it for over three years now in attempt to make ends meet like anybody else," he told The Nairobian during an interview at his home.
Nine years since the accident, Wambugu's attempts to access proper medication and even meet justice after several letters to various arms have borne no fruit.
"Since the day my bills to the State House were hijacked, I've spent more than Sh500,000 from one hospital to the next and even sold my property to feed my family and survive because at some point I decided to go slow on hospitals lest I walk naked due to poverty," he said.
Working with Kibaki for more than five years, Wambugu describes the former president as a generous man who never left his aides hungry. "In fact, he sponsored one of my brothers through university. Similarly, Lucy Kibaki was my close friend and we even shared a lot whenever we met in State House."
He wrote a letter to the National Police Service (NPS) through the Independent Policing Oversight Authority (IPOA) who requested NPS to intervene on Wambugu's behalf. 
"The commission is in receipt of complaint letter from Ex-Police officer David Wambugu, dated June, 3 2016. After going through detailed self-explanatory letter, we thought that your organisation is best placed to assist the complainant get justice after long time," partly reads the document.
Wambugu also wrote a letter to the former president and delivered to his Nyari estate office on February 4, 2016. He told Kibaki "I believe you are not aware that after the accident, I was forcefully retired simply because of forwarding bills thereof to your office requesting assistance in clearance."