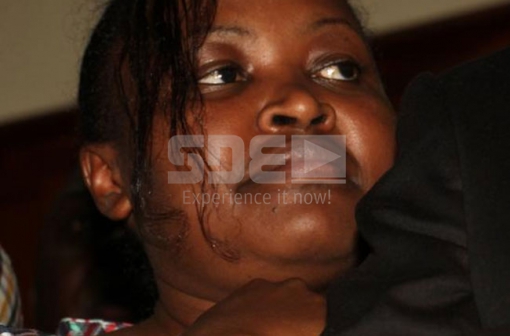 Seven years ago, Josephine Kabura Irungu, 34, did not know that she would one day be fabulously rich.
When she relocated to Nairobi from her rural Kiangiti village of Kiharu in Murang'a County to learn how to braid hair at her aunt's salon, she would never have dreamt that fame and fortune awaited.
But providence smiled for the hairdresser who has two children with a pastor when she was introduced to former Devolution Cabinet Secretary Anne Waiguru by a male contractor with connections at the NYS. The contractor, with whom Kabura is said to have a close relationship, hails from Waiguru's Kirinyanga County and played a key role during Waiguru's homecoming party held at her Kiamugumo home in Gichugu Constituency in September 2014.
President Uhuru Kenyatta was among the VIP guests in attendance.
From the introduction, a friendship blossomed that would catapult the once humble village girl to the wheeler dealer currently at the centre of the NYS Sh791 million scandal. Apparently, so good was Kabura in hair dressing that she became former CS Waiguru's favourite salonist.
And when a high profile woman like Anne Waiguru sits on a chair and for two hours, and puts her entire appearance, vanity, and crowning glory in the hands of another woman, trust is established. The friendship extended into a personal relationship, and with trust already cemented between the two, small business deals started coming Kabura's way.
It is, however, not clear how the rookie trader became linked to senior officials at Waiguru's ministry and the NYS and started cutting multi-million shilling deals.
"The officials even sneaked her into a government delegation visiting New York some time in November 2015," a source told The Nairobian, adding that the Kenyan delegation was accommodated at the top drawer Waldorf Hotel.
Those who have interacted with Kabura say she is sharp, and has an eye for detail.
"She doesn't forget anything. I met her once, and towards the end of the meeting, she remembered a question I had asked but she had not replied because her phone rang," says a well-known consultant who met her last year. He adds that Kabura might be swimming in money, but she essentially is still a country girl.
"Apart from the village air about her, she is an otherwise very calculating woman," he says.
When The Nairobian traced her new hair salon along Moi Avenue, but the establishment was closed.
"The owner comes here every morning by 7.30am strictly. She is never late. When the doors open, she will already be here," said a security guard at the building that houses Kabura's new salon.
"She doesn't spend the whole day here," he adds.
Peering through the stained glass, one notices the state of art equipment in the salon. The girl from Kiangatia village has gone places.