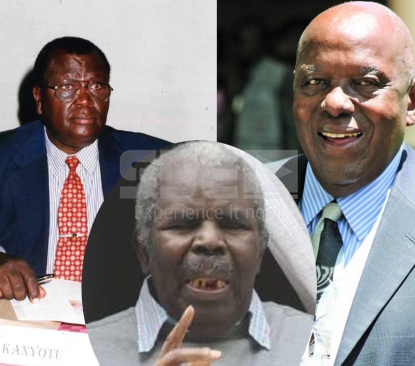 Court battles over multi-billion shilling property and other inheritance by children of prominent Kenyans have hit headlines lately.
But where there is a Will, alas, there has been no way of resolving bitter disputes pitting siblings: Three children of the late politician, Njenga Karume, are up against the trustees he left to manage his business empire. The children of the late spy chief, James Kanyotu, were also in court over his billion shilling estate, as were siblings of the late politician and businessman, Gerishon Kirima, who were against the third wife, yet he too had left a family trust to manage his wealth.
But not all old money Kenyan families are fighting over old daddy's sweat.
One notable family is that of the late Central Bank governor Philip Ndegwa. The family nest egg under First Chartered Securities Ltd comprise controlling stakes in banking, shipping, real estate and real estate management and insurance. The wealth has evidently grown under the watch of sons James and Andrew Ndegwa, after the patriarch died in 1996.
There has been no record of fights over the administration of their multi-billion shilling empire comprising ICEA Lion Insurance, NIC Bank,  Ambank, three tea estates and tea processing factories, milling and beverage manufacturing, in addition to a property management portfolio, which includes the upmarket Riverside Park, is managed by Knight Frank Kenya, with The Ndegwas as partners, through First Chartered Securities.
Equally, not a whisper over property has emerged from the Kenyatta family following the death of President Jomo Kenyatta, in 1978. On the contrary, the estate has, like the Ndegwas, expanded via vast interests in hospitality (Heritage Hotels & Resorts), financial services (CBA), media (Mediamax) dairy (Brookside), education (Peponi School) besides blue chip stocks, large scale farming, property and land ownership.
The other prominent Kenyan who is still alive and has taken time to avert inheritance squabbles is former AG, Charles Njonjo. He told Business Daily recently that he had sat down with his children and agreed on their inheritance. "We have sat together and they know what they will get and inherit," said Njonjo, adding, "there is a Will they can't challenge and I advise our people to write Wills because what we witness with the people you have mentioned is sad. If they were to come back to life today, I don't know what they would say."
Njonjo's wealth sweep across huge stakes through Gambit Holdings, Africa Liason & Consulting Services (Alico), which in turn has stakes in banking and insurance, motor dealerships, besides forays into ranching.
What did the Ndegwas and the Kenyattas do right? The biggest mistake the wealthy make is that they never involve their children or spouses in their businesses, says financial consultant Frank Sabwa. "They will work so hard but use their money to shield their children or spouses from hard work, and when they die, the children are left with a lot of wealth, but zero management skills," he explains.
The financial consultant also advices business people to inculcate the value of hard work, in their children, from an early age. "People should pass on family values, not values of consumption but the value of building the business. For instance, you will find that many people who took over their parents' usinesses and made them more profitable joined the business straight from school, at junior levels, and worked their way up the ladder to head the company," he says.
Sabwa gives an example of the British royal family, whose offspring are taken through rigorous schooling, including military training, to prepare them for their future roles as kings or queens to avoid headaches.