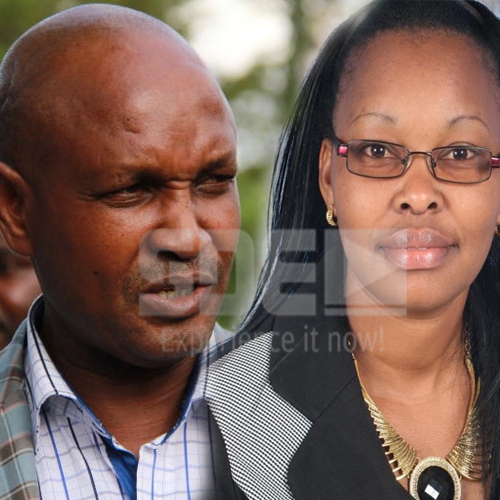 As women leaders rally behind a former journalist allegedly beaten and raped by Imenti Central MP Gideon Mwiti, a controversial female activist who reportedly worked for former Inspector General of Police David Kimaiyo accuses the victim of being a liar.
In a March 25,2015 post on her Facebook page, Faith C. Muthoni wrote: "The husband was given land by muheshimiwa to sell at 20M but he knows what he did...to upload the audio soon on the same."
When The Nairobian contacted the victim's husband on these allegations, he rubbished them as rumours being created to deviate people from the real issues.
Faith further insinuates the fact that the alleged rape victim was intoxicated, "...a married woman drank some brandy tots at Pizza Gardens then proceeds to Westlands and took a whole bottle of Jameson until late and claims she had gone to meet Muheshimiwa in his office for a business meeting. Later she said that she was 'raped'.
"I'm against rape but surely, if you're going for an official meeting with a "client" do you go to a club to drink and claim you were raped?" another post read.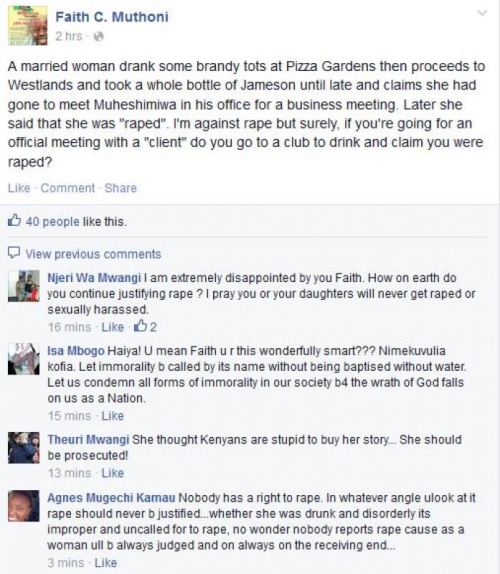 The posts elicited fierce comment on social media, with many blaming the online activist, known for her relentless comments in support of beleaguered Inspector General of Police David Kimaiyo, for perpetuating the twisted culture where rape victims are made to feel responsible for what happened to them.
Gathiru Mwangi posed, "Faith C. Muthoni, can you substantiate your claim? Were you drinking with her? Did you see her drink the #wholebottleofJameson or did you hear it from someone?"
Ann Mbugua wasn't too thrilled either: "Does the presence of a drank woman mean consent to sex? Does it matter whether she is married or not? Does it become less of a rape case because it was 8pm? Lets give the investigations a chance! Then we wonder why rape victims never come out! #Fearofvictimization."
Faith did not, however, disclose how she got hold of this information or whether she shared it with detectives handling the case. Efforts by The Nairobian to reach her for comment did not bear fruit.
This is just one the sideshows that has gripped Kenyans since controversial Imenti Central MP, Gideon Mwiti, the Known as 'Livondo' in his constituency for splashing money around like wannabe politician Stanley Livondo, was sensationally accused by a married public relations practitioner of rape.
The alleged victim, a former journalist who is still recovering in hospital, said she had a professional relationship with the first time legislator, and that the incident caught her off guard since Gideon Mwiti  "Never came across as someone who could harm me".
She claims she met Mwiti for business at his office in Westlands with her husband's knowledge. Her husband is a friend and business associate of the MP.
She recalls the MP first  introducing his PA, Titus, and a certain Mr Mwangi, an employee she was to work with in the MP's project she was supposed to work on. Mwangi later left and a doctor walked in and said he was conducting an HIV blood test on her. The doctor, who is facing an investigation  by the Medical and Dental Practitioners Board, has denied the allegations.
The victim's husband says he is shocked by the incident and claims that the MP has been trying to call him and sending emissaries so that they can settle the matter out of court.
"I have known the MP for two years and I'm yet to come to terms with this incidence," he said.
City lawyer Harun Ndubi who is acting for the family says he is working on getting the MP and the doctor arrested as investigations proceed.
"We are waiting anxiously to charge the perpetrator. The doctor who administered the HIV test should also be charged as well since he did it without my clients consent and counseling," Ndubi told the Nairobian.
Ndubi accused the doctor of being an accomplice to rape. "He must have known what was going to happen since the test was done in in an informal place. He must have understood that he was preparing a client to be raped."
Reacting to the latest rape furor, Mwiti, who has given conflicting statements on the saga to the media, insists his political detractors are working overtime to finish him off and insists that the woman in question is trying to extort money from him.
"The rumors being peddled as news by sections of the media are false and meant to tarnish my name and paint me in bad light.
"This is a well planned and executed attempt to try and extort money from me. I am appalled by this attempt to assassinate my character and by the media airing unsubstantiated claims. The police should do investigations and the truth will be known," he said.
A taxi driver who allgedly drove the victim to hospital says her blouse and skirt were torn and she looked disturbed and traumatised.
Sidebar: Whiff of rape dogs Parliament
Julius Lekakeny Sunkuli was in 1999 accused of raping and impregnating two underage girls.
Sunkuli, who was then a powerful cabinet minister allegedly offered money for an abortion, but one girl, a fourteen year old named Florence, decided to keep her baby.
Catholic priest Father John Anthony Kaiser put the girls in touch with the Kenyan Federation of Women Lawyers, FIDA-Kenya. The lawyers from FIDA submitted the evidence to the government, but Sunkuli was never formally charged. Instead, police stormed the building where the girls were hiding and took them to a police station. One of the girls who was at the center of rape claims against Sunkuli was later given a job in a Masaai Mara Lodge to shield her from the media.
Sunkuli had previously represented the Kilgoris Constituency in parliament between 1997-2002. He also served as Minister in the Kenyan Government and was recently Kenya's envoy to China, prior to resigning to vie for Narok County senator's seat in the 2013 general election.
In February 2003, John Serut, was named in Parliament as the minister who raped a woman in his continental house office. Then Budalangi MP, Raphael Wanjala said Kenyans should know that Serut is a rapist. "Mr Speaker, this house is of honorable members, not horrible members. A minister raped a girl in his office then continued to go to court with his flag and security details. "Wanjala is quoted in the Hansard of February 28th 2003. Regarding an attempted rape, Serut said the claims were "political."
In the Kanu era, a powerful Cabinet Minister was rumoured to have raped a colleague's daughter during a foreign trip.
Glance Box: 'Livondo' the money man
Gideon Irea Mwiti, 55, was elected Imenti Central MP in 2013.
He worked as an untrained teacher before founding Golden Credit Limited.
Was director and shareholder of the Kenya Akiba Micro Finance Ltd, pyramid scheme
According to a magistrate, he was acquitted of fraud charges relating to the collapsed pyramid scheme due to 'shoddy investigations'.
In November 2013, a radio presenter, Jamlick Kirai claimed he received death threats from the legislator who promised to teach him a 'bitter lesson.'