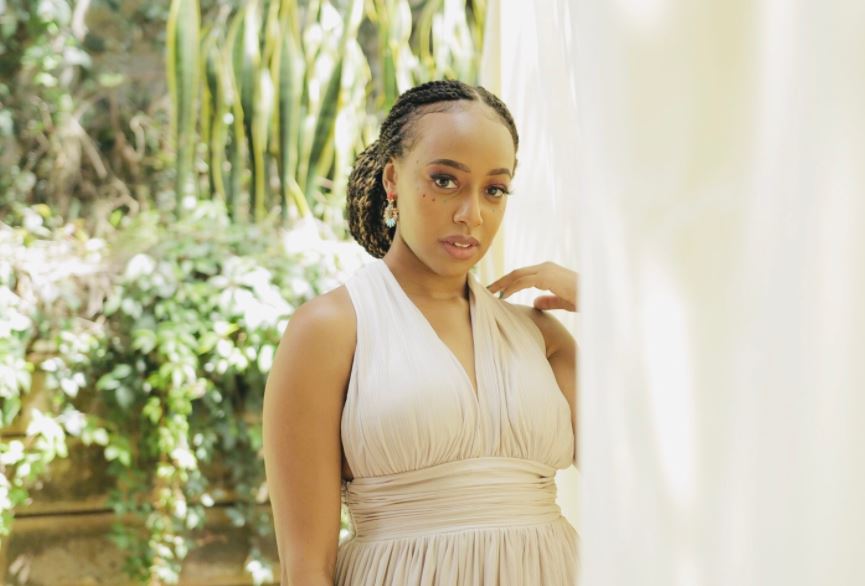 Is Mueni Kalola now alias Dhahabu Music ditching the corporate life for artistic endeavors? Alfayo Onyango finds out from the lushly vocally talented beau what's on her entrée as far as her musical ambitions go.
Who is Dhahabu Music?
I am a commercial Lawyer, Author, Singer/SongWriter.
What's your earliest memory with music?
As a child, probably in lower primary, I distinctly remember always singing the song From a Distance by Bette Midler, I even sang it in front of the church one day, and that's when people first knew I could sing. Around the house, I would also always sing the Prince of Egypt song by Whitney Houston and Mariah Carey.
How did you get into music eventually?
I used to record tons of covers on my phone because I love to sing. One day I decided to share these with a producer friend of mine who was shocked that I could sing and wondered why I'd been sitting on my talent. In 2013 we arranged for me to go to his studio and have my first serious song-writing and recording encounter. I was already done with my law degree and working at a law firm at this point.
What inspired and informed the decision to get into music?
I come from a musical family. My father and mother both have a rich musical history of singing and playing musical instruments in Church. I grew up performing in Church as a little girl and later in high school had an acappella group known as the Golden Emeralds, and we would perform in school. Music has always been a huge part of my life, and it was only a matter of time that I heeded the calling and took a leap of faith to take it more seriously and professionally. My time is now when I have more clarity about the direction I'd like my life to take.
Who do you make music for? What's your target audience?
I make music for anyone who is bold, assertive, confident, and into an urban afro fusion, afro RnB sound.
Are you doing it as a hobby or do you think it can be a sustainable career choice? It would be a very expensive hobby don't you think?
Music, to me, is the most powerful communication tool, and if one has access to the right opportunities, it is a sustainable career choice. It is a universal language, and many artists here in Kenya and around the world have managed to sustain themselves off of music. I can totally do the same.
Who are you currently working with, and who's on your wish list to collaborate with currently?
I am currently working with Elvis Who and my little brother JM who is in South Africa and a few other artists whose names I won't give away just yet. I'd love to collaborate with more female artists like sage Chemutai, Victoria Kimani, and if Vanessa Mdee makes a comeback to music, she is also top of my list. I'd also love to work with some South African Artists like Elaine and Cassper Nyovest.
You have recently released your second single, 'Playlist', accompanied with visuals. How was working on the entire project?
Playlist was born out of an impromptu jamming session at a studio with Elvis Who. I had come to meet him to refine our first collaboration feeling. He then challenged me to write more and played me a beat he had been working on. Funny enough, on that same day, BenSoul popped by the studio and found us jamming to the playlist track. He helped us refine the melody and helped write the Kamba verse. I was privileged to work with a group of very young talented people to bring the visuals to life. The video was shot by a brilliant young lady Michelle Donde with the help of Director RA, MuendoMuindi, and Evelyn Gachuchu. A good friend of mine, Moses Wasike of Mosyke designs, helped us with styling. My makeup was done by the model in the video Nicole Wendo. The entire shoot was extremely fun.
What do you think you add to the contemporary music industry?
I add a timeless, authentic African urban sound that has the potential to go worldwide.
You have a background in Law. Why Law, and do you think you can be an advocate and an artist without compromising one or the other?
Law was always my first career choice; it was either that or journalism. I do not believe in limiting myself. Being a multi-faceted individual with proper time management, it is very possible to pursue my dreams of being both an Advocate and a musician, especially because of my desire to transition my practice to Entertainment Law.
Since you are in Law, how do you think we can use Legal procedures to impact the music and entertainment industry positively?
I believe the first step is creating awareness in the industry about intellectual property laws and best practices around the world. The second step is to encourage artists to engage lawyers before they get into any commercial transactions involving their talents. The government also needs to step up and support talent, the collection of royalties is a completely flawed process in this country and it makes no sense that we have refused to employ technology to assist in this area and allow artists to reap their rightful rewards. The CMOs here have completely let the industry down, and we need impactful representation at government level to lobby to ensure that artists are given meaningful and adequate support. Paying artists Sh2,500 on Mpesa from CMOs just won't cut it. If your song has played over 50,000 times on radio, how can you receive the same amount of royalties as someone whose son has only played 10,000 or 5,000 times? Make it make sense. It is time for the circus to end.
The entertainment industry can be unfair to women. Is the Law industry as misogynistic as the Entertainment Industry? Have you had any experiences?
I have been fortunate enough to work with both men and women whose impact on my legal career has been sincere and constructive. Similarly, these are the characteristics that I will lean towards in the entertainment industry. As women, we are blessed with intuition, and don't doubt that mine will forever guide me in the right direction.
There is a notion of a lack of inclusivity regarding women in high positions in the music business. Is there a respectable representation of women in authoritative positions in the law industry compared to the music and entertainment industry? I strongly believe that women in leadership always create a positive impact. I would personally love to see more women judges, a female chief justice, and more women CEOs. I wouldn't say we have a respectable representation of women; we are still struggling to fulfill the Two-Thirds gender rule.
Can you talk about the hyper-sexual representation of women in music today? What are your thoughts? Personally, would you indulge?
If you mean the likes of Cardi b, Megan the stallion et al., I personally believe there is space for that type of music provided we keep the same away from Kids. Back in the day, we had the Lilkim's, Foxy Brown, Eve, and even Madonna. If it is okay for men to be shirtless in their music videos, then why shouldn't it be okay for women to twerk and show skin? Society should stop with the double standards and allow women to be who they wish to be.
Talk about your amazing travel lifestyle and how it influences your music?
I would wish to be more than travelled. However, the little I've done has opened up my mind to a world of possibilities and allowed me to experience different cultures and perspectives. I am therefore able to diversify my creativity as an artist because of travel and dream beyond my circumstances.
What do you hope to achieve in the music business?
I wish to continue to take the Kenyan sound worldwide in an authentic way and to impact how musicians view the Law. The Law is here to protect our interests, and I'd like to see artists win big and become more knowledgeable about how to protect their rights and interests.
What can we expect from you in the short and long term of things?
In the short term, you can expect an EP and collaborations with some of your favorite artists. In the long term, I can't wait to take the stage once the world opens up and events fully come back. I have some countries and festivals that I would love to perform at.
You also brush shoulders with bigwigs like former President Daniel Arap Moi, what can you say about that? We all know one bigwig or two. They are all just human beings like us at the end of the day.
Any parting shot?
As Drake said, we are here for a good time, not a long time. Follow your dreams today, not tomorrow, today.