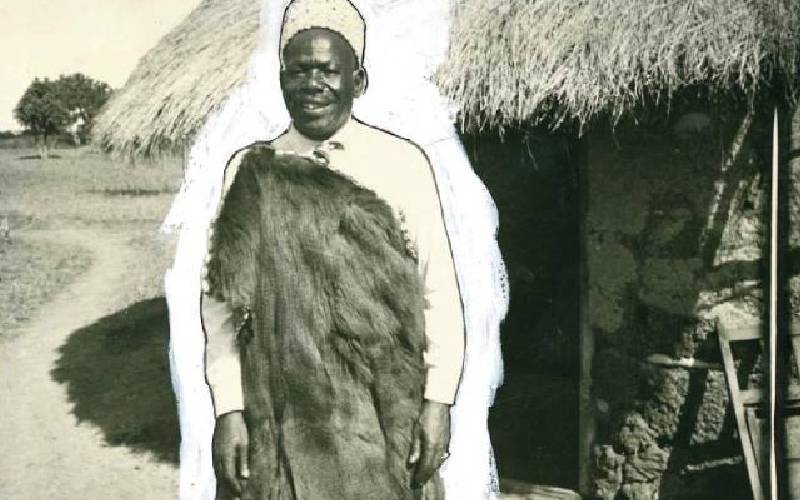 Dini Ya Msambwa, the once fiercely anti-colonial religion is still alive. The death of its founder Elijah Masinde (pictured) in 1987 might have diminished its impact, but adherents, mostly in Masaba Uganda, Pokot, and the wider Bungoma County still follow its dictates.
Masinde assumed a deity status within the sect and followers claim that though there are elders in charge of the church today, no one can fit in his shoes.
The sect leader was a mythical figure to many, including his surviving wives who tell glowing accounts of his life and struggle against colonialism.
Masinde's fifth wife, Elizabeth Nakhumicha says: "He was not an ordinary human being. One moment you would see him as a short man, the next he would become very tall. His complexion changed from time to time; Today you would see him as a dark-skinned man and next he was fair-skinned".
Kabule Wanjala is the overall clerk of the three regions of Dini ya Msambwa. He says he had a religious calling to join Elijah Masinde's mission in 1964.
"I was staying in Uganda in 1964 when I had a dream in which Elijah Masinde appeared and spoke to me, asking me to return home. I honoured the dream, returned home, and attended a prayer session that Masinde had called. After the prayers, Masinde asked me to become his clerk, and I accepted".
He was then placed in charge of the Pokot, Luhya, and Masaba regions.
"A few months later, Masinde instructed me to find a wife and he paid three head of cattle as the dowry," Wanjala said.
"Elijah Masinde was an accomplished footballer who often participated in the Gossage cup between 1933 and 1937. It was in 1939 that God appeared to him in the form of a dove and spoke to him about the difficulties his people were encountering. It was then that God asked him to give up footballing to go and rescue his people from colonial oppression," said Wanjala.
That was the genesis of Masinde's anti-colonial crusade according to Wanjala. He recounts how the colonial government hunted down Masinde and arrested him in 1945 together with 12 of his colleagues.
They were taken to Mathare hospital for mental evaluation upon which his colleagues were freed, but Masinde was jailed. That was the start of a life in and out of jail until 1986, the last time he walked out of prison gates at Kodiaga, frail and sick.
"It was after his release in 1945 that God asked him to build a church, which he did in Maeni village of Bungoma County." The Dini Ya Msambwa shrine in which Masinde died in June 1987 lies a few metres from the main gate into his compound. The church has a circular shape with four entrances that signify the four points of the compass.
At the centre of the church is a small table on which lies some paraphernalia. There are clay pots, half gourds, a clay kettle, and several curved three-legged wooden stools in different sizes. Along the wall in two heaps are assortments of sticks, some forked, others straight while others are shaped like curved walking sticks.
Jutting into the pointed roof is an old church flag in blue, green, yellow, and white church colours.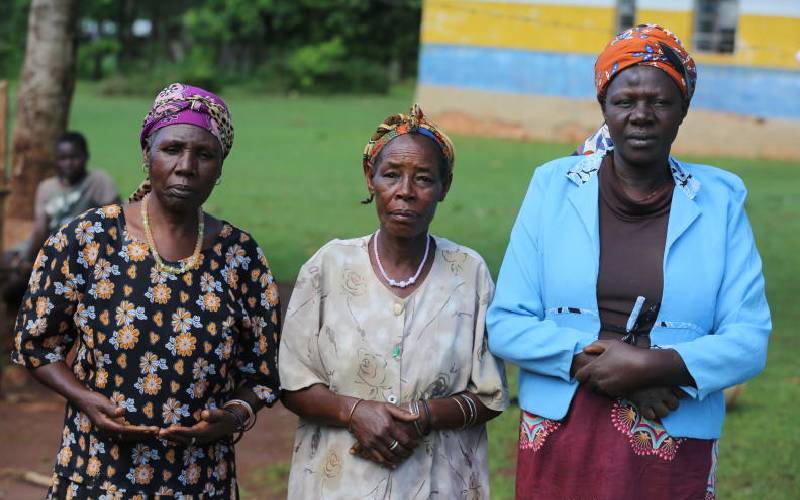 "These sticks have lain here since Masinde died. His last instructions were that they should not be touched or thrown away. Any time he went to Pokot or Masaba in Uganda, he would come back with this collection of sticks, but he never told us what they really were for," Wanjala explained. "Every year on June 8, Dini ya Msambwa followers from Masaba Uganda, Pokot meet here to celebrate their departed spiritual leader. Masinde had the foresight and built a house for each group in his compound. It is there that they meet every year on the anniversary of his death,' John Sangura said.
From inception, Dini ya Msambwa has known no peace. "The colonial government persecuted us, and even after independence, there was no rejoicing as the new government kept on hounding us," Wanjala laments.
He argues that the majority of Dini ya Msambwa adherents are homeless.
"We are a religion just like any other and should be accorded respect and recognition. We are a poor church, yes, but that is because of the obstacles that have been placed against us since the church began."
Wanjala says the situation is different in Uganda. "President Yoweri Museveni was a friend of Masinde. In fact, while he was still in the bush, Masinde prophesised Museveni would become president of Uganda. When that happened, Museveni sent two women to Masinde in 1986, but at the time, he was in jail.
I am the one who received the women and took them to Kodiaga Prison where they delivered Museveni's message to Masinde. Our brothers and sisters in Uganda are treated well unlike here where we are looked down upon."
Both Wanjala and Masinde's widows lament government neglect but acknowledge that Raila Odinga has on several occasions come to the aid of the family.
Masinde is survived by three of the six wives he married. The first three, Sarah Nanyama, Rebecca Nekesa, and Esther Nekesa are dead. The fourth, fifth, and sixth wives are alive but live a life of misery. Gertrude Naliaka, Elizabeth Nakhumicha, and Gladys Wanjala blame the government and politicians who only take advantage of Masinde's clout to make a name for themselves at their expense.
The widows say that because of the long period of time their husband spent behind bars, he did not have the opportunity to see his children through school. Moses is the only one who went to secondary school.