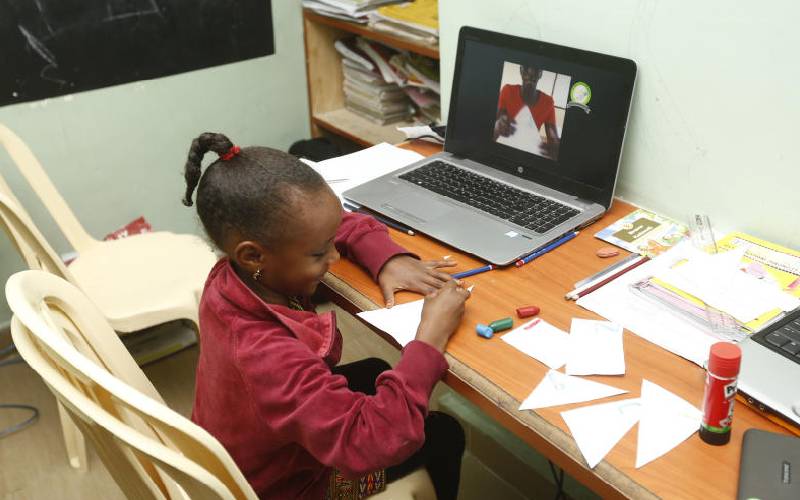 Focus has now shifted to President Uhuru Kenyatta to give direction on the opening of schools and colleges.
Sources at Office of the President said a high-level meeting scheduled today is likely to shed more light on the matter.
With coronavirus cases dipping, education stakeholders have said there is need for a concrete plan on reopening of learning institutions to cover lost time.
Basic Education stakeholders are pushing to have Class Eight and Form Four candidates resume studies to avoid losing an entire academic year.
Parents and headteachers who spoke to The Standard yesterday said it was still possible to allow the 1.8 million KCPE and KCSE candidates to recover lost time and prepare for national examinations early next year.
Study for three days
The Covid-19 Education Response Committee set up by the Education Cabinet Secretary George Magoha in May has urged the government to explore shift learning. In the programme, a section of learners attend school during the morning session while the rest report in the afternoon.
The second option was to allow some of the students to attend school for one uninterrupted week or even a month, with the rest of learners scheduled to report the following week/month in alternating shifts.
There was also a third option, where classes would be spread across two or three days of the week.
Under this arrangement, the first group of learners (candidates and Fourth graders) would attend school from Monday to Wednesday, with the second lot reporting on Thursday and Friday.
The following week, the cohort that attended school for two days the previous week would study for three days, as the other group learns for the remaining two days.
Each of the options was crafted to allow social distancing and to ensure the education year was not lost.
University managers have said social distancing arrangements are in place and they can take in a controlled number of students even on a phased-out approach.
Final-year students pursuing technical courses that require practical lessons also want to be allowed to start physical classes alongside the medical and dental students, who have been recalled to sit examinations.
Prof Magoha announced the reopening of the College of Health Sciences for final-year medical students to undertake their mandatory clinical examinations.
However, the CS said there must be proper use of Personal Protective Equipment, limited number of students per rotation to allow social distancing and measures put in place on management of Covid-19.
University student leaders however argued that it was not fair to allow a small group of students in select institutions to start physical lessons.
They proposed a deliberate plan to allow more students, especially those that pursue science and technical courses, to resume physical learning even in a phased approach.
The students argued that only allowing final-year medical and dental students to undertake their mandatory clinical examinations within the approved university and teaching hospitals was not enough.
"The decision by the government to push for online classes is not feasible because some courses like engineering cannot be studied online," said Universities' Presidents Council Chairperson Albert Maloba. He said universities should be allowed to take in more students.
The call by students reinforces the argument by Vice Chancellors that most universities have made adequate plans to accommodate more students for physical opening.
Vice Chancellors Committee chairperson Geoffrey Muluvi said each university was making arrangements to be approved by the ministry to allow reopening.
Examinations online
"In as much as we are expected to teach and administer examinations online, some of us have also made good steps to allow for physical teaching in compliance with Ministry Covid-19 guidelines," said a VC.
Magoha had proposed partial reopening of universities.
"Universities should consider phased reopening to achieve physical and social distancing, especially in halls of residence, lecture rooms and dining halls," he said. Another education stakeholders meeting is scheduled on September 14, to review the sector preparedness.