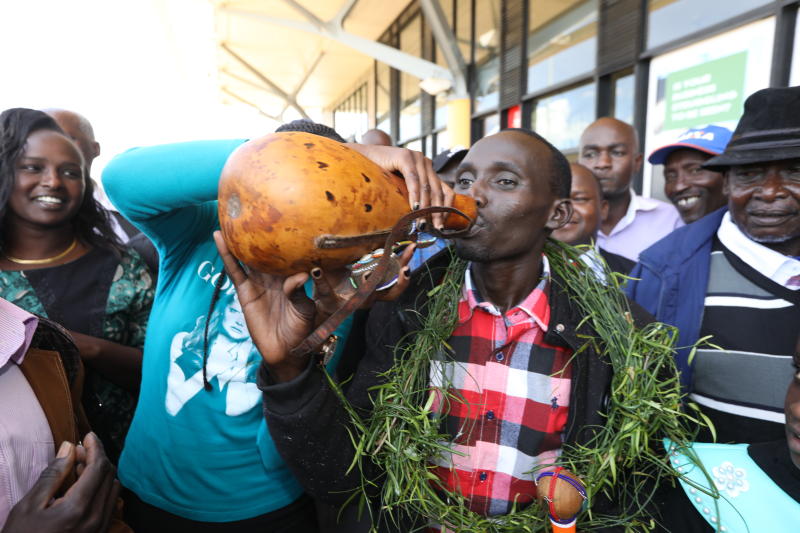 Athletes will not take to the streets of Boston in September as earlier scheduled, but instead, participants will run a virtual race.
Defending champion Lawrence Cherono was looking forward to his second win this year.
Cherono, who ran away with the Boston Marathon title last year in one of the most breathtaking sprint finishes said defending his title was what he has been preparing for this year.
"It is the most difficult thing to fathom. Boston marathon was my only major race this year," said Cherono.
He beat Ethiopia's Lelisa Desisa by just second during his debut last year and received a rousing welcome home when he landed at Eldoret International Airport. Cherono was treated to tasty traditionally fermented milk called mursik among the Kalenjin.
The 2018 Amsterdam marathon winner said he has been training for the race despite disruptions occasioned by the coronavirus pandemic.
It will be the first time in 124 years that Boston marathon, a race that Kenyans have dominated for the last three decades will not be run on Boston streets following the COVID-19 pandemic.
"I have just received the news of the cancellation and I still don't know how I am going to take part in the virtual race. I am still waiting for guidance from my management on the way forward," Cherono said.
Last year, Cherono endured a final stretch onslaught from two-time winner Desisa. Since 1988, Kenyan big shots in the marathon have displayed their might on the streets of Boston.
But the advent of Covid-19 is making virtual running the new norm.
Kenya's Ibrahim Hussein started the winning streak in 1988 before clinching a back-to-back victory in 1991 and 1992.
And between 1993 and 1995, legendary Cosmas Ndeti delivered a hat trick.
Moses Tanui also stamped his authority in the 1990s, winning the race in 1996 and 1998.
You can't talk about Boston marathon without mentioning four-time winner Robert Cheruiyot.
Cheruiyot won in 2003 before winning a hat trick in 2006, 2007 and 2008.
In the women category, Catherine Ndereba, Edna Kiplagat and Sharon Cherop are among other marathoners to have ruled the streets of Boston.
On Thursday, organisers said the 2020 race, which had initially been scheduled for April 20, and which had been rescheduled to September 14, will be staged as a virtual event.
"The Boston Athletic Association, with our input and support, has determined the traditional one-day running of the Boston Marathon is not feasible this year for public health reasons," Boston mayor Marty Walsh told media.
Walsh continued: "There's no way to hold this usual race format without bringing large numbers of people into close proximity. And while our goal and our hope was to make progress and contain the virus in recovering our economy, this kind of event would not be responsible or realistic on September 14 or any time this year."
According to organisers, any registered participant in the 2020 Boston Marathon will be refunded in full their entry fee.
Earlier in the year, the Tokyo Marathon was held as an elite-only race on March 1, and now Boston has been cancelled and set to go virtual.
The Berlin Marathon has announced that it cannot take place as planned on September 27, but has not announced a final decision.
The London Marathon was rescheduled from April 26 to October 4, but its status remains up in the air.