Give us a live rabbit, we'll give you sausages, kebabs and samosas!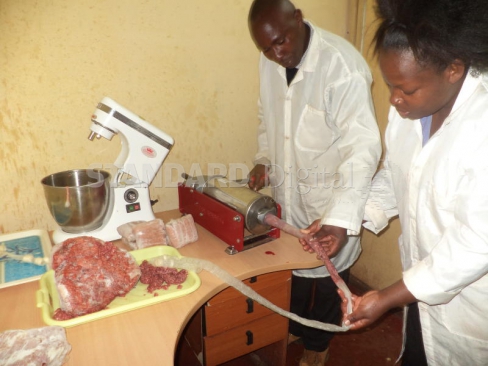 KIAMBU: Rabbit meat fetches good money, but if you want even more, try value addition. We are talking sausages, kebabs and samosas! Three savvy youth have taken rabbit business to the next level and have every reason to celebrate.
Isaac Muigai, Lillian Kanyingo and Peter Njoroge are proprietors of Pillar Group Ltd which processes rabbit meat into sausages, kebabs and samosas. When Smart Harvest visits them at their processor in Kikuyu, Kiambu County, we find Muigai cutting through a thick chunk of rabbit meat as Kanyingo holds it gently.
They are deboning it before mincing the flesh thereafter processing it to make sausages.
"We make yummy sausages, tasty kebabs and mouth-watering samosas from rabbit meat. Our products are in high demand in the area," says Njoroge.
The trio started their firm in 2011 and are now a force to reckon with selling their products to various supermarkets and hotels.
"Each sausage goes for Sh50. We buy rabbits from farmers in kilos with each going for Sh500."
Interestingly, demand for the rabbit products is so high, sometimes they get overwhelmed. Pillar Group buys rabbit meat from its pool of 382 rabbit farmers spread across the country.
Healthy rabbits
"Currently, we are facing a major challenge of rabbit shortage. We have orders we cannot meet. Sometimes back, we inquired from major supermarkets in Nairobi but they wanted us to slaughter 200 rabbits daily which we could not because we do not have enough rabbit farmers to supply the animals. At the moment we slaughter 100 rabbits per day," Muigai says.
How did they start the venture?
Before they met, the three were individual rabbit farmers in different localities.
They did not know each other until 2010 when they met at an agricultural exhibition in Wangige, Kikuyu organised by the Anglican Church of Kenya.
"During tea break, we spoke and exchanged notes. In our discussions and from the trainings, we realised that we would be stronger if we worked as a team. We resolved to partner and process rabbit products to fetch more cash," Njoroge explains.
To start off, in 2011 the trio each contributed Sh40,000 from their personal savings to make a total of Sh120,000.
"In addition, we borrowed Sh215,000 from a bank. We used the money to buy a rabbit sausage making equipment including a mixer and the stuffing machine from Kitchen Pride Ltd," Kanyingo explains.
Muigai continues: "After buying the machines, we started looking for rabbit farmers. Then, each rabbit weighing at least 4kgs would go for Sh200. We started buying each kilo at Sh500 that saw the same rabbit going for Sh2,000."
To get the farmers, they would attend agricultural shows where they distributed their cards and they also used extension officers.
The business picked up so well by the end of the year, they had paid back the loan.
Pillar Group buys the rabbits when they are alive, slaughter them and make the sausages.
"Nothing goes to waste. We sell the skin to a group in Nyeri who use it to make affordable shoes. We sell rabbit skin at Sh200, kebab costs Sh40 and samosa goes for Sh30 each," says Kanyingo.
Presently, they buy rabbits from any farmer across the country provided that their small animals are in good health.
However, they prefer hybrid rabbits such as Newzealand white, California white, Chinchilla and the Checkered Giant due to their high prolificacy levels. They have bought a vehicle to ferry rabbits across the country.
So how do they make the sausages?
"We add sodium nitrate curing salt and spices to the meat after mincing it.
We then mix and prepare the stuffed sausage for the smoker and load put the concoction into the machine. We control the temperatures manually from the machine to prevent over heating. We then cut the sausages into the required sizes and pack them," says Muigai. The group also trains farmers on construction ofrabbit cages, feeding and breeding the animals.
And where did they learn their expertise on rabbit rearing?
"We learned the skills of adding value to rabbit products in a training organised by the Ministry of Agriculture on value addition in our offices situated in Nairobi. As previous rabbit farmers, we have also attended several trainings on rabbit rearing," says Muigai.
Kanyingo who is in charge of trainings says: "We also tell farmers where to source for the fastest maturing breeds, best feeds and disease prevention and treatment measures."
One of the farmers who has benefited from the initiative is Ruth Wanjiku, from Kinoo, in Kiambu County.
"Bloat was my main challenge. Pillar Group taught me how to control it plus other diseases like coccidiosis and pneumonia. I have learnt from them that it is important to monitor your animals closely even if you have employed a farmhand," Wanjiku shares.
She has 34 cages in 8 metres by 4 metres piece with each sheltering between one and 10 rabbits depending with the age.
She sells her four-month rabbits to Pillar group limited in kilos.
"I feed an adult rabbit 130 grams of pellets per day and 60 grams for each young rabbit in a day. You increase the food as they grow," says Wanjiku.