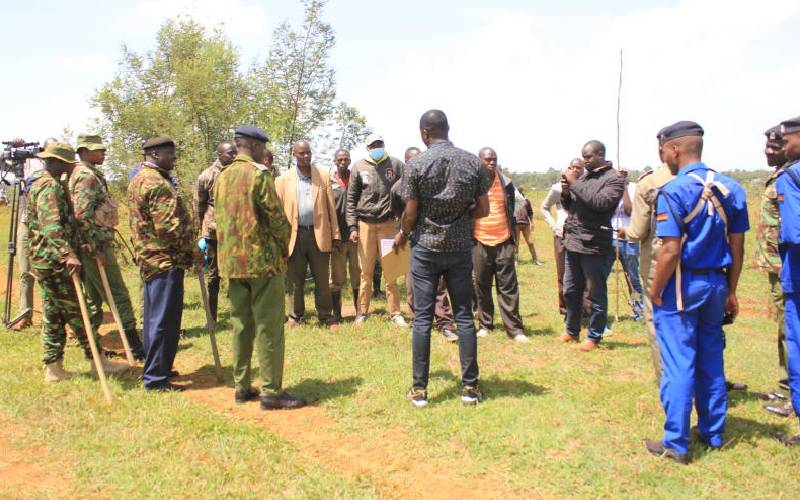 The Court of Appeal in Eldoret has directed that the status quo be maintained in the disputed 25,000 acres of land in Kapseret, claimed by former MP Mark Too's family and Sirikwa squatters group.
Appellate judges Patrick Kiage, Kathurima M'inoti and Mumbi Ngugi granted stay orders preventing both parties from interfering with the disputed land until a pending appeal is heard and determined.
Fanikiwa Limited owned by Too had filed an application for a stay after the Environment and Land Court reinstated its earlier orders, directing the police to provide security to surveyors and officials of the Sirikwa squatters group to survey the land situated near Eldoret International Airport.
In the order by Justice Elijah Obaga, surveyors were to set up beacons and map out public utilities from the disputed land.
Public institutions in the contested farm include the Eldoret International Airport, Moi University, public primary and secondary schools and public roads.
The appellate judges noted that through a miscellaneous application filed by the squatters group last year, an order for the survey had been granted to the Squatters when an appeal on the case was still pending in court and judgment is to be delivered on July 22.
"For the avoidance of doubt, that status quo means, that neither party shall interfere with the said property physically nor shall there be any transfer or disposal of the said property to the detriment of any party pending the said determination," directed the appellate judges.
Since last month, over 1,000 members of the Sirikwa Squatters Group have clashed with the police over the court order on a survey of the land. They had moved to the land and began erecting structures.
The squatters have been embroiled in a land ownership tussle with the family of the former MP since 2007.
They moved to court in 2007 and sued various government departments, Lonrho Agribusiness East Africa Company, Mark Too, David Korir and others for allegedly grabbing their land. A decade later, in 2017, the Lands Court ruled in favour of the squatters, but their celebration was short-lived after Mr Too appealed the court's decision.