Naivasha residents want footbridges along Nairobi-Nakuru highway to curb road accidents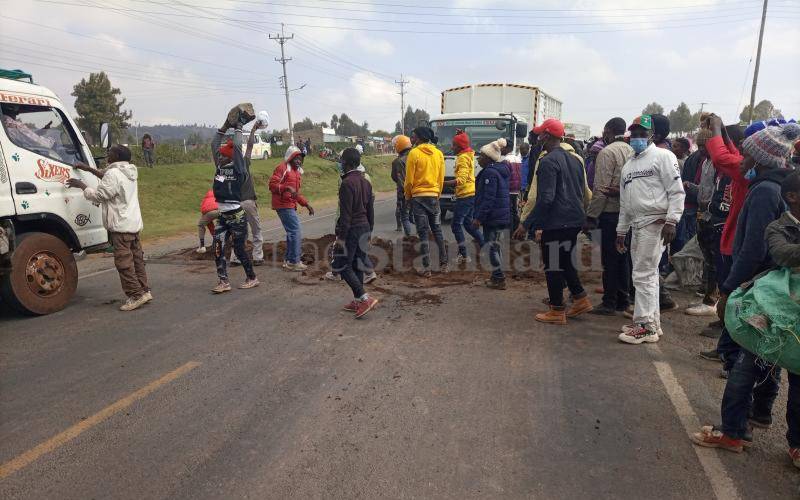 Residents of Naivasha living along the sections of Nairobi-Nakuru highway are up in arms over an increase in fatal accidents involving pedestrians.
They have now petitioned the Kenya National Highway Authority (KeNHA) to urgently address the crisis by constructing footbridges to avert more accidents.
The most affected are residents of Mithuri, KCC, Kayole, Raini, Kinungi and Ihindu, where over 20 people have died since the year began.
Last Sunday, a quarry worker was hit and killed by a speeding car in Mithuri estate, sparking protests that saw residents block the highway and stone motorists.
The incident came barely a week after another man was hit and killed by a car on the same section of the road, forcing residents to block the highway for over an hour.
According to Lakeview MCA Simon Wanyoike, the rising number of pedestrians killed on the highway was worrying.
He blamed KeNHA for some deaths.
"We are losing at least two people every week between the six centres located along the highway, and it is time that this problem is resolved," he said.
Naivasha East MCA Stanley Karanja echoed the sentiments, noting that the blame lay squarely with KeNHA for failing to erect speed bumps.
He said the rumble strips erected last month at the Ihundu centre by the authority were ineffective in dealing with the speeding drivers.
According to Karanja, two youths riding on a motorcycle died after they were hit by a motorist recently.
"We have lost the ninth victim to speeding motorists in a month, and we are left with no one to protect us as our pleas have fallen into deaf ears," he said.
Naivasha OCPD Samuel Waweru said the body of the quarry worker had been taken to a local mortuary.
"The deceased was working in one of the quarries and was on his way home when he was hit," he said.
A senior officer from KeNHA who declined to be named said the rumble strips were effective in reducing motorists' speed.
"Their cries are genuine, but according to the design of this road, we can only erect rumbles here and not speed bumps," said the officer.