Upper House in search of ideas to help senators bark and bite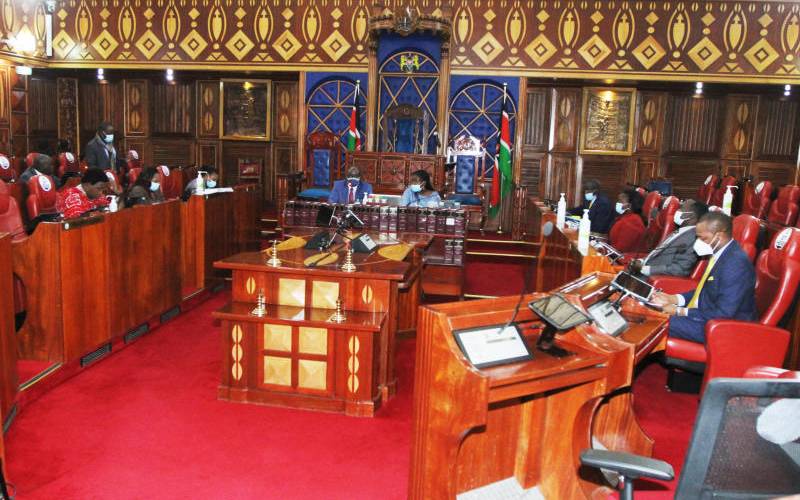 Senators are at their most predictable when debate centres on money meant for their counties. They first talk about their 'unwavering commitment to securing more funds – even when the national government has turned off the financial taps.
After singing their own praises, the wahesh warn governors of unspecified consequences should they be caught with their hands in the cookie jar. But while they have the power to impeach crooked county bosses, they must bend to the whims of their political masters.
Governors aren't the only ones who must put up with the bark-but-no-bite senators. The stingy bean counters over at Treasury, who appear intent on setting new records on how late they can disburse county cash, also get bashed for their penny-pinching tendencies.
During a special sitting on Tuesday as senators congratulated their newest colleague, Abdulkadir Haji, they appeared to be picking his brain for new ideas and inspiration. "You are not just the Garissa Senator but a senator for all the counties," they flattered.
When Haji rose to make his maiden speech, he admitted that all the pressure had got to him. He had planned to thank his constituents for their trust in him and retreat to his seat in the hope that no one would make unrealistic demands. But the wahesh were looking for a hero who would dazzle them with an Obama-esque speech and spark a revolution that would make everyone take them seriously. Haji did not disappoint.
"Senate has always been formed at pivotal moments whenever our country has tried to re-engineer, renew and rebirth..." he offered at last, amid the vigorous stomping of feet from colleagues obviously in awe of his eloquence.
At last, the new kid on the block had given them what they had craved all along; an assurance that they could rewrite their story and cease being whiners who could not scare anyone with the right connections.
Take a quick survey and help us improve our website!
Take a survey
But as expected, Haji's words drifted away as soon as he spoke them. As the senators debated the Division of Revenue Bill in the afternoon sitting, they resumed their old habits.
One rose to brag about how their 'Team Kenya' had secured the additional money to counties. Another, who probably had nothing to do with anything, would also claim credit.
Then they threatened the governors, warning them that Big Brother was watching. And when they were done with the county chiefs, the National Treasury was next in their crosshairs. The senators rushed for their intervention buttons, each keen to take part in the age-old tradition of whining and being ignored.