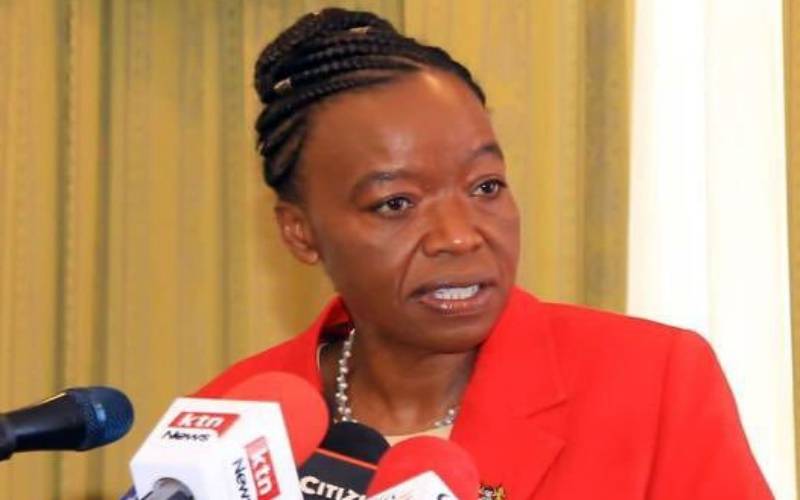 Acting Petroleum Cabinet Secretary Monica Juma says Kenya has enough fuel to last customers at least 12 days.
In a press statement dated Wednesday, April 27, Juma said the are at least 97.4m litres of Petrol and 77.8m litres of Diesel in the country.
She said the Petrol can last Kenyans 17 days, while the Diesel can last 12 days.
The Petroleum ministry and oil marketing companies' representatives met on Wednesday after reports emerged that fuel shortage had returned in some parts of the country, particularly Western Kenya, Rift Valley and Nyanza regions.
"The ministry has established a spiking petroleum demand, especially in Western Kenya," said the Acting Petroleum minister.
"This demand is being driven by the preference of transit customers to fuel in Kenya owing to the price differential with neighbouring countries," she said.
The CS asked all oil marketing companies in Kenya to adhere to the 60:40 fuel sale ratio, which dictates that the oil firms must sell at least 60 per cent of their fuel in the country, and at most 40 per cent of their fuel to foreign markets.
The minister further said that fuel aboard two ships that are awaiting docking in Mombasa will solely be sold in Kenya, and none will be exported.
One of the ships, MT Campo Square, has 133.5 million litres of Petrol, while another, MT Elka Athina, has 104.7 million litres of Diesel.
MT Campo Square will offload the fuel on April 30, while MT Elka Athina will berth on May 12, 2022.
"The fuel in these two ships will be dedicated to the local market," said Juma.
The minister further said that a significant volume of the fuel aboard the two ships will be dedicated to the non-franchised fuel sellers (small players).
"We wish to assure the country that as of April 27, 2022, the local petroleum stock at the Kenya Pipeline Company indicated a cover of 17 days for Petrol and 12 days for Diesel."
Juma said to avert any shortage, the Kenya Pipeline Company will continue its petroleum loading operations throughout the oncoming long weekend.
"We, therefore, do not foresee a challenge or interrupted supply."