Former Machakos first lady takes governor to court over property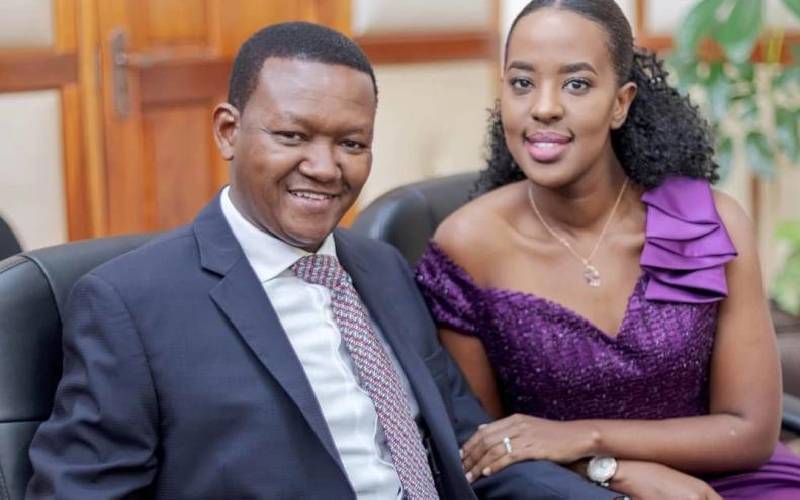 Former Machakos First Lady Lilian Ng'ang'a has gone to court seeking to restrain her former partner, Governor Alfred Mutua, from selling her car.
Lilian is fighting to retain a vehicle which she says she bought seven years ago.
She claims the car was forcibly driven out of her apartment parking bay shortly after a spat between her and Mutua.
She has detailed how her former partner allegedly hatched a plot to dispossess her of some properties after they parted ways.
In two suits filed at the Milimani Commercial Court, Lilian accuses Mutua of illegally taking over her company and forcefully entering her home to repossess the car which she bought in 2014.
She alleged that the vehicle was registered in her name and that she had enjoyed using it until September 8 when it was taken away.
She also complains of threats to her life, claiming that the governor has made it clear that he intends to use his position of influence to harass and deny her peace.
Lilian said she wanted a restraining order effected against Mutua. "What I want is for the court to permanently stop him and his servants from coming close to me, accessing my home, visiting my workplace or seizing any of my property," said Lilian. "I am apprehensive that he can break into my home. He is capable of doing anything using unorthodox means. He has already threatened to forcefully seize my properties."
She filed the two suits through lawyer Gachie Omwanza, claiming that Mutua transferred her shares in their joint company soon after they ended their nine-year relationship.
Lilian claims that they established the company in 2014, and both were registered as directors and shareholders with equal shares of 2,000.
According to Lilian, the status of the company remained the same until July 2021 when she discovered her shares had been transferred to a third party without her knowledge.
"There was a public spat between them and shortly thereafter, she discovered that a third party had fraudulently been enjoined in the company as a shareholder with 2,600 shares.
"That was more than the two of them each had and she remained with 200 shares," said Omwanza.
The lawyer alleges that Mutua caused the transfer of Lilian's shares in the company to a third party and registered the transfer with the Registrar of Companies.
Omwanza said Lilian has already lodged a complaint with the police to investigate the illegal transfer.
On September 17, Nairobi Principal Magistrate E Wanjala issued an order restraining Mutua from selling, disposing of or changing the vehicle's ownership pending determination of the suit.
Lilian has also asked the court to order the governor to take the vehicle to Kilimani Police Station as she does not want him to access her residence again.