Petitioner seeks to file more BBI evidence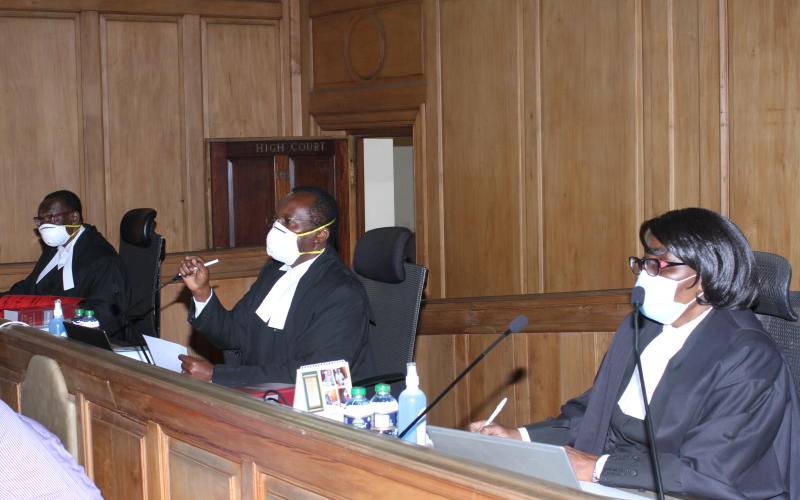 A petitioner who challenged the Building Bridges Initiative to amend the Constitution has asked the Court of Appeal to allow him provide more evidence to prove that the process was illegal.
Miruru Waweru (pictured) in an application filed at the Appellate Court wants to file the joint report of the National Assembly departmental committee on justice and legal affairs and the Senate Standing Committee on Justice and legal affairs as evidence that the BBI process was not anchored in law.
Through lawyer Elias Mutuma, Mr Waweru who is the Thirdway Alliance Party chairman argued that the reports were not available when they challenged the BBI at the High Court since the debate in both Houses had not been concluded.
"The evidence we seek to adduce provide a detailed analysis by parliament of the BBI Bill for its constitutional and legal validity. Of particular relevance is parliament's recommendation that a legal framework was required for amending the constitution through a popular initiative," said Mutuma.
Mutuma submitted that both Senate and National Assembly debated the BBI Constitutional Amendment Bill when they had already finished their arguments at the High Court and could not submit it at the time.
Under the Court of Appeal practice rules, a party cannot adduce additional evidence that were not part of the High Court records unless he makes an application before the Appellate Court.
Mutuma stated that the report is necessary to help him oppose the appeals filed by President Uhuru Kenyatta, former Prime Minister Raila Odinga, BBI Secretariat, Attorney General and Independent Electoral and Boundaries Commission against the High Court decision that scuttled the BBI.
High Court Judges Joel Ngugi, George Odunga, Chacha Mwita, Jairus Ngaah and Teresia Matheka in their judgment on May 13 in one of their declarations that stopped the BBI process stated that there was no legal legislations to guide the constitutional amendment process. According to the judges, the absence of legislation or legal framework to govern the collection, presentation and verification of signatures and the conduct of referendum made the BBI process flawed.
Mutuma said in his application that JLAC report they seek to add as evidence was in agreement with the judgment as it also noted the absence of a legal framework to regulate constitutional changes.
"We are interested in the part where the committee recommended that parliament enacts legislation to provide framework on the procession of the Bill to amend the constitution by popular initiative since it necessary for the Court of Appeal to make a just finding," said Mutuma.
He said the JLAC report had also recommended that a framework should be developed to unify issues in developing a draft Bill or referendum, public participation and the roles of various actors championing the constitutional amendments.