Why Kenya did not have to spend all that energy to clinch African Union seat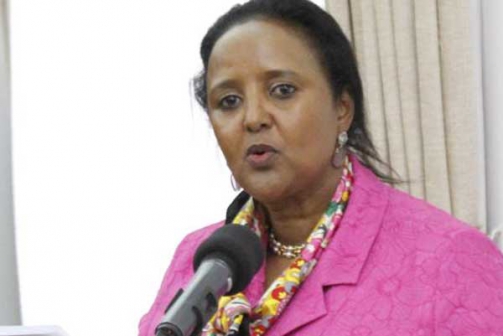 While focus on the African Union this week has been the drama surrounding the failure of Foreign Affairs CS Amina Mohammed to become the continent's top honcho, I sincerely believe what we should be having is a more fundamental discourse on the AU's significance.
Did we need to exhaust our diplomatic capital to pursue an office in an institution whose relevance has been grossly depleting? Was the AU Commission chair worth the financial resources we utilised going round the continent seeking support? Was it worth the diplomatic cost we will incur after making very serious allegations of betrayal, jealousy and insincerity on our fellow members?
Unless Kenya's idea was to use Ambassador Amina's time as chair to fundamentally reinvigorate and re-launch the institution, my loud answer is No. While I consider myself a Pan Africanist in ideology, over the years I have come to believe that the continent is not committed to the AU. Since its glory days when the OAU was instrumental in ensuring the independence of several African states, its fortunes have plunged.
The greatest stain on OAU's credibility occurred in the 80s and 90s when it looked the other way as emerging dictatorships slaughtered their populations while the organisation pursued its "non-interference with internal affairs" policy.
Who can forget the image of Uganda's Idi Amin chairing the OAU even as he massacred thousands of his countrymen? Who can forget the Mobutus and Bokassas who continued to loot their countries dry and kill millions while the OAU impotently watched? In due time, the AU despite its change of name, slipped into irrelevance for Africa's peoples.
To many it exists only as a talk shop for African Heads of State to meet every year to congratulate each other and give speeches they hardly believe in.
The most telling evidence of African countries lack of commitment to the AU is their unwillingness to fund the AU budget despite commitments to do so summit after summit. I still remember how impressed I was by the AU Headquarters in Addis until I learnt that it was a gift from the Chinese! I then found out that this was not unique; the AU budget has for many years been funded from sources outside the continent.
While there were some positive developments in own source funding in the last decade, funding from AU members dipped from a high of 45 per cent in 2010, to less than 30 per cent currently! On programmes for example, more than 90 per cent of funding comes from the EU and other donors.
The glowing proposals on establishment and funding of critical institutions within the AU, including the Peace Fund and the Africa Court of Human and People's Rights, are met with minimal compliance with only about 6 countries being regular compliers with agreed commitments.
"Africa's solutions to Africa's problems" is a nice sounding catch phrase but with zero commitment to put our money where our mouths are. Let us be clear, the problem is not a lack of resources but one of commitment.
It is instructive that in this same season African countries, Kenya included, have greatly increased the financing of their budgets from their own sources. We must agree there can never be a strong Pan African institution funded by non-members. For one, the old adage that he who pays the piper calls the tune is true. Donors to the AU are not just non-interested altruistics. They have agenda and priorities that are not always those of the continent.
Furthermore, African countries can only seriously commit to AU programmes if these initiatives have fiscal implications for them.
For as long as Africa is not underwriting the budgets of these programmes, it is not really committed to their success. That has been the AU story. Until it takes a different trajectory, you will forgive me for not joining those mourning Amina's loss. Her otherwise sterling career would have been stained by the tiredness of the AU.
Why I cry for my country Somalia
Somalia will elect a new President on February 8 as the country strives to overcome its history of decades-old conflict. About 24 candidates have been cleared to run for the top post and their fate will be decided by 329 members of the Lower and Upper Houses who will elect the new President.