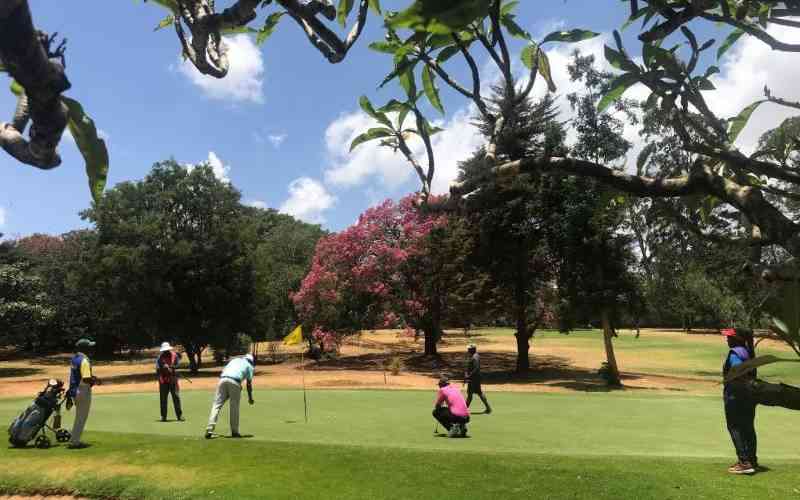 Last week, the Magical Kenya Open animated the city in need of rain. It took place against the background of drought, political agitation and rising inflation. I took a keen interest in the golf tournament for a number of reasons.
One, I am not showing off but just reporting, I play golf.
Two, the prize money, and three - we should take golf and its economics as seriously as athletics.
This game is shrouded in mystique yet it is a very easy game.
You do the same thing 18 times in one round of golf. What can't you learn by repeating 18 times?
What changes in every hole is the distance you hit the ball and the number of times to hit into the hole, either three, four or five times.
The rules of the game are less complicated than the constitution.
Golf defies age, children and octogenarians play the game with handicaps equalising them. A handicap is a number that shows how good you are at the game. The lower the handicap the better you are. The number ranges from 54 to around zero.
The handicap varies slightly depending on how difficult the golf course is, for example, trees, adulation, water features etcetera.
The health benefits of the game are two. Firstly, there's the physical aspect. You exercise by walking about 12km in 18 holes. That distance is equivalent to walking from the Kenya School of Government (KSG),
Lower Kabete to the city centre or Umoja 1 to the central business district (CBD). The fun in the game rarely allows you to notice that distance.
The second aspect is emotional. The four hours of this game force you to "forget" your miseries or troubles.
They could be home or workplace related. The game acts as an emotional sink. This level of relaxation makes the game a good antidote to stress. No wonder CEOs love it. Add other sedentary workers.
Why is the game shrouded in mystery? For one, it's followed by a few.
This is unlike football which is watched from childhood, golf is rarely watched on TV by ordinary citizens. Golf courses are often hidden behind trees. With cars driving in and out.
The playing kits used and their cost mystifies the game even further. A basic golf kit goes for about Sh60,000 - the value of a good cow!
Colonial history
Add the rarity of such kits, you never find them in matatus!
The colonial history of the game, away from the masses adds to the mystery. Golfers themselves love the mystery and perpetuate it, making them feel special. Add the vetting of the membership and the public the game feels like a cult.
We should focus more on the economic part of the game.
The one-off prize money of €1.75 million (Sh241.15 million) for the Magical Kenya Open is a drop in the ocean.
The top winners included Jorge Campillo (€321,247.982 or Sh40.86 million), Masahiro Kawamura (€207,866.34 or Sh28.5 million), Ryo Hisatsune (€106,767.71 or Sh14.64 million), Santiago Tarrio (€106,767.71 or Sh13.58 million) and Mutahi Kibugu (€3,887.37 or Sh500,000).
Golf is a big industry with equipment designers, distributors, trainers, caddies, golf carts, agronomy, advertising and marketing. It's worth billions of shillings. It was worth $26 billion (Sh3.4 trillion) as of 2022 in the US.
What about Kenya? The country is strategically located to make golf an industry that can rival athletics.
The location astride the equator means we can play golf 365 days a year, with no winter breaks.
We can attract golfers from Asia, Europe and Africa - only five hour's flight. The variety of golf courses is another attraction. How many golf courses have a stunning view of Rift Valley or the Indian Ocean?
Nanyuki's scenic view of Mt Kenya is something else, particularly in the morning. Why are there no golf courses inside tea plantations?
The next step is to make golf mainstream. One ingenious method I found in South Africa is having short courses. I played golf on par 29!
We can learn from retailing. We have mega centres, supermarkets, shops and kiosks. We can have big courses with 18 holes, nine holes, six and even three holes, and golf kiosks.
We can turn our 10 or five acres into mini-courses and bring golf to the masses. Golf would be a great counterweight to alcoholism and drugs, more so for young people.
The frugal investment in golf would demand a paradigm shift, seeing sports as an investment and a way of life. We can import English Premier League thinking.
Ever noted the children who escort players to the pitch? We need even less land for tennis courts, table tennis or volleyball. Why are these games not widespread? We still think games are for children! One easy way to make games mainstream is to put them in the school curriculum. I had never heard of golf throughout my school life. I only used to hear "nitakupiga kama golf."
I thought golf was that small ball! I learnt golf when I found it a course unit at Kentucky State University and enrolled as a member of staff. We hope that the competency-based curriculum (CBC) will help demystify games.
Expect returns
Finally, why was there no magic among the Kenyan players? Why was all the money taken by visitors? We have not invested in that game. Why do we expect returns? Who ensures our players only worry about the game to focus on it with single a purpose?
How much exposure do our golfers have beyond the Kenyan golf courses? Interacting with golfers of different backgrounds and nationalities? We should prepare them early. How many of our children play the game and grow with it?
Tiger Woods hit the golf course aged three, I was 38! Can we start with kids in primary and secondary schools next to the golf courses? Counties should open golf courses, and give incentives like land to golf course builders.
They may not fill up today but we have a tomorrow and belief me, this country will become affluent.
We have all it takes to make Kenya a golf country, young men hungry for success, a beautiful landscape and a geopolitical location.
We lack the paradigm shift to see golf, not as a cult but as a money minter, a contributor to the economy. Clearly, it's time we put magic into our golf.
Related Topics