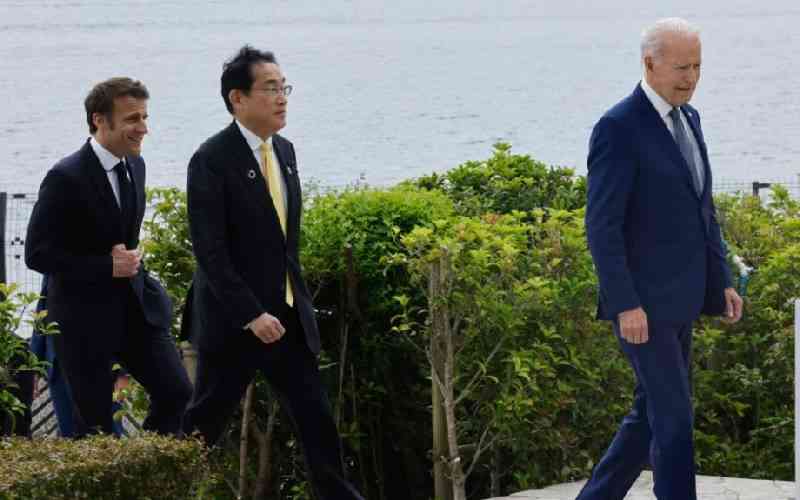 The United States and its allies are planning to provide Ukraine with F-16 fighter jets and train Ukrainian pilots to fly them, the White House said Friday, a turnaround from President Joe Biden's monthslong refusal of requests from his Ukrainian counterpart, Volodymyr Zelenskyy, for the aircraft.
In a statement provided to VOA, a senior administration official said on Friday Biden informed G-7 leaders that the United States will support a joint effort with allies and partners to train Ukrainian pilots on fourth-generation fighter aircraft, including F-16s, to further strengthen and improve the capabilities of the Ukrainian air force.
The training, set to begin in the coming weeks, will take place at sites in Europe and require months to complete, said the official.
"As the training unfolds, in the coming months, we will work with our allies to determine when planes will be delivered, who will be delivering them and how many," White House national security adviser Jake Sullivan said during a Saturday press briefing in Hiroshima, Japan, where the G-7 summit is being held.
Sullivan said the fighter jets will not be used for a planned counteroffensive against Russia.
Zelenskyy welcomed Biden's decision, saying in a tweet it would "greatly enhance our army in the sky."
Describing the plans to train Ukrainian pilots to fly F-16 jet fighters as a "historic decision," Zelenskyy said he would discuss the details with Biden when they meet on the sidelines of the G-7 summit Sunday.
Confirmation of Zelenskyy's in person attendance came as G-7 leaders from United States, Canada, France, Germany, Italy, the United Kingdom, Japan and the European Union, reaffirmed their "commitment to stand together against Russia's illegal, unjustifiable, and unprovoked war of aggression against Ukraine."
In a statement, the group pledged to "mobilize all our policy instruments and, together with Ukraine, make every effort to bring a comprehensive, just and lasting peace in Ukraine as soon as possible," underscoring that it cannot be realized without "the complete and unconditional withdrawal of Russian troops."
China economic coercion
Measures are set to be announced later Saturday to respond to what the group calls China's "economic coercion" – the use of punitive trade practices to coerce countries over political disputes.
"These economic security tools will include steps to build resilience in our supply chains. They will also include steps to protect sensitive technology like export controls and outbound investment measures," Sullivan said in the same briefing.
Sullivan said that the communique set to be released later Saturday will note that each country has its own independent relationship and approach to Beijing but all are united and aligned around a set of common concerns. It will indicate that G-7 countries seek to cooperate with China on matters of mutual interest.
G-7 members are "looking to de-risk not de-couple from China," he said, referring to efforts to limiting reliance and vulnerability on Beijing.
From Beijing, Chinese Foreign Ministry spokesperson Wang Wenbin on Friday responded to the planned measures. "If the G-7 summit wants to discuss the issue of economic coercion, it might as well first discuss how the United States coerces the other six member states," he said.
Alternative to Belt and Road
The G-7 statement in Hiroshima shows a growing alignment by members on how to deal with Beijing, beginning with the group's 2021 summit in Cornwall, U.K., when China was mentioned for the first time.
In Cornwall, the group adopted a plan to support lower- and middle-income countries in building better infrastructure called "Build Back Better World," as an alternative to China's development juggernaut the Belt and Road Initiative.
At the 2022 G-7 summit in Elmau, Germany, the plan was relaunched as the Partnership for Global Infrastructure and Investment.
Under the relaunched plan, G-7 countries aim to mobilize a total of $600 billion by 2027 in global infrastructure investments.
Related Topics