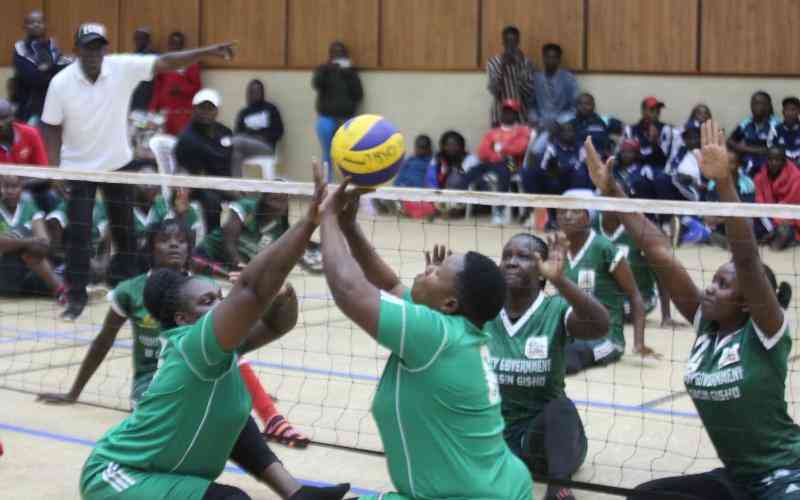 Nairobi women's Para-Volley team stunned hosts Uasin Gishu at the National trials for the African Paralympic Games in Ghana in September.
The City and hosts Uasin Gishu teams (both men and women) clashed at the finals staged at Gulab Lochab in Eldoret yesterday.
Nairobi women sitting volleyballers savoured a 3-0 (25-23, 25-22 and 25-12) against the hosts.
The men's contest also putting Nairobi and Uasin had not ended by the time we went to the press.
A team of 24 players were selected to represent Kenya in Accra, Ghana from September 3-12.
In the women's finals, the Sylvia Alero-captained side faced tough Uasin Gishu in a tactical match characterised by power spikes and superb blocks. Uasin Gishu women lost their power in the last set.
Alero, the Nairobi captain said her side did not expect to be at the finals due to inadequate training.
"We have an experienced team which has played for the national team," the captain said.
Nairobi women players such as Alero, Lynnet Atieno and Eunice Atieno have played in the national team before.
The city sitting volleyball men's team also sailed to the finals after hammering Nakuru 3-0 (25-13, 25-16 and 25-16) in the first semi-finals.The hosts had booked their spot at the finals after crushing Bungoma County 3-0 (25-15, 25-23 and 25-15).
Uasin Gishu women's team had also spiked their way to the finals after easily defeating Narok sitting volleyballers 3-0 (25-12, 15-25 and 25-13) as Nairobi beat Kisumu to face the hosts in the final.
Narok women's Para-Volley which came to the national trials as underdogs had won 2-1 against Homa Bay while Kisumu eliminated Laikipia in 2-0 (best of three) win on their way to to the semi-finals.
"We formed a new team and built it from scratch six months ago. Reaching the semi finals was a great achievement for us. We exposed our team in Nairobi and we hope to do well in upcoming tournaments," Narok coach Samuel Lemurt said.
Uasin Gishu reached the semi finals after winning 2-1 in a closely contested quarters match against Nakuru.
Nairobi women humiliated Bungoma 2-0 at the quarter-finals. Nairobi men on the other hand gave Siaya a 2-0 beating as Bungoma registered an easy 2-0 win against Laikipia.
Uasin Gishu men reached the semis after 2-0 (25-7 and 25-9) in the quarter finals as Nakuru crushed Kisumu's hopes of progressing to the quarters.
Paravolley Federation of Kenya Secretary General Justus Katumo said a qualified selection team had been picked to select a strong squad of 24 players for the Accra clash.
Katumo said the federation will take to Ghana a squad that will face strong African Para-Volley giants such as Egypt and Rwanda.
"We are looking at the players' age, experience, skill and readiness to take training instructions among other qualities. We want a squad that will not be going to Ghana merely for a trip," the Secretary General said.
Related Topics