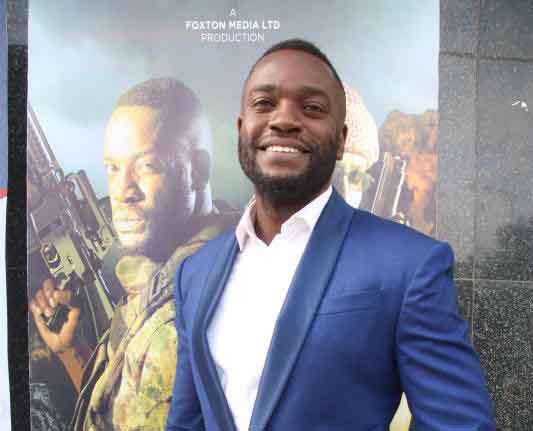 While a handful of Kenyan stars have tasted Hollywood success, there are those few people think of immediately. The most celebrated and decorated Hollywood stars from Kenya are Lupita Nyong'o and Edi Gathegi. Closely following in their footsteps and bridging the gap is Melvin Alusa.
Alusa is a professional Kenyan actor who has worked on multiple screen and stage productions locally and internationally.
He is known for his parts in various films and TV shows. These include: The Agency, Weakness, My Life In Crime, The Garden of Eden, The Boy Who Harnessed the wind, The First Grader, Lusala, Country Queen and Makutano Junction.
He has also appeared in Crime and Justice. His latest work is in all-Kenyan action thriller Mission To Rescue.
Alusa came to the attention of many when he also represented Kenya in the ninth reality show Big Brother Africa. When he made it into the house, Alusa said: "I am an artiste, a performer, so I love attention. I am not in the least bit intimidated. In fact, I'm thrilled".
But even before he went into the Big Brother house, he was already a force to reckon with in the film industry, exploits he continued after his stint in the house.
His on-the-radio drama Jongo Love earned him an Emmy nomination at the 2013 Cannes Film Festival.
Alusa has been honing his skills for over a decade and a half. As a young man fresh from school, he says he started his acting career by taking part in church musicals, moved on to theatre and started acting the high school set books before graduating to TV in programmes such as Makutano Junction.
"I was in my early twenties when I tossed myself into the industry. By then I was a travel consultant and was told of an audition which I attended. I gave my best and lady luck was on my side," says Melvin.
"I got some gigs but when I started acting the set books, I knew this was a path I wanted to follow, so I quit my job and focused on theatre although most times I was a backup vocalist."
He has also featured in a number local TV adverts. Celtel, Brookside, Guinness, Tusker, Pilsner and NSSF are some of the brands that have used him in their commercials.
Talented family
Alusa comes from a family full of talent; he is the big brother to Sauti Sol singer Bien-Aime Baraza. Their uncle is also a musician.
"I too can sing, I actually started by doing musicals before TV came calling. As a family we do not feel like we overshadow each other since when one wins, it is a win for all of us," he says.
The multi-talented actor and commercial model wears many hats. He also doubles up as an MC, acting coach and hospitality enthusiast. He is also a family man, a father of six, but prefers keeping his family out of the limelight.
Juggling between the responsibility and pressure that comes with the crowns requires careful navigation. "My biggest support system is my family, this career is not easy so moral support is important," he says.
He describes himself as a versatile, resilient man ready to conquer the world stage.
With the introduction and ever popular streaming platforms, Alusa believes this is the time to take over the industry and prove the mettle for most creatives.
"We literally built from near nothing, the industry had no focus and structures were not in place. Right now people are consuming locally-made programmes and the platforms for exposure are already established," he says.
People have complained for long that local films have the same faces repeated over and over, as if there are no new talented actors and actresses.
This has led to claims that unless you have a godfather in the industry you cannot penetrate the close knit circle. Alusa says this could not be farther from the truth.
"Sometimes we have a casting agent from far and beyond and they pick the best. This is a career in progress and just like fine wine, an actor matures with age," he says.
He adds: "One must attend numerous workshops, and sharpen their skills on a daily basis as no one wants a poorly-cooked performer," he says.
Over the course of his career, he has rubbed shoulders with Hollywood acts, particularly in The First Grader and The Boy Who Harnessed the Wind.
The first grader follows the script of Mau Mau veteran Kimani Maruge, who is determined to learn to read and write and finds himself in class with six-year olds. The film was shot on location in the Rift Valley.
The Boy Who Harnessed the Wind is a 2019 British drama film directed by Chiwetel Ejiofor. The film is based on the memoir The Boy Who Harnessed the Wind by William Kamkwamba and Bryan Mealer.
Fast forward to the latest action thriller Mission To Rescue, which has Alusa as a lead actor.
He says this was the hardest role he has ever played: "I have always wanted to do an action movie and I would give a big shout out to Foxton Media for believing in our industry and going the extra mile, consulting and casting for such a movie and making this a reality."
"Everything you see in the film is real; we had to undergo rigorous training in weapon handling as we were not using props. Often, we would shoot one scene for a whole day," he says.
Alusa looks up to other Kenyan actors such as Robert Agengo, Macbull Mohamed and Raymond Ofula, who he has worked with.
On the international stage, the actor looks up to Viola Davis, Denzel Washington and Cuba Gooding Junior, actors he admires for their passion and intensity.
Having horned his craft, Alusa does not come cheap, but he says money should not be the motivating factor.
"Sometimes you take a gig having in mind what opportunities will come your way afterwards. With me comes seasoned experienced and awesomeness, all in the same package. One can basically live off acting, but I leave my agent to cut deals and settle on the rates although I have a professional rate card," he says.
He says one should invest while gigs are still available. "In this field, you do not have an assured monthly pay. Gigs come and go and a majority of artistes assume that cash will flow forever. Sometimes gigs tend to go on an unprecedented dry spell; this is when you take advantage and invest in other ventures," he says.
Alusa is working on a six-episode miniseries that will premiere on streaming platforms.
Related Topics