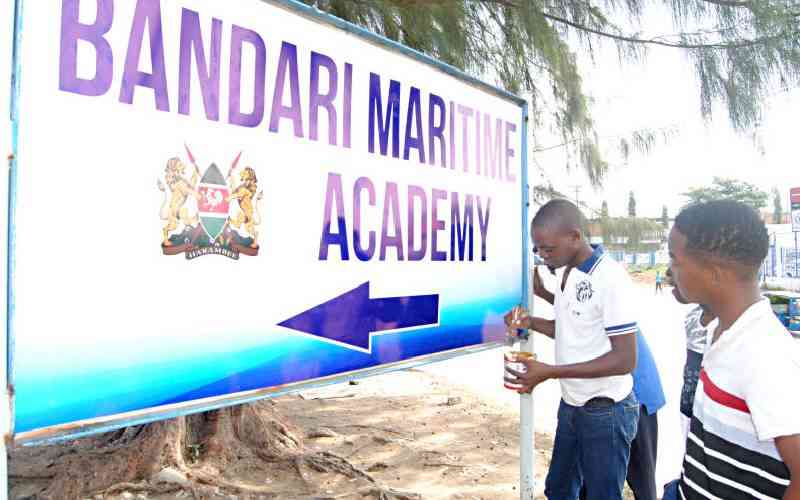 Two cabinet secretaries have moved to end the simmering fight over control of Bandari Maritime Academy in Mombasa County.
Transport Cabinet Secretary Kipchumba Murkomen and Salim Mvurya of Mining, Blue Economy and Maritime Affairs have directed that the premier academy will be used to train all workers in the entire maritime industry.
Kenya Ports Authority (KPA) has been fighting to regain control of the academy, which has been declared a semi-autonomous body under the Ministry of Mining.
KPA asserts that it built the facility in 1980 to train its members of staff, from dock workers to senior managers, and should have control of it.
The government on the other hand is not relenting on giving the academy autonomy from KPA, and mandating it to train all maritime industry cadres; not just KPA workers.
KPA lost the college in 2018 when the government renamed it Bandari Maritime Academy, dedicated to training seafarers to work on board cruise ships and other vessels across the world.
Former President Uhuru Kenyatta launched the academy to promote quality maritime education and training to make Kenya a giant in producing maritime labour like the Philippines.
Bandari Maritime Academy is located in Mombasa Island with a fine view of the Kilindini channel. It also hosts regional and international conferences and workshops.
The academy falls under Mr Mvurya's ministry. Kenya Maritime Authority (KMA) which, is under the Maritime Affairs docket, has been nurturing the academy.
But KPA has been protesting in silence after it was left with no alternative but to start training its staff right inside the port after losing control of the college.
Until the college was transformed into an academy, KPA had deployed state-of-the-are equipment for training its workers and other trainees on port operations.
Mr Murkomen said Bandari Maritime Academy will be used for training all seafarers as well as KPA staff.
He asserted that KPA will work closely with other agencies to achieve the government's agenda on the blue economy.
"KPA was concerned about where to train its staff. This should not be an issue. Bandari Maritime Academy will serve the port workers and train all other maritime workers including seafarers," Murkomen said.
The government has also embarked on the construction of the Sh1.2 billion East African Maritime Institute at Chitsakamatsa in Kwale County.
The project headed by the Kenya Coast National Polytechnic will be a regional centre of excellence that will serve Kenya, Ethiopia, Tanzania, Uganda, Rwanda and Burundi.
It is being constructed on a 40-acre parcel of land and will be used to train students on various skills in the blue economy sector.
Meanwhile, the two CSs have established a working group under their principal secretaries to streamline operations on fisheries projects.
The group will bring together KPA, KMA, Kenya National Shipping Line (KNSL) and Bandari Maritime Academy in Mombasa county.
The two CSs said agencies under their ministries have also come together to facilitate KNSL to start clearance of all government cargo passing through the port of Mombasa.
Mvurya confirmed he has already issued a circular to all government departments to ensure government cargo is processed by KNSL, which falls under his docket.
Principal secretaries for fisheries, maritime affairs and transport will work with Kenya Ports Authority (KPA) managing director, Kenya Maritime Authority director general, KNSL managing director and the director of Bandari Maritime Academy to develop policies and regulations to ensure the cargo is cleared seamlessly.
The two CSs will also provide leadership to ensure that agencies in their ministries work together to develop fisheries projects in Mokowe, Lamu, Liwatoni in Mombasa and Shimoni in Kwale county.
Related Topics