Getting married can be an expensive affair. But the story of Daniel Munywoki Wambua, an accountant at the Kenya Rural Roads Authority (KeRRA), who received Sh31 million in contributions for purposes of his wedding to his fiancée' Judith Vaati has generated great interest.
So much so that the Ethics and Anti-Corruption Commission (EACC)secured court orders to close his three accounts at Equity Bank on suspicion he was engaged in money laundering.
This is after the Daniel Wambua Dowry Payment Account, which he opened on March 15, was credited with Sh21 million within four months. But Wambua, through his lawyer Danstan Omari, has appealed the decision to freeze the accounts for six months, saying the money was contributions by well-wishers and friends towards payment of dowry.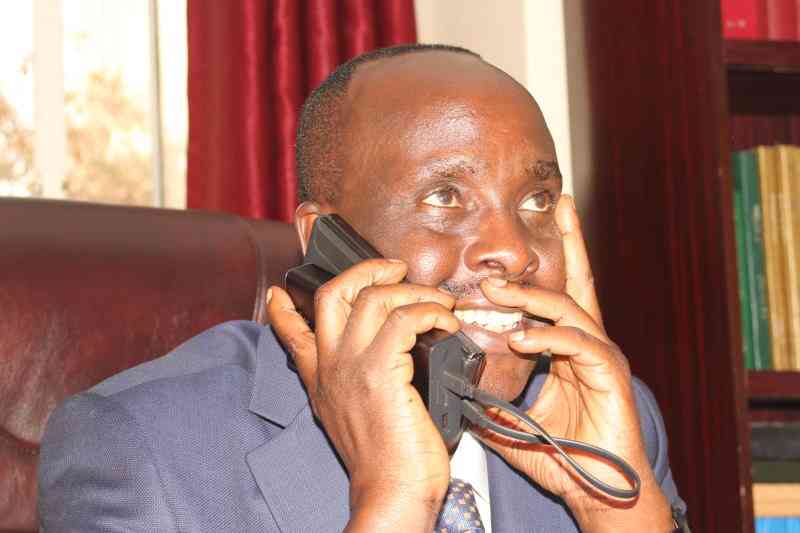 The EACC had told Justice Kanyi Kimondo that Wambua, whose monthly net salary it said was Sh55,607, never disclosed the source of the funds.
According to EACC lawyer Culent Simiyu, Wambua, in an alleged bid to conceal the transactions, opened another account at Equity Bank on June 16 and transferred Sh5 million on the same day.
Another account at the same bank, it added, was credited with Sh1.7 million within two months.
However, Wambua is now accusing the EACC of lying to the High Court, stating it gave the court the wrong bank account name and that the transactions clearly indicated that the funds were contributions from well-wishers toward the payment of dowry to his would-be wife and wants the court to unfreeze the account.
"The amount in the Daniel Wambua Dowry Payment Account number 0840184059257 was specifically for the purpose of collecting funds from friends and well-wishers for the purposes of dowry payment for my intended marriage to my wife of choice," he says.
Omari claimed EACC's move was influenced by jilted men who wanted to marry the "beautiful Kamba lady" but lost their bid to Wambua.
"The competitors having not been satisfied with the decision of the lady, went and got the EACC on board and EACC's mandate is not to deal with jilted lovers who have lost the competition of a woman," he told journalists.
"EACC maliciously moved to court and claims that our client is involved in money laundering. After our client was admitted by that woman to be her lover, he formed a WhatsApp group of over 950 people to start the dowry collection. That account is called Daniel Wambua Dowry Account," he added.
More money more problems
According to Omari, even after the account was frozen, people continued to deposit their contributions, raising another Sh10 million.
He also disputed the salary stated by EACC, saying Wambua earns over Sh171,000 at KeRRA.
In the application filed on August 17, Omari told the court that the timelines within which Wambua was to have paid dowry have long lapsed and his predicament of having his bank accounts frozen notwithstanding, he has adversely misrepresented himself before his in-laws since he now has a wife "on loan."
He added that there was a likelihood of him being greatly infringed upon by the service providers auctioning his properties and his bank accounts remaining frozen, infringement of his right to have a family under Article 45 of the Constitution, among other forms of prejudice.
The lawyer noted next mention date, according to Justice Kimondo's orders, is February 12 next year, which is too far and shall cause irreparable damages and prejudice to Wambua.
He said it was imperative and in the interest of progressive and substantive justice to have the application heard during a vacation on merit and expeditiously as the existing orders in favour of the respondent are quite adverse and prejudicial on Wambua.
"Unless this honourable court intervenes and hears the applicant on merit, there is a likelihood that the Applicant's rights under Article 45, 50 of the Constitution of Kenya, 2010 will be limited to his grave prejudice," he says.
In his appeal, Wambua has provided a wide range of evidence, including bank opening documentation, a list of all contributors as well as photos and budget incurred or was to be incurred during the wedding planning process such as events such as traditional weddings.
The list of contributors indicates that during that period, over 700 friends contributed between Sh1,000 and Sh300,000 both by way of direct deposits and M-Pesa paybill. Wambua and his family deposited Sh600,000 and Sh785,000.
Among the highest contributors was Mavoko MP Patrick Makau, who gave Sh100,000 during the fundraising launch and another Sh300,000 later. The documents saw other funds were raised during challenges posed during meetings.
The budget for lunch during the traditional wedding that was to take place on August 5 at Mitamboni, Machakos is indicated to be Sh4,464,750, comprising of Sh1,292,500 for catering and food production and Sh3,172,250 for sitting arrangement for 1,400 people.
Dinner during a dowry function at Thwake Resort on the same day was to cost Sh1,105,000, including Sh250,000 for buying a bull.
Related Topics