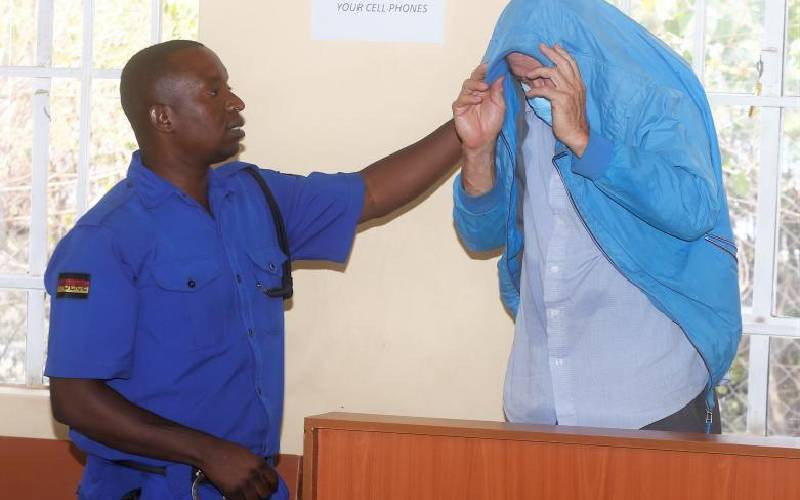 A German national facing 14 counts of defilement shall remain in police custody for the next 14 days- pending his release on bond, the High Court in Nakuru has ruled.
The 62-year-old Martin Baumgartner had sought redress in the higher court after he was denied bail in the lower court.
Senior Resident Magistrate Emmanuel Soita on Wednesday directed that Baumgartner remains in custody until all key witnesses testify.
The suspect is facing 14 charges ranging from defilement to sexual assault among others. The charge sheet shows he committed the offences on diverse dates between 2006 and this year.
The prosecution had on Monday, applied to have the suspect denied bail on grounds that he is a flight risk, being a dual citizen.
The court was also told that the accused would interfere with witnesses if released as some of them are his employees.
And today, Justice Heston Nyaga threw away the appeal for the suspect to be released on bond, stating that the lower court had a duty to balance between the suspect and victim's rights.
He, however, faulted the magistrate for failing to state the timeline when the victims would testify and went on to direct the victim would be released on an Sh1 million bond and a Kenyan surety of a similar amount after 14 days.
"I am therefore inclined to disallow the application, however in the interest of justice, the trial court ought to expedite the hearing of the evidence of the affected witnesses without unreasonable delay, in the event, this has not been done in the next 14 days from the date hereof, the applicant's bond terms are to take effect," he ruled.
Nyaga also ordered him to surrender his German and Kenyan passports, which are in the custody of the Directorate of Criminal Investigations (DCI) pending the hearing and determination of the case.
The suspect was barred from contacting, intimidating or threatening prosecution witnesses directly or by proxy.
He was also told to stay away from Twajenga Holding Company, where the victims are employees, after his release on bond.
Baumgartner was arrested on February 14 and took a plea on February 20, where he denied the charges against him.
The accused is alleged to have defiled a 17-year-old boy on diverse dates between April 2022 and January 2023 at the Gigiri area in Westlands Sub County within Nairobi.
Related Topics