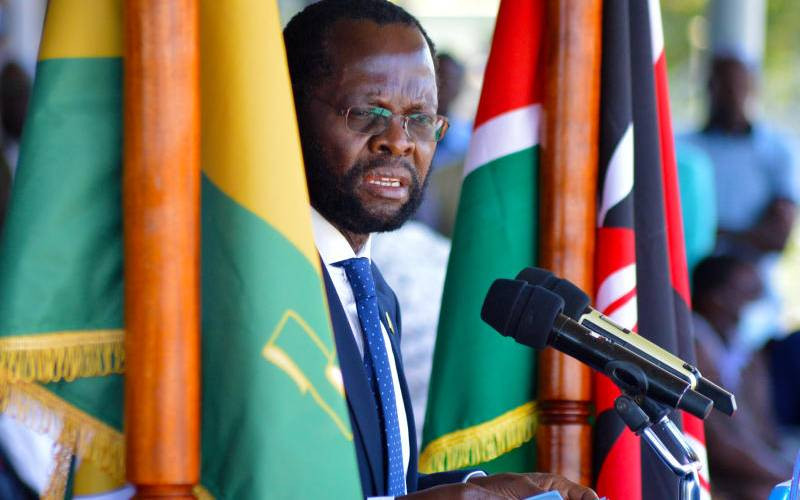 The Council of Governors (COG) has petitioned the National Government and Parliament to allocate at least Sh20 billion to support urbanization and urban development through the National Treasury.
COG Lands, Housing and Urban Development Committee Chairperson Anyang Nyongo said there was a huge financing gap for urban infrastructure and service provision with a need for County Governments and the National Government to explore other options envisaged in Public Finance Management Act.
The Kisumu Governor who appeared before the Devolution and Intergovernmental Relations Committee Chaired by Wajir Senator Abbas Mohamed in Nairobi on behalf of COG was responding to a statement sought by Kajiado Senator Lenku Seki who wanted Kenyans told on the implementation process of the second level of devolution through decentralization of services in urban areas.
"The Council of Governors deliberated on this matter and approved a resolution to engage with the National Government and Parliament to explore the creation of a National Urban Development Fund, the Fund should be allocated at least Sh 20billion of the annual printed estimates to support urbanization, "said Prof Nyongo.
The Council of Governors pointed out that the County Governments have in the past funded the urban areas mainly through revenue allocated by the county government to the urban area or city and grants and donations and that they need to enact legislation to enable cities and urban areas to collect and spend part of own source revenue at source as envisaged n section 172 (a) of PFM Act.
The Council of Governors also wants the County Governments to enact the legislation to implement section 173 of the Public Finance Management Act on the objective criteria for the allocation of funds to cities and urban areas to ensure that there is a clear framework for the implementation of the project.
Nairobi City Governor Johnson Sakaja who also appeared before the Committee spelt out his plans to create Boroughs in his county saying it was important to note that Kenya does not have a specific Boroughs Administration system in place with the current structure primarily organized into counties.
"There is need for the Senate to amend the Urban Cities Areas and Cities Act 2011 to introduce a section specifically addressing boroughs as administration units in cities since the section will cover aspects such as the establishment of Boroughs and its management," said Sakaja.
The Nairobi Governor further sought to have the Act amended to grant the Governors of counties with Boroughs as administrative units the authority to formulate regulations concerning the administration tailored to the particular requirements and circumstances of that particular county.
Sakaja was responding to concerns by Senators on whether the Borough system would be replicated in other cities or specifically meant for Nairobi City only.
Related Topics