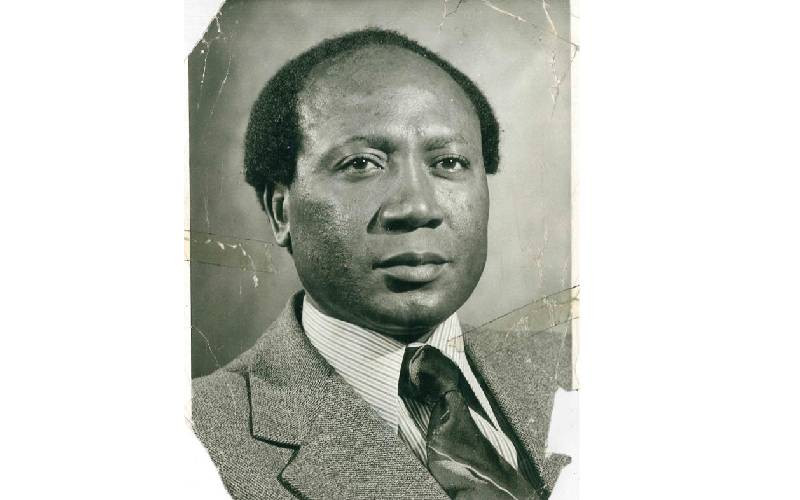 The phone startled me from my intermittent slumber. I was literally dozing on my computer after hours of writing and editing.
It rang again and again. I blankly stared at the black telephone set on my desk as if consumed by paralysis. I was alone in the office. All my colleagues and staff members had long gone home. At last, I reached out for it. It was my City Editor, Mutegi Njau on the line.
You Mluhyia have you heard that Robert Ouko is missing?"
The question hit me like a hammer. "No Mutegi I have not" I responded jumping out of my seat in shock. Robert John Ouko was one of Kenya's most eloquent and brilliant Foreign Affairs ministers. How could a man of such stature go missing? Such a Cabinet minister always has bodyguards and an elaborate security network around him.
"The government has issued a statement and the President has appealed to anyone with information on his whereabouts to inform the police," said Mutegi. There was a long pause. I could hear his breath over the mouthpiece.
"Do you think he could be alive?" he asked. I paused for some seconds then retorted: "If they have announced his disappearance then it is unlikely he would be alive." The journalist in me was already visualising an earth-shaking story.
Mutegi asked if I could travel to the minister's Koru home in Muhoroni to interview Ouko's family members and workers. I looked at the clock. It was almost 7pm.
In February 1990, the Nation Media Group office in Kisumu district was ill-equipped. We had no official vehicle. In those days Kisumu was a slow town. Matatu's to Muhoroni operated until 6pm.
Even if I had the luck to get one, I would have to walk for many kilometres in the dark from Muhoroni to Koru. Car hire services were rare and most offices closed by 5pm. There were no ATMs and mobile phones were non-existent. Mutegi understood my predicament and asked me to report to the office by 7am the following day.
However, before I left the office the phone rang again. This time it was the Group Managing Editor, George Anthony Mbuggus on the line:" Young man!" he barked, "Why have you refused to go to Ouko's home? Do you know how serious this is? Do you want your job or not?" I tried explaining to him that short of a miracle there was no way I would travel to Koru at that hour.
He muttered some expletives before angrily banging the phone on me. Through my mind's eye I could see Mbuggus fuming and pacing up and down the News Room with his favourite cigarette in hand, cursing this silly young man who had the audacity to ignore his orders.
Cup of tea
I staggered out of the office. My head was numb. It felt as if I had survived a major boxing match. My heart was heavy. Many thoughts flew through my mind. I could not visualise what might have happened to the minister whose function I had covered just a few weeks earlier.
I had enjoyed a cup of tea at Ouko's Nyahera home and we even cracked some jokes in Kiluhia; "I am a Luhyia you know," he had said with a hearty laughter. I smiled, then remembered my boss's threat and refusal to reason and my heart sank.
After closing the office, I walked to the bus stop where I boarded my Kondele Mowuok, one of the old ramshackles' that used to ply the route to my residence in Migosi Estate. There existed several such vehicles; rickety, rusty, old, tired and retired Peugeot 404s that ran by the grace of God.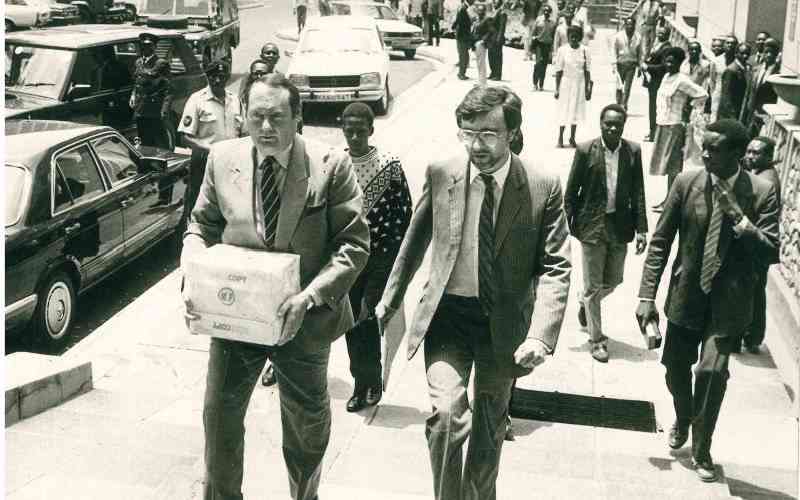 With their rusty frames, and torn seats, many of them did not even have functional fuel tanks. The driver would place a jerrican of petrol under the feet of the passengers with a pipe running across the dashboard into the apparatus that served in the place of a fuel tank.
You had to sit in them with care and watch every move especially while alighting lest your feet get caught up in the web of holes below the seats. As they coughed and sneezed their way along the pothole filled route, you could actually count the number of holes they ran through. Their chassis were so weak it is a miracle they rarely poured passengers on the road.
A trip to Migosi was always an adventure. With passengers squeezed like Omena in these death traps, the sweaty and smelly driver who doubled up as the conductor would take off driving with half of his body out of the driver's window. In his haste to carry as many people as possible, he literally pushed himself out of his own car. Most of these vehicles had a standby rock on the passenger side.
These decrepit vehicles and their operators were terrified of only two things; the Big Fish Mama whose sheer size meant she occupied space of four people, and a ruthless traffic police officer named Kuria. The mamas were known to adamantly refuse to create space for others.
They were also tough with the drivers and could not be bullied easily. Occasionally they ambushed the drivers with their Alor Ka (Sukisa mimi hapa) (I want to alight here). The mama would expect instant brakes. The drivers would desperately pump on the brakes.
I arrived safely in Migosi but with some pain in my rib cage. I sat next to a scrawny fellow with elbows so sharp they could pierce through metal. I had my dinner at the Galaxy Hotel situated a walking distance from my house. Despite the heaviness of heart, I slept soundly but was up by 5am. I normally walked the long distance to town if I intended to reach the office before 8am. The Kondele Mowuok's were not early risers.
Travelled overnight
I arrived at the office on Jubilee Plaza to find the corridor occupied. Colleagues from Nairobi were already there waiting for me. They had travelled overnight and spent several hours at Ouko's home. They needed a computer and space to bang their story. I was instructed to carry on other office duties.
The boss had issued specific instructions that I cover the small ordinary stories. With tears in my eyes, I waited for the clock to hit 8.30am before I began my walk to the nearby Kisumu Hotel to cover a press conference called by Ambrose Adongo, the charismatic Secretary General of the Kenya National Union of Teachers (Knut).
Adongo kept time. He was waiting for journalists in the hotel lobby. After almost an hour of waiting, we realised that no other reporter was going to join us. I was the only journalist in Kisumu who was not on the Ouko beat.
The Secretary General ordered for tea. He gave me his written statement and muttered some things which I could barely register. He then squeezed something in my hand, thanked me and left. I sat there for some time staring at my cup of tea. I took a sip and realised it was already cold. I slowly walked away.
I was zombified. I felt rejected and dejected. My office had been taken over by what my boss considered to be superior journalists. It is only when I reached the office that I realised Adongo had placed a Sh100 note in my hand. I did not know what to think of it. When I entered the office, my colleague Catherine Gicheru was busy on phone, filing the colour story, describing the activities in the Ouko home.
Suddenly a seemingly agitated lady ran into our office saying that there was someone who wanted to talk to a reporter on her office line. I ran out. Our neighbour was a young lawyer who was trying to grow his legal practice. Mutegi had managed to trace his number and called asking to talk to me: "Go right now to Koru. The police are searching for Ouko's body in the hilly neighbourhood."
The cameraman and I dashed to the official car that came from Nairobi with my colleagues. Like a Formula One team on wings we sped off towards Koru. By sheer luck, I was elevated to covering the one assignment that would transform my life and work as a journalist. I never got to write Adongo's story and I cannot even recall what we discussed.
The hill now resembled a military zone. It was teeming with men and women in uniform armed with different types of guns. I moved slowly and cautiously towards the smouldering pile. My heart beat fast and my knees wobbled when I eventually came to it. It was a small mountain of burning human flesh.
There lay remains of a human being. The skull was black and dry from the effects of the fire. The neck, shoulders and torso had been eaten by the flames and all that remained were thick lumps of black ash. However, the hands, burnt into skeletal frames, curled above the ash in a pugilistic position as if guarding the space where the chest once stood. Whoever lay here must have met a frightful and dreadful death. Close to the smouldering remains lay; a white jerrican, some clothes, a torch and walking stick.
They had been placed neatly and meticulously above the head. The putrid smell of death and burnt flesh punched through my lungs. For some moments I could barely breathe. I staggered on my feet looking for something to lean on. I felt dizzy. My throat constricted. I was running out of breath. I uttered a short prayer and eventually steadied myself. I stood still. Waves of cold shivers thrust through my body yet my entire anatomy was drenched in sweat. I could barely hold my notebook and pen. My hands trembled and my fingers weakened.
"Afande mwili ndio hii hapa (Afande the body is here), came a shout that jolted me out of my nightmarish stupor. There was a sudden and urgent commotion. Scores of armed policemen and paramilitary General Service Unit (GSU) officers surrounded me. "Wewe toka hapa" came a shrill order as I was roughly shoved, kicked and punched from the scene.
The Kisumu Officer Commanding Police Division (OCPD) Emmanuel Mwachiti had shouted the orders, hitting me with a truncheon. I soon found myself dazed and stupefied squatting on the shores of River Nyando. I collapsed into a heap. I was trying to understand what was happening and what I had just seen. I was certain that the remains I had chanced upon were those of Dr Ouko. I had interacted with him so many times, I could not fail to identify his balding forehead.
Demonic events
I looked into the silently flowing river. The waters calmly flowed on as if telling me that despite what happened, the journey of life must go on. I wondered if the river had witnessed whatever demonic events had taken place on this tiny hillside that the locals called Got Alila. If only the river could speak.
My photographer Yaya Mohammed called out my name. I struggled to raise to my feet. It is only then that I realised I was bleeding. The OCPD's blow had landed above my left eye. I knelt down and washed my bloodied face in the river. I was lucky the wound was not deep.
The hill now resembled a military zone. It was teeming with men and women in uniform armed with different types of guns. Soon we formed our own small army of journalists from different media houses and channels. No journalist or civilian was allowed anywhere near the scene.
I started talking to a few locals. Gathering information on the location, the name of the hill and its symbolic meaning. I gathered quotes and anecdotes from security personnel. However, I could not write my story yet. In those days, such a story was dead without the affirmative voice of the police and senior government officials.
For hours we waited. Pain, pangs of hunger and thirst became my companion and greatest tormentors. I nostalgically recalled the tea that I took with Ambrose Adongo earlier in the day. I smiled when I remembered a scene in Elechi Amadi's book Sunset in Biafra. The author was arrested in the night during the Nigerian Biafra Civil War. The soldiers burst into his house moments after he had finished eating his super.
For the weeks and months that he spent in prison, staring at the dark ceiling and enduring physical and psychological torture which included starvation, he was kept alive by the memories of his last meal. Each time pangs of hunger visited him, he would close his eyes and visualise the last meal he had before his arrest.
As the sun began its final journey towards the west and darkness started to envelope Got Alila, the sound of approaching helicopters hit the sky. Two military choppers landed at some clearing near the body. Out came senior government officials.
The Head of Internal Security Hezekiah Oyugi, Chief Government Pathologist Dr Jason Ndaka Kaviti and Commissioner of Police Philip Kilonzo, alighted from one of the choppers. They walked towards the journalists and after greetings, asked us to follow them towards the remains.
It was almost 6.30pm and visibility was poor. After a few moments of consultations, Oyugi cleared his throat and said: "Members of the press, it is sad but I would like to confirm that the remains you see here are those of Dr Ouko." Kilonzo told the media that "no stone would be left unturned."
We flew back to Kisumu. I rapidly wrote down my story as the driver negotiated the curves and corners of the Kisumu-Kericho highway. At last, at around 8.30pm, we arrived at the office. I quickly called the newsroom to give my brief. Mutegi Njau listened to me then handed the phone to George Mbuggus. After briefing him on the day's events, I was handed, not to a copy taker, but to a Managing Editor to receive my story. The story was too big to be entrusted to copytakers.
After filing the story, I had to hang around the office to respond to any queries and wait for clearance to go home.
At around 10.30pm, the phone rang. My Nairobi colleagues had gathered in the next room to imbibe some biting's and sip sodas. I picked up the receiver. My friend and colleague Francis Makohka was on the line: "My brother Atemi, you can't believe this. I am looking at your story in the system and it does not have your by-line. It reads someone else." He whispered and quickly hang up. Francis was a senior sub-editor.
I was livid. I was mad. I was extremely angry. I quickly dialled George Mbuggus direct line: "Good evening sir" I started, shocked by my own sudden composure and calmness. "I have suffered today to get you the Ouko story. I have not eaten the whole day. I am bloodied and sore. I know you do not like me sir but please give me my well-deserved by-line or else I will resign by tomorrow."
There was silence on the other end. I think I had caught him off guard. He must have been consulting. He never responded to my statement. He quietly hang up. Early morning I walked to the News Stands. My story was the splash. I was delighted to see my by-line. All the previous days pain had been washed away by the by-line.
Related Topics