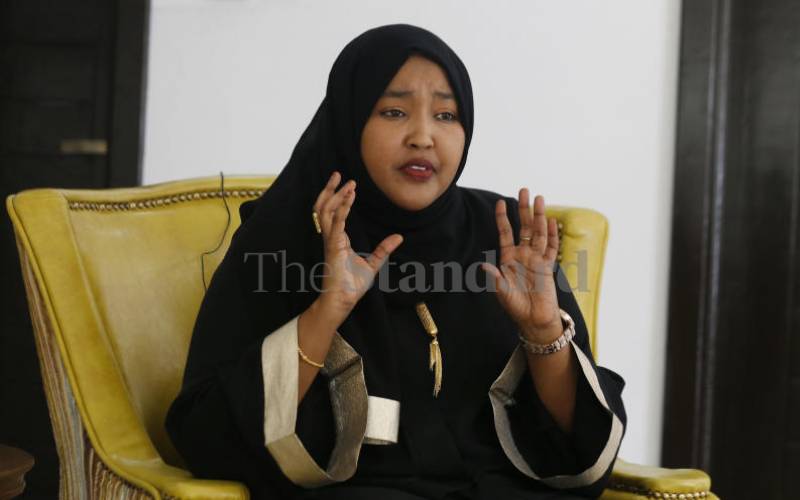 Wajir Woman Representative Fatuma Gedi has a flair for the dramatic.
She raised up a storm in Parliament last week when she, in defence of President Uhuru Kenyatta's family, accused Deputy President William Ruto of having grabbed public land and dispossessed the poor.
When she was supposed to table evidence to substantiate her claims, Gedi strode into the chamber dragging a small suitcase containing documents she said would prove beyond a doubt that Kenya would not be safe under Ruto.
In the melee that ensued, the MP sidestepped the usual route for tabling the documents, opting to read a convoluted statement laden with political overtones.
Earlier this year, the 34-year-old first-term Member of Parliament was censured and suspended for two days for distributing sweets to MP.
The House was voting on The Elections (Amendment) Bill and Azimio la Umoja was staking its existence on the Bill passing. Gedi said the sweets were to improve the sugar levels of her weary colleagues. Kiharu MP Ndindi Nyoro had accused her of bribing legislators.
Yet it wasn't the first time she was facing similar accusations.
Gedi was in 2018 accused of bribing MPs to shoot down a controversial sugar report. She denied the accusations and still considers it ridiculous to this day.
"How could I, a woman, have gone into the men's toilet to bribe them with Sh10,000? And at that point I had been in parliament barely a year," Gedi said chuckling during an interview yesterday.
Gedi blames National Assembly Speaker Justin Muturi for blocking her from tabling documents to affirm Ruto's alleged dubious land dealings. The Thursday session ended in disarray after Muturi kicked out MP Babu Owino from the chambers.
"If he would have allowed me to talk about the whole thing, then Kenyans would have known the truth about who Ruto is. I have nothing personal against Ruto, my concern is to Kenyans," she said.
Like several other members of Azimio la Umoja, Gedi reads Muturi's actions as confirmation that he is biased towards DP Ruto.
"I had documents that linked the DP to 15 land cases but because of sideshows, I ended up tabling only two documents," she said.
"But I am still going to table those documents. I have unfinished business."
One way or another, Gedi always finds herself in the centre of the storm. She sees herself as a fruit tree.
"The only tree that is hit with stones is the one that has fruits," she said.
Some she revels in, like her latest with MPs allied to DP Ruto over his alleged land acquisitions. Some, however, leave tears in her eyes.
Politics has left its scars on Gedi, some she bears physically, others emotionally. She has been pummeled, literally, by Wajir East MP Rashid Kassim. She filed charges which she later withdrew.
In 2018, a video claiming to show her engaging in a sexual act was circulated.
When she speaks about it, the county MP pauses, her voice becomes shaky and she dabs at her eyes.
"It has cost me a lot. It is not something that you wish for any woman. Every time I speak about that video I get emotional," she says.
"Some men sat down and paid a lot of money to have that video created so that they can bring me down."
A part of her worries for her young children who, unaware of the context in which the video was created and circulated, could stumble on it online. Another part appears to have made peace with it, even moved beyond it.
The MP says that criticism powers her. She relishes it. But some of the criticism crosses the line.
"I like being criticised. Social media does not worry me and it doesn't give me sleepless nights because the people who use social media just to malign and bully are cowards," she said.
"What is bad is like what happened with the video because you have children and they will go to YouTube and they will not know that the video is fake."
She said that while the intent was to bring her down, after that video, the public sympathised with her plight.
She is also an eternal optimist. One who looks for the silver lining in every dark cloud.
"There is a God above and he refused to bring me down. Instead, after that video my star started going up," she said.
"The day I wake up in the morning and do not see my name being discussed, whether negative or positive, then I will feel that there is something wrong
Gedi is easily the most recognisable female legislator from North Eastern Kenya. She has been a prominent supporter of Azimio la Umoja and President Uhuru Kenyatta and makes no apologies for it.
She has served as the vice chair of the Committee on Delegated Legislation, Committee on Administration and National Security and as chair of the caucus of woman representatives.
Her entry into politics, however, was at the feet of the man he is now asking Kenyans to reject on August 9; DP Ruto and his United Republican Party (URP).
In 2013, Gedi contested and lost the Wajir Woman Representative seat. After that loss, she worked in the party as the chairperson of the women league and a trainer on gender and leadership.
She says that in the years since, she has matured politically and that growth has come with a realisation of what is good for her and the country.
"I was a young politician in 2013; I think 24 years. In 2017, the person who came to Wajir to ask for votes was Uhuru Kenyatta, not Ruto," she said.
Rather, she said, Ruto went out of his way to ensure she was not elected.
"He denied me the Jubilee ticket in 2017 yet the president had given it to me and forced me to join Party of Development and Reforms (PDR)," she said. PDR last year rebranded to UDA.
But Gedi says pushing her to UDA, essentially to sabotage her election, did not stop her as she made a meal out of the scraps that were handed to her.
Even as she fights for her space in politics, a field that has been notoriously male-dominated and which has frustrated legislation that would have brought in more women, Gedi is calling out double standards in the way that women are criticised.
She says the political environment is so insensitive to women and some chauvinism, even misogyny, guides how women are viewed and faulted.
"They will not criticise her because of her values, it becomes about her sexuality and what she does when she is in private."
When they are discussing the men, it will not be about who he is sleeping with or who is his girlfriend or wife and children. But it happens to women, she said.
"It is not only me; it is all the women. The only thing they can pick to bring a woman down is her sexuality, nothing else."
Related Topics