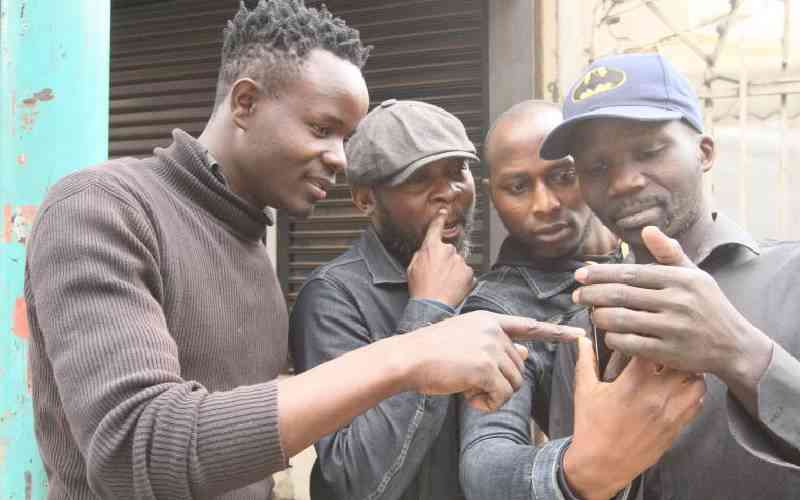 Phones have evolved into crime scenes. The gadgets of communication have become gates into transgression. So we hold and hide them. We obey the "strong password" instruction. To some, the phone has become an 11th finger – attached to their palm.
Higher still, for some a phone is a third hand. The phone leads many into temptation, a dive into evil in the name of the glorious kingdom of knowledge. Technology is a double-edged sword. It can cut your meat or it can cut you into meat.
Phone addiction is real. One moment you think you are in control only to try getting out and realising you are trapped in miry clay. A voluntary entry that has no voluntary exit is pure exhaustion. We look at every message with urgency – even if it is just a forward. We pick the ringing phone with a sense of importance – even when it is a wrong number.
There is something image-boosting about a busy phone. We are anxious when our phones are silent. This notion that phones must be busy sends out on internet fishing expeditions.
Know ye your children are not fools. They are intelligent enough to know when you are hiding stuff. They notice you raise your voice each time they peep at your phone. By harshly denying them access to your phone world, you are training them that phones are places where secret things thrive.
Will you then furiously complain when they do not want to let you into theirs? Parental guidance cannot be done by parental deceit. Instead, we must trade our parental hypocrisy with parenting with authenticity which invites our children into our e-zones without the anxiety of them unearthing your rated content – because it is not there.
A ring, a message chime or an email notification is capable of ruining an otherwise nice evening outdoors. The wife says "I must pick this one" then stands up to pace up and down from a distance with only gestures left for the husband to decode what she is talking about and who she could be talking to.
The husband says "I must respond to this email" and urgently disappears from the scene to find an appropriate place to do this task. The moon is left alone – the stars too. The ocean breeze blows over the table as the hoped-for and hyped romantic dinner turns "phonic."
Too bad if you are a jokeless spouse! The awkward silence when you have nothing more to add becomes the excuse for your spouse to glance at their phone. Soon enough they are laughing uncontrollably at jokes you do not know and jokers you may never know. You feel bad because her phone is too good.
Spouses are neglecting each other right in the same space as the phone gobbles up the attention that could otherwise be theirs. Just like there are waterborne diseases, there are phone-borne divorces. It is understood when lateness to get into bed is work-based.
But when it is phone-based, it is not worthwhile. People are hopping onto their phones with no targeted intention. They go in and flow with the popular content to where the phone takes them. A phone kesha has one guarantee – its destination is far away from your spouse.
With the TV before you, its remote in one hand and a phone beside you, the trinity is with you – you live your life in the name of the TV, its remote and your phone. This trinity is hard to flee from. I have been in a situation where even when a blackout happens, the watching motion continues and all in the room still stare at the blank TV, praying somehow soonest it triggers back on for life to get back to "normal".
Even with people sitting around, striking up a conversation does not occur naturally but picking the phone does. Many spiritual people do not wake up with hallelujah in the morning. They wake up not with the Messiah on their minds but messages. They lift up their hands not to worship but to reach out to their phones.
First presenter
The phone is turning to be the most influential entity in every room it enters. Trainers have to repeat their points not because people did not understand, but because they were listening to their phone – their first presenter! E-affairs are rampant. It all starts with liking and following and joining a thread and sending out texts with midnight courage and inspiration from the king of the night.
People tend to be bolder from phone to phone than face to face. Distance is therefore an asset. The possibility of not meeting this person in person makes one less careful. When the guard goes down, arrows can shoot from as many sides as there are arrows.
Some of these arrows come with a shoot-to-kill order. Deescalating the relationship to real life kills the mystery. Reality has a way of being brutally honest even blasts you as a "Rich fool!" These e-affairs have often exploded and bombed real marriages to ashes.
Many people are now suffering from phone addiction. One of the signs of this includes routinely carrying your phone to the toilet and staying on the toilet seat long after the business is done. Once upon a time, you took a book to the toilet but today you take social media with you. Phone addicts get late even to important interviews.
They get late to critical meetings as they extend their phone-sniffing. Even when talking to important people, we lose some lines because the phone stole your attention some.
Even when phone use is for work, perpetual exposure leads to getting hooked. A sign of healthy phone use is that you are able to hang up your phone and do without it for a whole family weekend.
The unstable ones will exhibit withdrawal symptoms by frequently excusing themselves – using some deceptive tickets - to keep running off to a place where they can sniff at their phones. Such peeking goes on uncontrollably - an urgent phone sniff with no accompanying emergency.
Just as "man-up!" is used to mean rise up and make your masculinity count, we say here "phone up" to mean get to a place where you use the phone – not the phone using you.
Related Topics