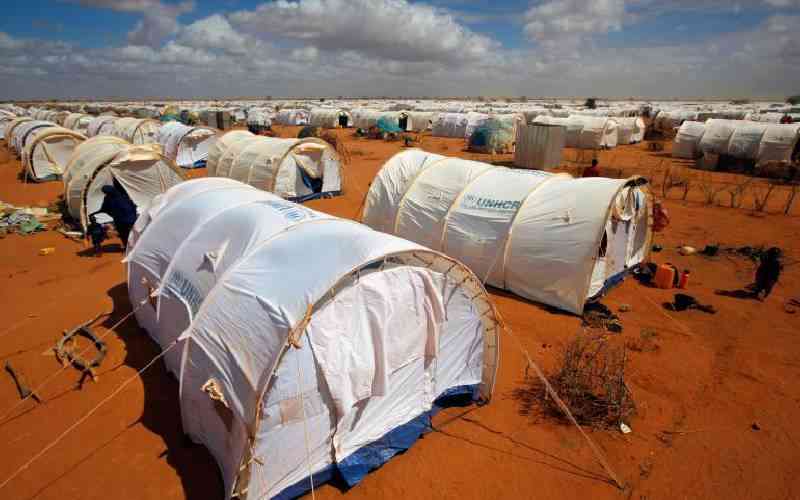 Kenya is one of the most experienced countries in Africa and globally on hosting refugees. Before the encampment policy was implemented in the 1990s, asylum seekers and refugees to Kenya were absorbed among local communities.
At the time, refugees were associated with few negative consequences, if any, and their absorption was largely acceptable and harmonious. However, with time, the number has surged and the conflict between refugees and host communities has attracted a salient focus on the impact on the host country.
Undeniably, the impact of refugees is a double-edged sword carrying positive and negative effects, however the positive gains beat them all. Sadly, the presence of refugees in countries like Kenya has subjectively been presented with an association inclined towards insecurity and exertion of excess pressure on available resources that should be ostensibly reserved for local communities.
This negative political rhetoric towards refugees is biased and rather speculative. My PhD study titled "Socio-Economic Impact of Somali Refugees at The Dadaab Refugee Camp in Kenya on The Host Community" disapproves this perception and presents a hospitable, tolerant and gratifying approach towards our brothers and sisters from other countries.
My study investigated the influence of Somali refugees in the Dadaab Refugee Complex on Kenya's socio-economic development, security concerns and the challenges refugees face. It further looked at their national contribution and how to reinforce their relations with the host community.
The main findings showed that refugees offer a source of indirect tax to the Kenyan government, create job opportunities for refugee and locals, attract diaspora remittances, grow local trade and real estate opportunities, and further influence infrastructural improvement of the host areas. The social services offered to local communities in Dadaab including access to education, water and health services have improved in the last three decades due to presence of refugees.
Refugees are also largely associated with peace as many are not involved in insecurity cases. This differs from the perception that refugees are directly associated with terrorism activities. The few terror cases have reduced, due to multi-agency involvement of refugees in intelligence gathering on any abnormal activities that can threaten security. The infiltration of the camps with non-documented refugee persons is largely associated with the few terror cases.
Additionally, intermarriages between refugees and local communities have encouraged harmonious co-existence. To minimise future engagement in insecurity cases by jobless and idle youth, the government should regulate cross border trade at the closed Liboi border which will open up business in the area, hence create jobs. The closure of Liboi border has encouraged illegal imports most of which are unsafe for human consumption.
Challenges that hinder refugees' positive contribution to Kenya include school dropouts, limited movement and involvement in economic activities, prohibitive practices like FGM and child marriages, smuggled goods and merchandize, and refugee involvement in negative environmental activities like destruction of vegetation for firewood and charcoal, uprooting trees and shrubs for medicinal roots and poaching.
The government should also formulate policy a that will promote refugee involvement in socio-economic activities. This policy should look towards creating an enabling environment for refugees to conduct their businesses owing to the many benefits they are likely to bring.
The government should also equip adequately border patrol police and intensify continuous ground patrol. Above all, as countries like Kenya host refugees, let us never forget that mankind constitutes one great brotherhood.
Dr Somo is a governance and humanitarian affairs expert. @HaitharAhmed
Related Topics