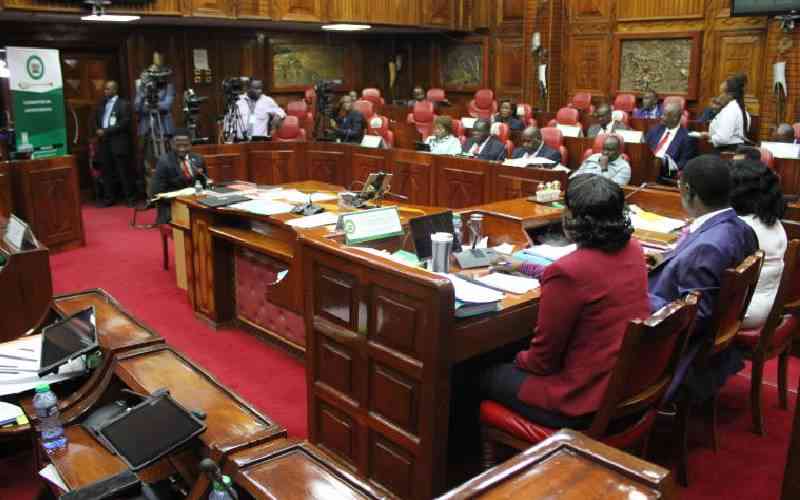 The parliamentary Committee on Appointments approved names of Cabinet secretaries after publicised interviews.
Vetting is a constitutional exercise that mandates Parliament to either, upon interviewing, approve or reject names forwarded to it by the president.
The committee approved all names, save for that of Tourism nominee Peninah Malonza to whose rescue the plenary came.
The whole vetting process came through as a charade. It was in total disregard of constitutional provisions of Chapter Six on national values and integrity as well as provisions on regional and gender balance.
Despite the fact that some of the appointees had integrity issues, the committee conveniently disregarded information that is in public domain and approved all of them. Some of the CSs had running criminal cases hanging on their shoulders.
In fact, one of the CSs admitted before the committee to having 35 cases. Yet others, with bare minimum academic qualifications, were posted to portfolios that demand solid academic grounding.
When individuals with questionable or basic academic credentials are appointed, it kills the morale of professionals and experts within the civil service.
One wonders what it will take for the people of Kenya to get competent individuals appointed to such offices. Could it be that we have a deficit of men and women of impeccable character to take on such important tasks? I doubt if that is the case.
It is fair to conclude, after observing how Parliament carried out the vetting exercise, that MPs either have no capacity to vet state officers, they are easily compromised by the Executive or lack the goodwill to oversight the government on behalf of the Kenyans.
Even if the appointments were to be in tune with political alignments, I believe there are men and women of integrity within the Kenya Kwanza camp with the energy and potential to serve.
By having unanimously approved all names, Parliament sent the wrong message to the young generation on matters of integrity and leadership.
Instead of instilling good values in them, we are telling them that you can be someone of questionable character but still qualify to be in any leadership position.
The whole exercise made a joke of the huge investment people have made by going to school.
Expectedly, blunders are already being witnessed before the dust settles on the appointments.
The kind of confusion that has seen CSs speak and work at cross purposes is a clear demonstration that Parliament let Kenyans down by letting incompetent people take charge of key government dockets.
Some CSs have been captured commenting or giving policy directions on matters that do not fall under their dockets.
Having disregarded the key principle of collective responsibility, they have contradicted each other in the public on key policy issues, something that has never happened before in the country.
Kenyans have also been treated to outrageous declarations such as when a CS, upon swearing in, promised to increase salaries of all civil servants within the first 100 days in office when it is very clear whose mandate it is to review salaries of civil servants and state officers.
Vetting will soon lose the meaning if Parliament continues to play a conveyor belt role in appointment of government officials.
Related Topics