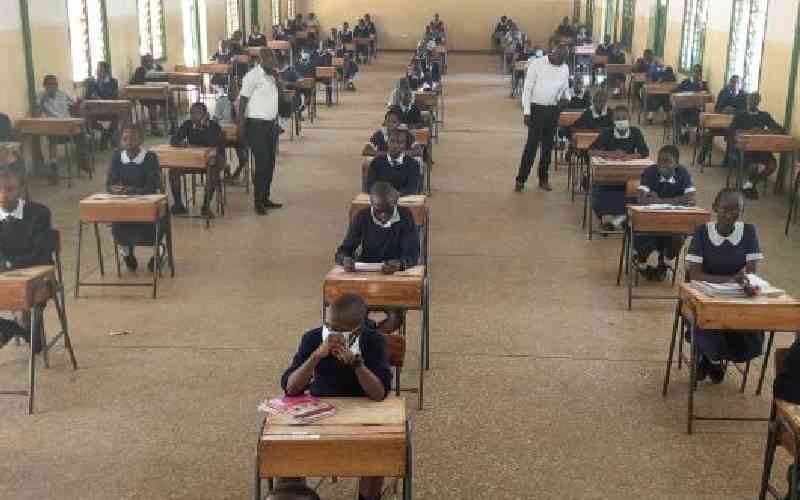 Today marks the start of national examinations for millions of learners sitting the Kenya Certificate of Secondary Education, Kenya Certificate of Primary Education and the new Kenya Primary School Education Assessment (KPSEA) examinations.
It has been a hectic two years for learners who were put through condensed school terms to recover time lost when schools closed for nearly one year in 2020 due to the coronavirus pandemic. Learning will revert to the normal school calendar next year when schools open for the first term on January 23, 2023
The 2022 KPSEA is the first national examination under the Competency-Based Curriculum. The examination will present a litmus test for CBC even as national discourse on the system's future continues with a presidential task force on education collecting views from the public and education stakeholders.
National examinations are taken seriously in this country. It is that understanding that necessitated crash learning in order to ensure the syllabus was fully covered despite the challenges encountered.
Admittedly, candidates have studied under very difficult conditions, but there is no excuse for not doing well after parents, teachers and the government put in a lot to ensure they completed the syllabuses.
These exams prepare students for the next level of learning in line with the government's 100 per cent transition policy.
We believe the candidates are well prepared. Hence, they should face the exams without fear and desist from the urge to cheat. Exam malpractices rob the country of its prestige and must be eradicated to give all students a fair chance education and in life.
While Education CS Ezekiel Machogu has promised tighter controls over exam papers, those in charge of the security should not lower their guards until the exercise is successfully concluded.
In the rare cases that malcontents will be tempted to cheat, they should be apprehended and punished severely to discourage the practice. We wish candidates sitting the three national examinations best of luck in their endeavours.
Related Topics