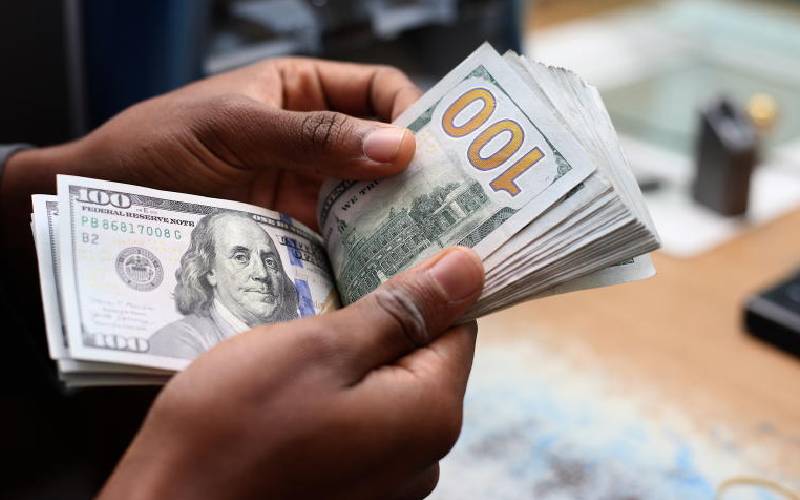 In our last article on shortages in Kenya, we left out the newest — that of dollars.
It has been long since we had a shortage of dollars.
That was common when the exchange rate was controlled. The government decided how many shillings you would get for a dollar or pound.
As expected, there was a shortage of hard currencies, and a few people went to jail for owning dollars illegally.
Old passports had a page to record the foreign currency you left the country with and how much you returned with.
We have come a long way, my fellow countrymen. We take the availability of dollars and other hard currencies for granted. I learned that the hard way.
I visited Sudan in 2013 and brought home 500 Sudanese pounds, which I could not change into dollars in Khartoum.
How many exchange bureaus are in our airports? We need dollars to pay for our imports, school fees abroad, debts and other services. A shortage of dollars affects all these services and disrupts our economic activities. Think of global trade in the wake of dollar shortages.
The availability of dollars is affected by the laws of supply and demand, which, in turn, affect the exchange rate if the market is allowed to do its work.
So why shortage of dollars in Kenya? Why now?
First is the Ukrainian war.
Our imports from oil to fertilisers and cooking oil have become more pricey, meaning that we need more dollars to buy them. In addition, post-Covid-19 recovery has led to increased demand for imports either as raw materials or finished products.
You need more dollars to pay for such imports. The dollar is the reserve currency and so far, has few competitors.
The Ukrainian crisis reduced exports, which could have shored up the quantity of dollars. Our export market for coffee, tea, flowers and other primary commodities could have been affected by the Russia-Ukraine war. We export flowers to Russia and Europe. War in Russia is unlikely to attract lots of flowers. Rising prices in Europe because of disruption in oil and gas supplies will divert money from luxuries like flowers to necessities.
Rising costs in our key tourist sources reduce dollar flow to Kenya. We do not go touring the world amidst an economic or political crisis. The dividends sent to foreigners are also taunted as one of the causes of the dollar shortage.
Remember, dividends were on hold for some time because of Covid-19.
Data from the Central Bank of Kenya (CBK) shows remittances, usually in dollars, have not reduced. But this has been drowned by other factors. Do we ever thank Kenyans who work so hard abroad and share their earnings with us? The remittances they send should be a good reason for them to be allowed to vote.
One rarely mentioned the cause of the shortage of dollars could be debt payments. Most of our debts are denominated in dollars, which makes them costly, particularly when the shilling weakens.
Remember our debts have risen substantially lately. Are some of them due?
We can't forget speculators who would benefit from a fall in the value of the Kenyan shilling. A shortage of dollars leads to its appreciation and weakening of the Kenyan shilling.
You could make some money by hoarding dollars until their value goes up and get more shillings. A weak Kenyan shilling will lead to a rise in prices of goods and services - inflation. That's why the government is concerned about an election year. Could CBK be selling off dollars to shore up the Kenyan shilling?
Others suggest there is more than meets the eye about the dollar crisis.
With Russia demanding oil payment in the Ruble, the value of the dollar should be falling. Is that shortage meant to shore up the value of the dollar?
Remember the petrodollars? Could the dollar shortage be external?
What's the solution to the shortage? Rationing dollars, for example, from petrol sales will not solve the problem.
It could make it worse, leading to an underground market for dollars. Let the market do its work.
The value of the Kenyan shilling could fall, but dollars will be available and smoothen the running of the economy, particularly trade and manufacturing.
Inflation is a big worry, but that's a consequence of economic realities, some beyond our control.
In the long run, we need to grow the economy with more exports and dollars therein. We should export more value-added goods to get more dollars.
What of debt repayment? I like the new approach to the management of our debt: we cap it as a percentage of GDP.
This means we have to grow the economy to get more debt. It is better than a debt ceiling. Finally, is there a connection between dollar and fuel shortage? Will the shortage of dollars lead to a shift to a new reserve currency like the Euro or Chinese RMB?
Related Topics